Disney over the decades has proven that there are many different stories to tell and they know how to tell them. Like anything, there have been triumphs and flops but even with that, there are still moments viewers never forget. They touch viewers in ways that are unexpected for animation, having real human emotions and situations being portrayed that can have viewers relate is powerful.
UP is one of these movies. Carl and Ellie had a life together that spanned minutes at the beginning of the movie but it was a life that audiences can relate to and love. Losing Ellie was so difficult for Carl and viewers found it hard not to tear up when he's in the church holding the balloons. Disney+ is getting ready to release a new short about Carl's first date since Ellie's death.
It's hard to imagine seeing Carl with another woman though deep down, we know Ellie would want this for Carl, to be happy and find love again. He could never forget Ellie but finding a new chapter of happiness is possible.
Will this first date be when Carl is younger or will it be when we see him as an older man? Will there be dialogue or will it just be to music and let the animation speak through body language and facial expressions? Nothing has been released so far as to details so we'll have to wait and see on February 10th.
Coming to Disney+ 2023
Twitter users are excited about the release of this new step for Carl:
"Up gonna make me cry again. Still haven't recovered from this."

"Man you know Pixar is gonna make a very emotional tribute to him too."

Anoyoumous Twitter Users
Good news, Ed Asner did record some lines for this short before he passed away in 2021 so he will still live on in the character of Carl.
Ellie brings Carl out of his shell..kind of but she built a life with him and they saw the adventure that was out there, even if it wasn't the one they thought they would have. Seeing a couple struggle to start a family is not something many would think Disney would take on in an animated film but they did. Making older viewers see that they are not the only ones and seeing an animated film take on a tough subject means something bigger than the issue itself.
Carl And Ellie: A Love Story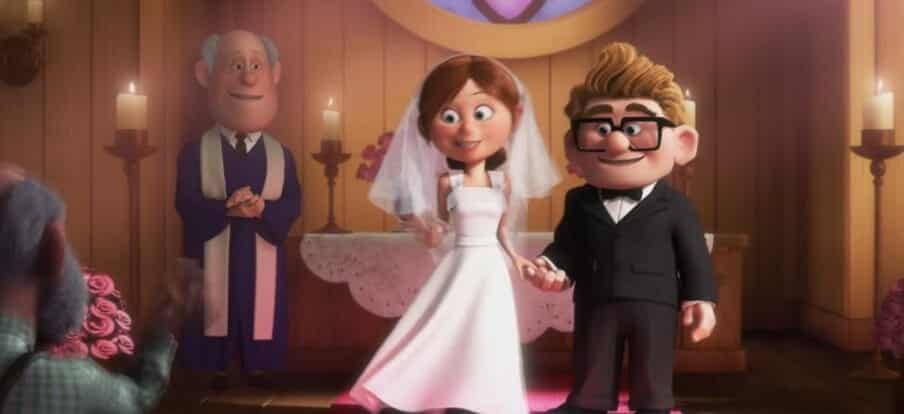 Even though this will be a short, tissues should be ready because Pixar is going to bring it back to all the feelings from UP and then some probably. At least he will have Doug with him to help him through it. Maybe even Russell will be there to help Carl get ready or give him some helpful tips from the Wilderness Explorers. We're rooting for your Carl! And we know Ellie is too.
Does Disney always keep it rated G? Click here to read one writer's perspective and it may have you change your mind.