You must have heard of Pornhub, the world's most well-known adult content website, even if you have never visited. Yet people seem to know so little about Pornhub except for the brand name and the service it provides. On March 15, Netflix released "Money Shot: The Pornhub Story," an hour-and-a-half-long documentary directed by Suzanne Hillinger that discussed the rise of Pornhub and its 2020 child sex trafficking controversy.
Click here if you want to know more about porn.
Pornhub
Pornography has been around for a long time. Even before the emergence of free pornographic websites on the internet, pornography was extensively consumed all over the globe, starting as ASCII art (American Standard Code for Information Interchange), pornographic images created through text characters.
Pornhub is a pornographic video-streaming website launched in 2007. It is under a Canadian IT company MindGeek, which operates video-sharing platforms, including several adult content websites such as Redtube and Xtube.
Pornhub quickly became a leader among adult tube sites thanks to its broad porn categories, material, and SEO (search engine optimization). Pornhub always appears as the top result when you search for porn on Google. However, piracy is always a concern regarding free online pornographic content. This seemingly common problem on the internet exposes the dark sides and moral issues of Pornhub.
Watch the trailer here:
What is Money Shot: The Pornhub Story about?
Money Shot: The Pornhub Story's title and cover may lead you to believe it is a juicy and sexy piece. But on the contrary, it is an educational and reflective documentary that inspires you to think about the potential issues with Pornhub and the sex entertainment sector from multiple perspectives.
Money Shot: The Pornhub Story covers a lot of ground. It begins by discussing pornography and Pornhub since the advent of cyberspace to offer viewers a clear scope of Pornhub. The piracy issue isn't new in the sex entertainment sector, where people may unknowingly consume pornographic material from unverified or unregistered accounts. People appeared to be oblivious to the problem of pirated pornography until an article in New York Times shocked the world.
In 2020, the New York Times journalist Nicholas Kristof published an article titled "The Children of Pornhub," which exposed the illegally uploaded child rape videos on Pornhub. This article accused Pornhub of promoting child sex trafficking and sexual abuse, which was accurate because you could find tons of porn videos of underage girls uploaded by unverified accounts on Pornhub.
"The Children of Pornhub" dropped a bombshell. Overnight, everyone was spurning and resisting Pornhub. People were desperate to eliminate Pornhub and all the inappropriate content. However, it was a crackdown on porn performers who strove to maintain their livelihood through Pornhub. Money Shot uses this event and the ensuing boycott of Pornhub as an entry point to interview different parties, including porn performers, former MindGeek employees, and activists, to delve thoroughly into this scandal.
Leaving the judgment to viewers
Money Shot: The Pornhub Story provides viewers with a window into the nasty reality of the sex entertainment sector. Money Shot does not take a clear stance or determine what is right and wrong in the crucial discussion over whether Pornhub should be removed entirely. It instead leaves the decision to the audience.
When you feel furious because of Pornhub's manner and believe that people should abandon Pornhub, the interviews with pornographic performers may provide you with a new viewpoint on the situation. The sex workers are just trying to work for a living. While the boycott Pornhub movement appears to be fighting for justice for those whose sex tapes were uploaded on Pornhub without consent, it also exploits porn artists' autonomy for profits. So, who is to blame for child sex trafficking and sexual misconduct on Pornhub? Is the removal of Pornhub the best solution?
You may find your answers after watching Money Shot: The Pornhub Story.
Is it worth watching?
The release of Money Shot: The Pornhub Story has quickly sparked polarizing opinions on social media. Some see this as an eye-opening work that encourages rational discussion about internet porn and provides a rare glimpse into the voices of sex workers in an anti-Pornhub environment.
Meanwhile, some believe Money Shot should not be launched on Netflix due to its content sensitivity. What kind of content Netflix should release is open to debate. But just from the substance of this documentary, some people think it lacks depth and data.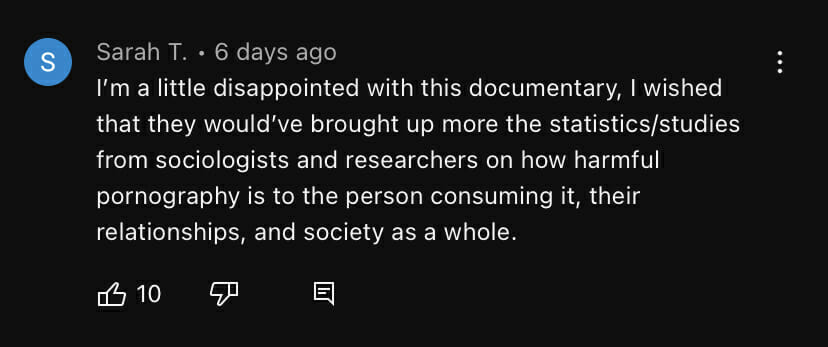 From my perspective, Money Shot: The Pornhub Story is far from perfect in terms of organization and academic statistics. However, the diverse perspectives of different interviewed groups are thought-provoking and intriguing in understanding Pornhub's history and scandals. When looking at it from a different angle, you may reconsider something you thought was wrong, and I believe that's what this documentary wants the audience to do.
Besides, a positive aspect of Money Shot is that porn performers are given the same respect and credit as other professionals. Considering the in-depth and transparent sharing of porn performers like Siri Dahl and the broad scope and wealth of information this documentary offers, I think it's worth checking out.