As the Covid-19 Pandemic continues to rage into the unforeseeable future, the final six months of 2020 are pretty unclear. One major unknown is the fate of film and television production, and when we might see new content being released. Recently, Netflix announced plans to begin production on their popular show Stranger Things in order to release season 4 in 2021! The fourth season is a much-anticipated addition to the popular fictional TV show, especially amid this foreboding unknown.
2021 celebrates the fourth anniversary of the globally popular first season, which initially released July 15, 2016. The show, directed and produced by the Duffer Brothers, made an impressive impact on pop culture immediately, ranging from merch at Hot Topic to incredible Halloween costumes and cosplays. According to What's On Netflix, the filming for season 4 began on January 7th, 2020. The filming schedule was set to conclude on August 5th, 2020, but the Covid-19 pandemic halted filming in March 2020. 
Seasons 1, 2 and 3 have consistently debuted on July 15th of the previous years, but 2020 marks the first year that this date will be pushed. It is speculated that Stranger Things was two episodes into filming before production was stopped. Due to Covid-19 regulations, production will continue when it is safe for cast and crew to gather without fear of contracting the virus. 
In February, MovieWeb released images from the set showing the new location of filming: Vilnius, Lithuania. They had just wrapped filming at the end of February. There was also filming done in Rome, Georgia, rather than the usual filming location of Atlanta, Georgia. The well-known Hawkins High/Middle School set is confirmed to make an appearance in the new season. 
In December, it was announced that the project was being filmed under the name "Tareco," a biscuit from Brazil. Fans have wildly speculated the significance of this title, wondering what Brazil has to do with the popular squad in Hawkins, Indiana. 
Verified Twitter account @Strangerwriters posted an image of Stranger Thing's entire script for season 4 on June 18th, setting off fan's alarm bells like the Christmas lights in season 1.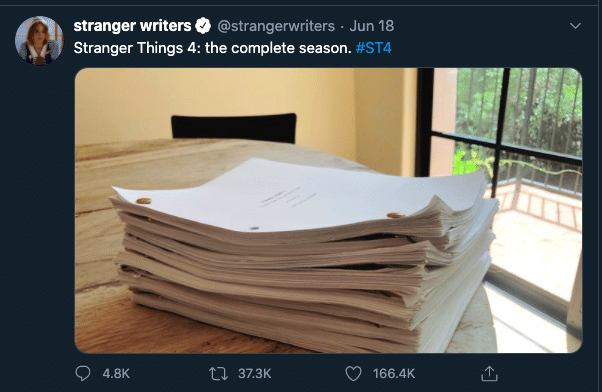 At this time it's impossible to plan anything for next week, let alone in a couple of months but main actor Finn Wolfhard, who plays Mike, seemed optimistic about the show's trajectory pre Covid-19:
""It was perfect. We were ahead of schedule, which has never happened before, because there's never a realistic approach to scheduling, and then boom, it just stopped, and everyone had to go home, and everyone's just so sad…"
Only time will tell when exactly luxuries such as film production will continue, but for now, Mileven shippers have their fingers crossed that we can see new Stranger Things content in early 2021. The fate of the show is left up to speculation as of now because the Duffer Brother's are remaining tight-lipped. Fortunately (or unfortunately), the fate of future seasons is also up in the air, meaning there's no definitive end in sight! Speaking of Netflix, check out this article to learn how to delete embarrassing shows off your Netflix history!