Hey, all you cool cats and kittens it has been over a year since Netflix released Tiger King and the world went wild for it. Excentric characters and tigers…what's not to love right? Plus the media firestorm that came after the series had first been on Netflix boost the ratings even more and created even more buzz. It is no secret that Joe Exotic and Carole Baskin do not like each other at all. That is, after all, why Exotic is in jail right now. It does strike me as odd and hard to believe that Exotic is accepting help from Baskin and that she would be trying to help him get out in the first place.
Baskin's husband, Howard Baskin, expressed that he and Carole would be in favor of Joe's release if he admitted that keeping big cats and using them for monetary gain and entertainment is wrong, and Exotic would have to support the Big Cat Public Safety Act, prohibiting the ownership of big cats. This act was passed in the House late last year, with a lot of help from the Baskins. Sounds way too good to be true right?
Carole and Howard Are Not Exactly Saying They Will Help Joe Get Out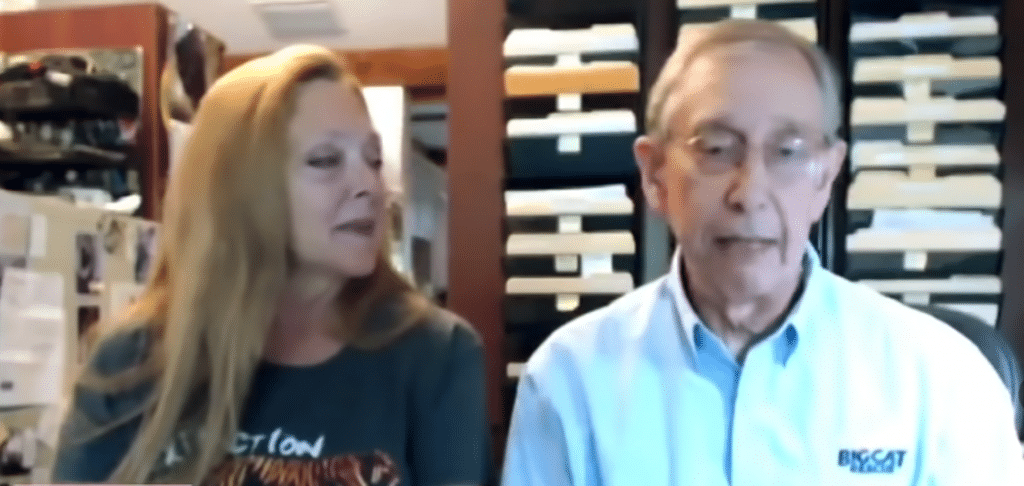 In a recent interview with Entertainment Tonight, Joe had this to say about accepting help from Carole Baskin and her husband:
"It is time for Carole and Howard to put up or shut the hell up because I'm accepting their offer. And I'm gonna take it one step further than that, OK?

It is time to get on the phone to President Biden or whoever they need to that they've got in their little financial pocket and say, 'Hey, Joe is willing to support a big cat bill to help protect cats in America from being exploited. But we need to keep our end of the deal and get Joe a pardon because this wasn't really about murder for hire or shooting five tigers – this was about exploiting Joe to support Carole's agenda.'

So, there's the offer on the table, alright?"

Joe Exotic
Who else can hear his voice in their head when they read anything quote from him? I know I can, that's a voice you can't mistake for any other. Carole Baskin is not entirely convinced, saying that he will "have to actually work with authorities to bring all of his buddies to justice and work with legislators to end cub-handling" (ladbible.com 2). If Joe is willing to do this, then Baskin believes that he should be released. Only time will tell whether or not Joe Exotic will be a free man or not.
Click here to read about how there could be a season 2 of Tiger King in the works!