It's no secret that Game of Thrones is unequivocally one of the most watched series in television history. The show has only continued to surge in popularity, just having capped off its season 7 finale. However, I don't believe anyone could have predicted the amount of people who would be inspired to name their dogs after various characters in the hit HBO series.
That's right, many super-fans of Game of Thrones have decided to dub their pet with names such as Tyrion, Khaleesi, Tywin, Arya, and Sansa, but the most popular dog names derive from the titles of the Stark's direwolves (i.e. Ghost, Shaggydog, Greywolf, Lady, and Nymeria). Apparently, the five aforementioned character names constitute around 60% of Game of Thrones inspired dog names, according to Whistle, a GPS app designed for animals.
Whistle has in fact joined forces with a dog-walking network, Rover, in order to collect data on the names of the entire nation's dogs. Their findings revealed that GoT was by far the pet world's top pop cultural reference. The study was done in recognition of National Dog Day. My only recommendation to potential dog owners is to not just get a dog for the sake of being able to name it after a Game of Thrones character.
I only stress this point, because ostensibly, there has been an uptick in the amount of abandoned huskies since the inception of this GoT dog-naming phenomenon, and it is widely believed that there is no coincidence between the recent increase in left behind dogs and the popularity of buying and naming dogs after stars in Game of Thrones. Peter Dinklage (Tyrion Lannister) has even made it a point to team up with PETA to remind folks out there of the tremendous responsibility that comes with dog ownership.
On a less serious note, I would also suggest that an owner only go with the name 'Theon' if they plan to neuter the dog. Don't tag a dog with such a title, if they are completely virile. That would be just plain cruel. Show them this kind of love instead.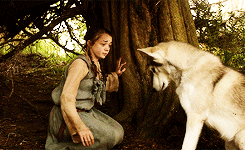 If you want more Game of Thrones silliness, read this.
Images Via