It's a South Korean drama series made for Netflix, focusing on developing a dark tone and layering social commentary beneath an outlandish premise. It has become a massive hit for the streaming giant and, no, it's not 'Squid Game'.
The new series is called 'Hellbound', a grimdark dystopia that shot up in non-English country rankings rapidly after it premiered on the site on November 19. Reports claim it topped the ratings of more than 80 countries within 24 hours and became the most-watched Netflix series within a day of debuting, surpassing 'Squid Game', with which it has naturally been compared many times.
Unsurprisingly for a show with the word 'Hell' in the title, a strong religious undercurrent characterizes the new series. 'Hellbound' is set on an earth much like the real world, except that supernatural entities have started materializing which give prophecies to people that doom them to hell. A few days later, monstrous hulking creatures appear and hunt the person down, mauling and incinerating their body.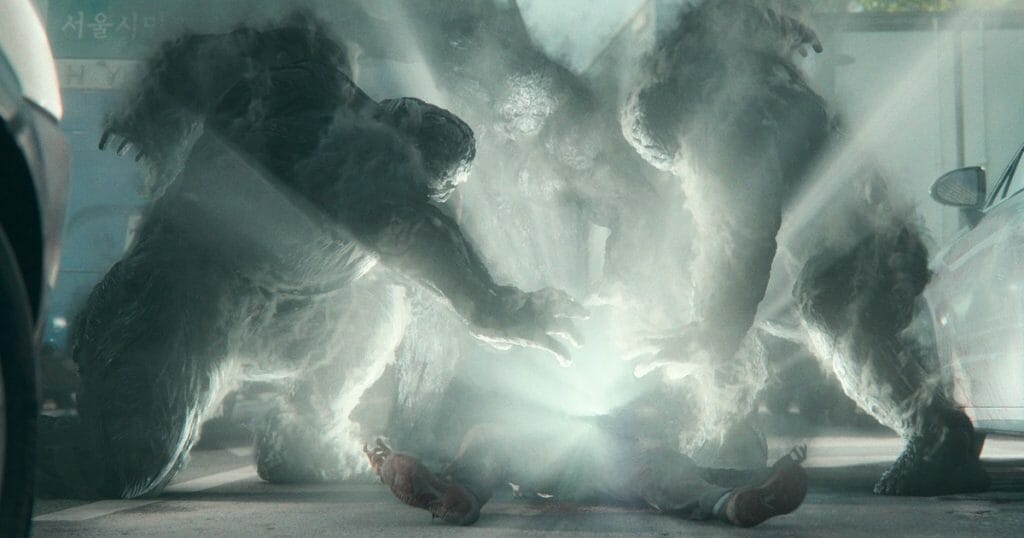 In response to these occult goings-on, chaos runs rampant. The show focuses on the city of Seoul in South Korea, where some members of the population are trying to discover the reason behind these infernal manifestations, whilst others are trying to take advantage of the societal collapse to start their own religious movements.
Directed by Yeon Sang-ho, who is known for directing another hit horror drama 'Train to Busan' in 2016, the series is based on a Korean webtoon co-written by Yeon and Choi Kyu-sok. For anyone unaware of what a webtoon is, it is a type of digital comic that originated in South Korea and is meant to be read on smartphones.
The series is six episodes long, and each episode runs from 40-60 minutes. The first three episodes take place shortly after the strange sightings begin, and follow two leads. Jin Kyeong-hoon is a detective investigating the demonic activity, and Jeong Jin-soo is the chairman of the 'New Truth Society', a religious cult that has sprung up since the chaos began. Episodes four to six take place five years later and revolve around Bae Young-jae, a television producer who is struggling to cope with the fact that his newborn child is destined for hell.
Yoo Ah-in, who has starred in high-profile movies like 'Burning' (2018) alongside 'The Walking Dead' star Steven Yeun, plays Jeong Jin-soo. Yang Ik-june plays detective Jin Kyeong-hoon, and Park Jeong-min is Bae Young-jae. Kim Hyun-joo ('Twinkle, Twinkle', 2011) is also in the series and plays attorney Min Hye-jin.
The end of the series left it open to the possibility of a second season, but co-creator Yeon said he and Choi would attempt to expand the story through the webtoon first before it would appear on the streaming service.
Before it was available to mainstream audiences, the series was screened at the Toronto International Film Festival, the BFI London Film Festival, and the Busan International Film Festival, where it garnered critical praise. 'Sweet Home', 'Itaewon Class', 'Nevertheless', and 'Love Alarm' are other television series based on popular Korean webtoons.