It has been confirmed that Daniel Radcliffe, best known for his role as Harry Potter, will play 'Weird Al' Yankovic in the biopic WEIRD: The Al Yankovic Story, which tells the story of Yankovic's life and fame.
The film was written by Yankovic who has earned several Grammy's for his contributions to the music industry, and Eric Appel, who also directed it.
Following on from his most known role in the Harry Potter films, Radcliffe has had a varied acting career which has ranged from playing a man with supernatural abilities in Horns to a farting corpse in Swiss Army Man.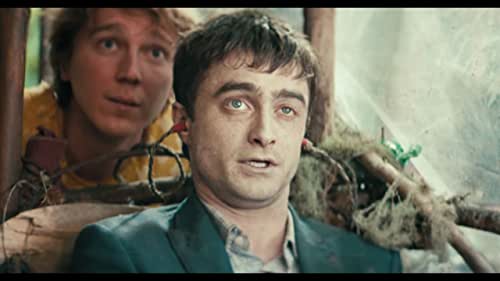 Having recently reunited with his fellow cast members to mark the 20th anniversary of The Philosopher's Stone his next task is to capture the magic of the best-selling comedy singer of recent times- no pressure!
The official synopsis reads 'The biopic holds nothing back, exploring every facet of Yankovic's life, from his meteoric rise to fame with early hits like Eat It and Like a Surgeon to his torrid celebrity love affairs and famously depraved lifestyle.
'WEIRD: The Al Yankovic Story takes audiences on a truly unbelievable journey through Yankovic's life and career, from gifted child prodigy to the greatest musical legend of all time.'
Commenting on the recently confirmed appointment while speaking to The Warp Yankovic said: ' When my last movie UHF came out in 1989, I made a solemn vow to my fans that I would release a major motion picture every 33 years, like clockwork. I'm very happy to say we're on schedule. And I am absolutely thrilled that Daniel Radcliffe will be portraying me in the film. I have no doubt whatsoever that this is the role future generations will remember him for.'
Weird Al ,whose real name is Alfred Matthew Yankovic, excels in song parodies and some of his best work includes Eat It based on Michael Jackson's Beat It, Another One Rides The Bus, based on Queen's Another One Bites The Dust; Smells Like Nirvana, based on Nirvana's Smells Like Teen Spirit; and White and Nerdy, based on Chamillionaire's Ridin'.
Sound like your sort of thing? Why not check White and Nerdy out below.
Recognising the huge popularity of the Harry Potter films, Radcliffe feels ready for the next challenge. Discussing his latest role with Empire he said ' I've actually found it's an incredibly liberating thing to do the biggest thing you're ever going to do really f*cking early.
'The financial success thing, that's done. So just do things that make you happy… like, for every director out there that was like, 'I can only see him as Harry Potter', there was at least one that said, 'I wonder if he'll do this really f*cking weird thing?' And I did!'
Once a Potter fan, always a Potter fan. I'm sure those who have followed Radcliffe's career from the start will be eagerly anticipating his latest stint on screen.