I'll be the first to say, who doesn't like to watch a comedy every now and then? Some of the best movies in history have made us laugh over the years. Here are a few of my favourite comedy films you may enjoy too.
Legally Blonde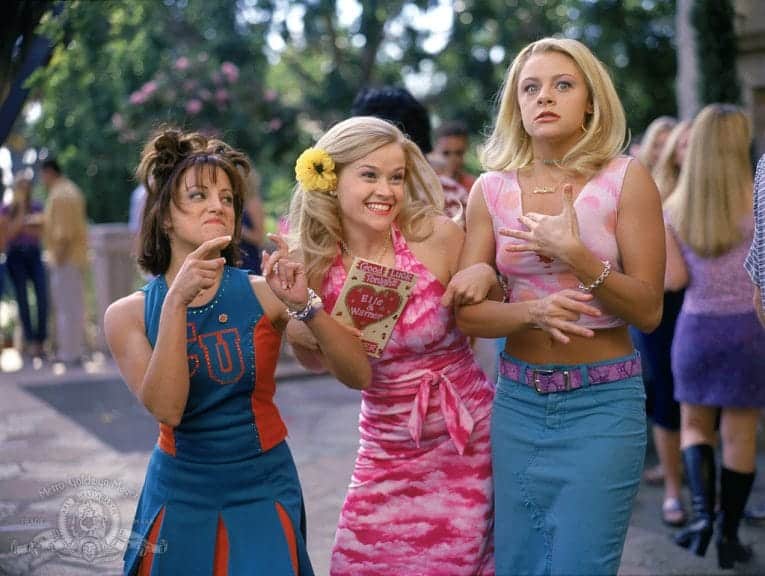 You must always have faith in people. And, most importantly, have faith in yourself.

Elle Woods
This iconic blockbuster stars Reese Witherspoon as Elle Woods. At first, she has the perfect life, but her boyfriend, Warner, leaves her to attend Harvard University. To be with him again, she enrolls and is accepted into Harvard to study law. As the movie progresses, she realises that Warner isn't the right man for her so she motivates herself to study. Eventually, she develops a passion for law.
Elle is one of the most influential protagonists yet. Whilst being bubbly and sweet, she's also hard-working and diligent. I don't think there was ever a point in the movie where she wasn't trying to help someone or make people smile.
Legally Blonde has made a legacy of its own, having a sequel 2 years later, being adapted into a musical, and becoming the epitome of TikTok. It's not just your classic rom-com but a movie that shows you can achieve more than you could imagine with support from your family and friends.
Bill and Ted's Excellent Adventure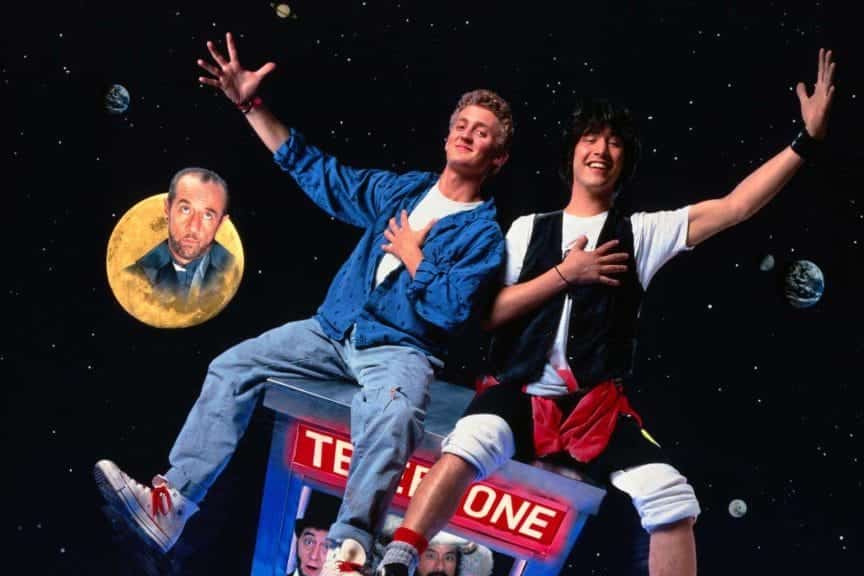 The only true wisdom consists in knowing that you know nothing.

Bill
This movie tells the story of two boys, Bill (Alex Winter) and Ted (Keanu Reeves) who struggle to write their history report but then are approached by a man from the future. This enables them to go back in time! On this quest, they meet some historical figures. This helps the boys to understand and learn the history for their assignment. The historical figures get to learn a thing or two from the boys too!
The first thing I can say about this movie is it's excellent! From the creative costumes to the funny voices, it's such a great and influential movie to inspire people to be a bit more curious. You can't help but love the incredible friendship and chemistry between the main characters. The film also does well to illustrate the time period with the most incredible settings.
Like Legally Blonde, this movie also got a sequel three years later, Bill and Ted's Bogus Journey.
Clueless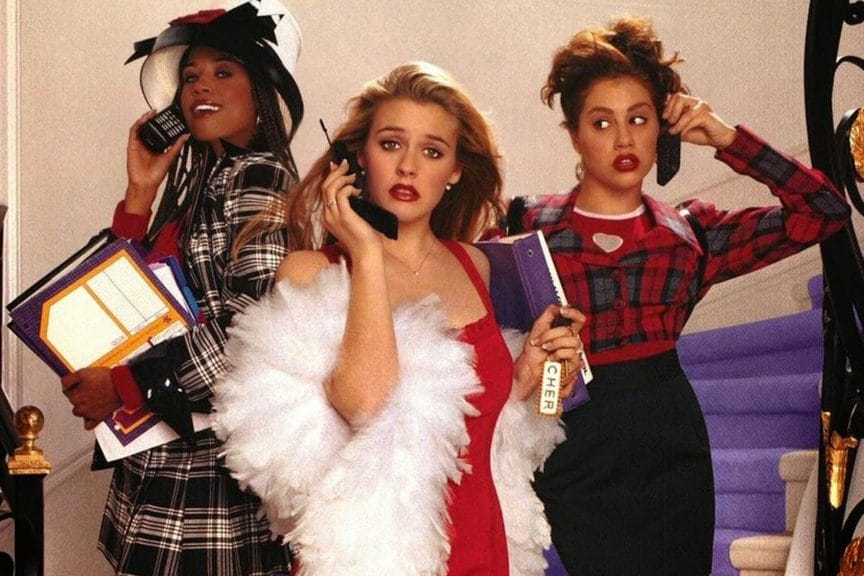 Searching for a boy in high school is as useless as searching for meaning in a Paul Shore movie.

Cher Horowitz
This tells the story of Cher Horowitz, a popular girl trying to find her way through life. As soon as Clueless comes to mind, people immediately think of the checked suits. This movie screams the 90s in so many ways!
Cher is an only child living with her divorced father, Mel. In the beginning, she's a fashion icon, popular, and has everything she could ever possibly want. But she soon realizes that life doesn't come too easily. After her dad's ex-wife's son, Josh, comes, there's some extreme conflict to come. Josh confronts her selfishness, which she doesn't really acknowledge at first. But as time goes by, the two become a lot more comfortable with each other. By the end, she learns to adapt to other people's needs.
The movie really does well to illustrate Cher becoming more confident within herself and trying to get to know other people rather than getting her own way.
The Emperor's New Groove
This story's about me, not him.

Kuczo
This is deemed to be the funniest Disney movie in history. It tells the story of a selfish emperor, Kuczo, who lives in a palace. To teach him a lesson, Yzma, his elderly advisor, takes revenge and poisons him. Instead, he gets turned into a llama. To retain his throne and become human again, he turns to one of the llama tenders, Pacha. Although Pacha knows of his arrogant ways, they find common ground and work together to defeat Yzma.
This movie has received so much praise and positive reception for its incredible animation and brilliant characterization. Not only is Kuczo one of the funniest protagonists, but Kronk has time in the spotlight too. Starting as Yzma's assistant, Kronk is funny and caring but doesn't know how to defend himself. Throughout the movie, he ultimately finds his own voice. Not to mention the fact that his one-liners are hilarious!
Forrest Gump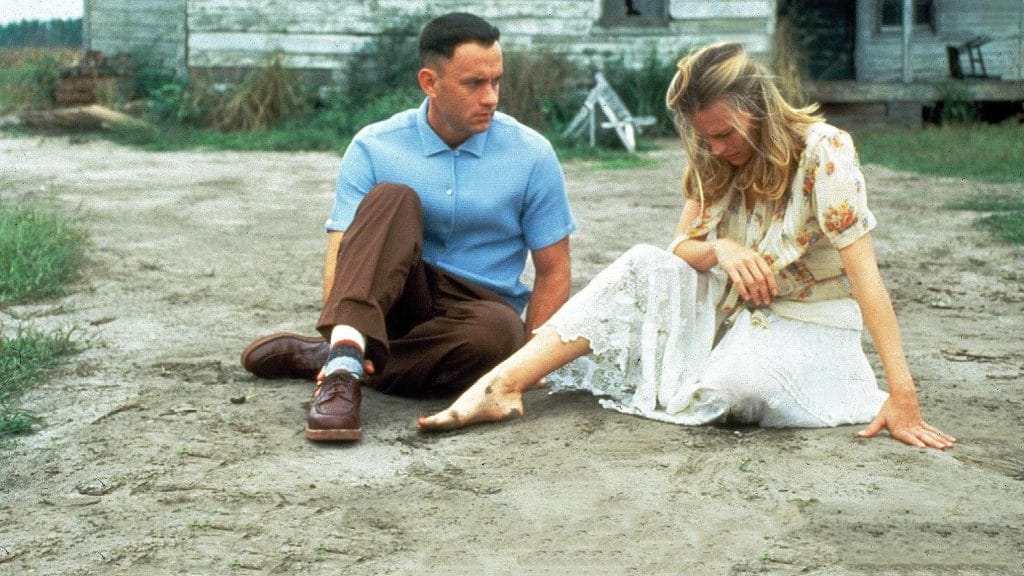 Life is like a box of chocolate. You never know which one you're gonna get.

Forrest Gump
Tom Hanks is one of the most talented actors yet. While his comedic timing is second to none, he also has a long-lasting impact on his audience. Forrest Gump tells the story of a man recounting his life while sitting on a park bench. He wasn't necessarily the best kid at school, but he has so many incredible talents and nurturing qualities.
The movie itself takes place during some of the most important events in history, such as the Vietnam War, John F Kennedy as President, and even an interview with John Lennon.
Forrest is such a kind-hearted and brave character. It really does go to show that your IQ doesn't define where you go in life. As the old phrase says, "Don't judge a book by its cover." Aside from that, there are many comedic moments within the film that just put a smile on your face.
Forrest Gump has resonated with so many people not only for its historical impact but for some of its legendary and memorable quotes. As cheesy as it sounds, this movie shows that there are no limits to what you can do in this world unless you tell yourself you can't do it.
Good Burger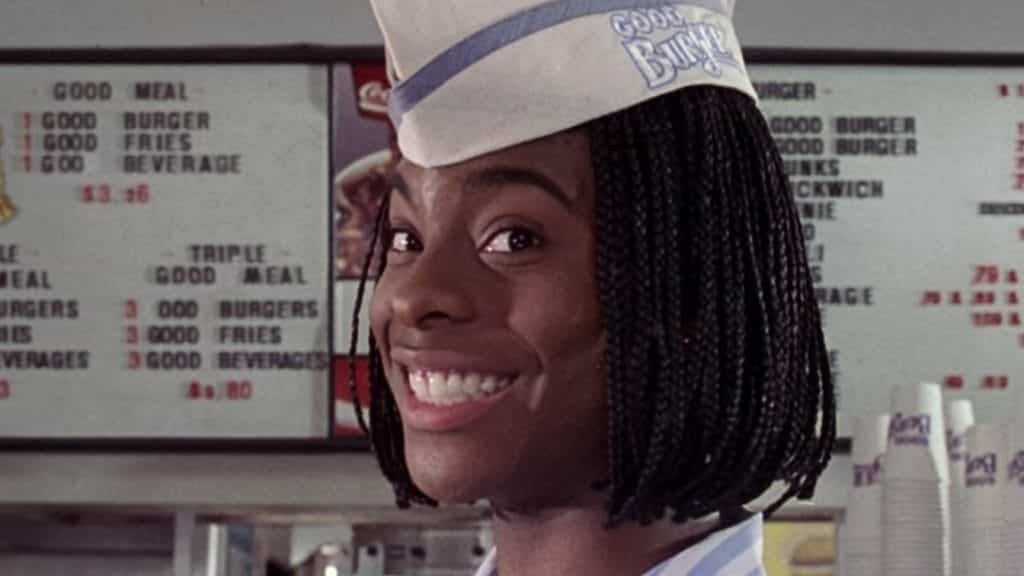 Welcome to Good Burger, home of the Good Burger. Can I take your order?

Ed
Good Burger is the perfect buddy comedy! This stars the comedy duo, Kenan Thompson and Kel Mitchell. They've been known for playing the title characters in Kenan and Kel and being in the sketch show, All That. This tells the story of Ed (Kel Mitchell) and his job at Good Burger. Although he may be a bit absent-minded, he's creative, kind and intelligent. The most important quality about him is that he loves his job. I mean, loves it! He always finds comfort in going to Good Burger and helping out customers, even if it may not be the right way. 
Ed is then joined by a new employee, Dexter (Kenan Thompson), who is almost the complete opposite of Ed. On his summer break, he's forced to work at Good Burger after crashing his teacher's car. He's cunning, selfish, and harsh towards Ed. As time goes on, the two progressively become more warm towards each other, and you could even say they're best friends by the end of it. As always, Kenan and Kel's chemistry is second to none. The two bounce off each other so well, which is why they're a childhood favorite.
Iron Man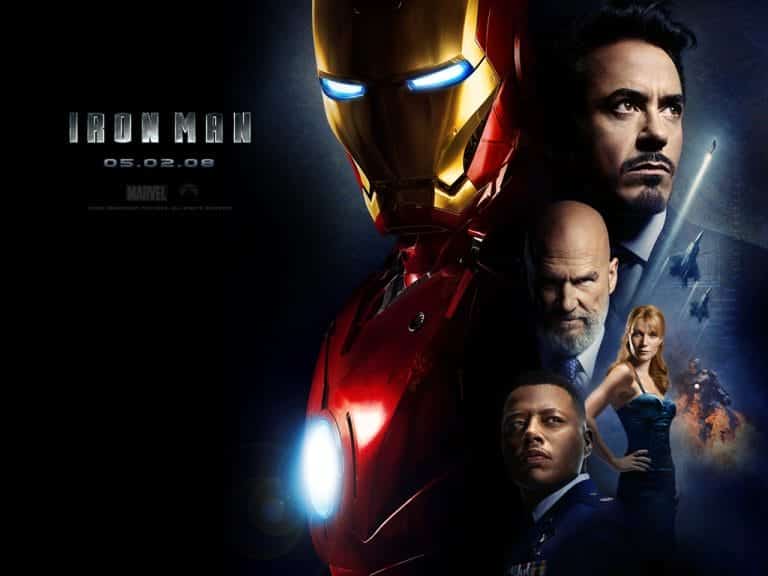 The truth is…I am Iron Man.

Tony Stark
In 2008, a new film series was born. This film's great if you're a superhero fan! When we see Marvel, we tend to focus on the popular ones – Spider-Man, Hulk, Thor, Black Widow but we don't always appreciate where it began. Robert Downey Jr. was the first one to come on screen with Iron Man. It tells the story of a successful industrialist, Tony Stark, whose life immediately changes when he gets kidnapped. Once he breaks free, he decides to make a suit to battle evil around the world.
Robert Downey Jr. outdid himself here. Tony is portrayed as a sarcastic and snarky character who develops a good personality and a genuine heart. You can definitely tell from the beginning that, naturally, he was a born leader even before he built a suit. Tony undergoes clear character development throughout the story, starting out as someone in control to someone who really wants to protect people.
Guardians of the Galaxy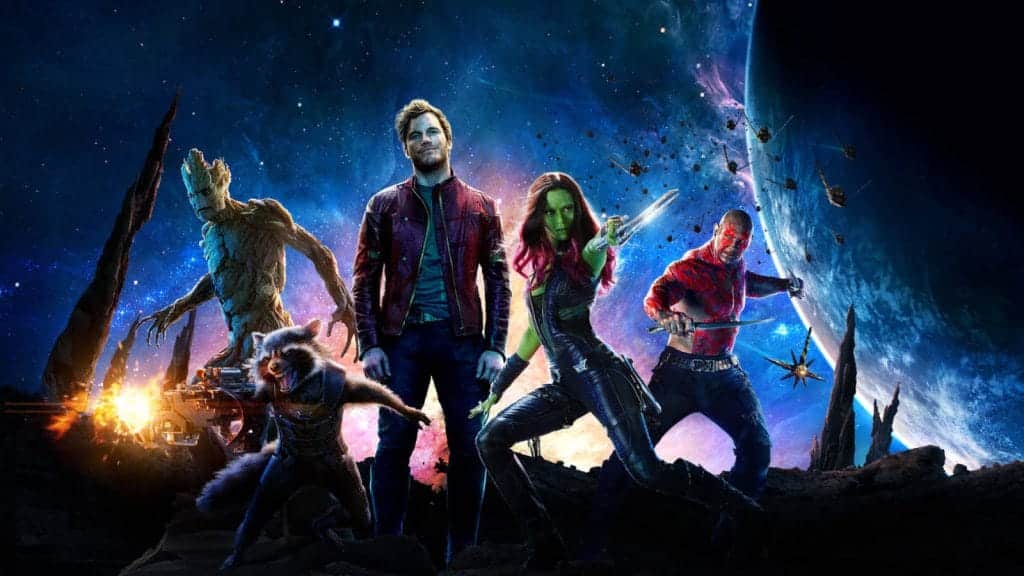 I am Groot.

Groot
We had the first Marvel movie. Let's move on to one of the funniest Marvel movies. Guardians of the Galaxy aired in 2014 and is known for its sci-fi exploration of the Marvel Cinematic Universe. It stars Chris Pratt as Peter Quill, known as Star-Lord, who suddenly gets taken to the planet, Xandar after the death of his mother. During this time, he becomes a part of this new world and eventually befriends five criminals to defeat another big criminal ahead of them.
From the special effects to the passionate acting, this movie has everything that you could ever want if you're into sci-fi. You also see the character's vulnerabilities, one of which is Peter's strong relationship with his mother. One of the film's main motifs is Peter's Walkman which he takes everywhere. During some of the most intense moments, he usually gets out his Walkman to ease the tension, but it's a great way to keep his mother's memory.
Leading back to comedy, this movie is packed with hilarious moments. I think that the characters present similar attitudes, but they don't always agree on everything. Instead, they bring out each other's quirks with sarcastic comments and one-liners, the best one from Groot (Vin Diesel). Groot is by far my favorite character in the movie. His sacrificial and charming personality makes this movie so sentimental.
Guardians of the Galaxy has created a legacy of its own, being adapted into a cartoon series and having two sequels, one of them coming out most recently.
Back to the Future Part I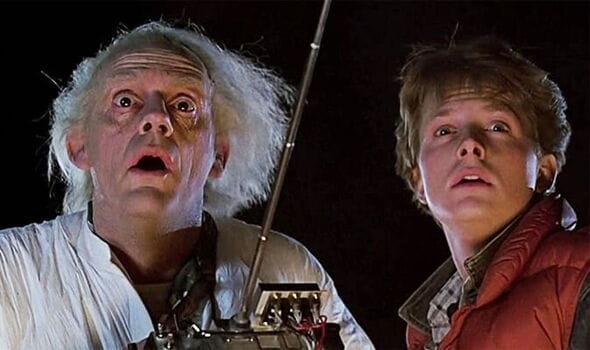 Roads? Where we're going, we don't need roads.

Doctor Emmett Brown
This movie is everywhere. Marty McFly is seen as the coolest and most outgoing protagonist there. Back to the Future takes place in 1985 when Marty is navigating through his high school life. One night, when he's with his friend, Dr Emmett Brown, who's working on a new invention, he accidentally gets sent into 1955 when he drives in a DeLorean. In order to return to the present day, he must reunite with his parents, which soon proves to be more difficult than it seems.
Michael J Fox is such an underrated comedian, and this movie really does start a legacy for him. Like Guardians of the Galaxy, it has a perfect mix of comedy and sci-fi and even adds an element of real life by being shown from Marty's perspective. This movie has received recognition and praise over the years, having two sequels and a musical!
Mrs Doubtfire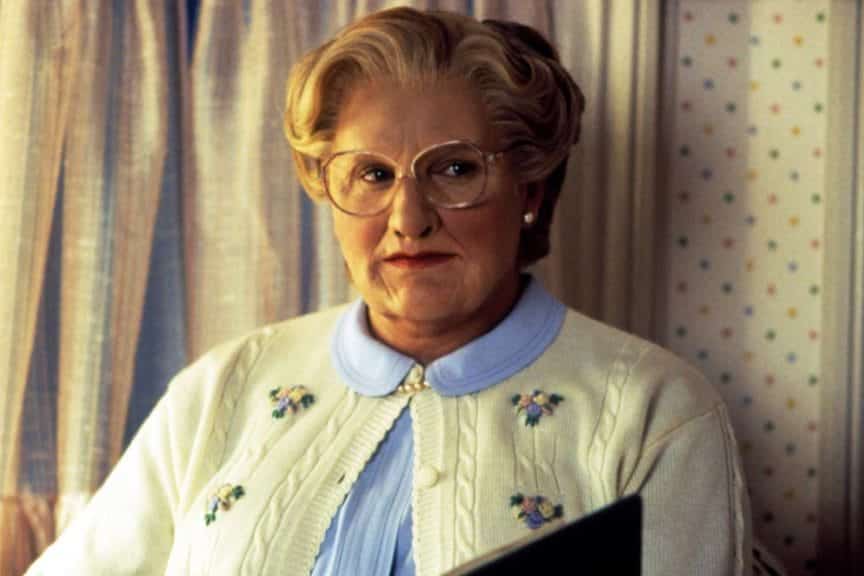 They always say the key to a solid marriage is laughter.

Daniel as Mrs Doubtfire
It cannot be understated how much of an impact Robin Williams has had on us. Not just from this movie but from so many more classics. Mrs Doubtfire is not only hilarious but shows events so many families face. Divorce separated parents, conflict and school. After Daniel Hilliard is limited to seeing his children once a week, losing his privileges to his ex-wife, he gets help from his friend to disguise himself as a babysitter to still take care of them. This creates positive relationships between him and his children.
This movie is such an incredible story about family and vulnerability. Let's not forget the incredible makeup used to turn Robin into a woman in the first place. Mrs. Doubtfire has really had a long-lasting effect on its audience and is something people enjoy watching to this day. But most importantly, there's so much comedy packed into these 2 hours.
All these movies have so many amazing moments. There are so many reasons why people see them as classics. Whenever there's a new movie coming out, we rush to the cinemas, but sometimes we tend to neglect the old and even obscure ones too. Give these a watch and many more if you have the chance!