May 3, 2023, 5 PM. My grandma and I had arrived hours early at the Allstate Arena in Rosemont, Illinois for Agust D's "D-Day" tour, the artist's first solo tour which would bring him to cities across the U.S. and Asia. When we arrived, we were greeted by lines that wrapped around the entirety of the parking lot. Excited fans waved signs and Army Bombs and blasted BTS songs on their phone. Fans of all ages crowded against one another, inching closer to the arena's entrance to see one man: Min Yoongi.
Min Yoongi, who's also known as SUGA, a member of the K-pop group, BTS, introduced his persona, Agust D, to fans in 2016. During his live show, Yoongi grapples with these three different egos, identities, and his experiences with each identity.
"I'm Suga, or Agust D, or Yoongi…"
The show opened with the main screen behind the stage playing a video of rain falling. There's a clap of thunder and the sound of a crash as the rainy visual depicts a collision. This is a callback to the motorcycle accident that almost ended Yoongi's artistic carrier before he even debuted with BTS. Yoongi was carried on stage by a group of performers and laid on the stage where he introduced himself, saying "I'm Suga, or Agust D, or Yoongi." His three identities converged on one stage. The instrumentals for his song "Haegeum" began and Yoongi picked himself up to begin rapping as Agust D.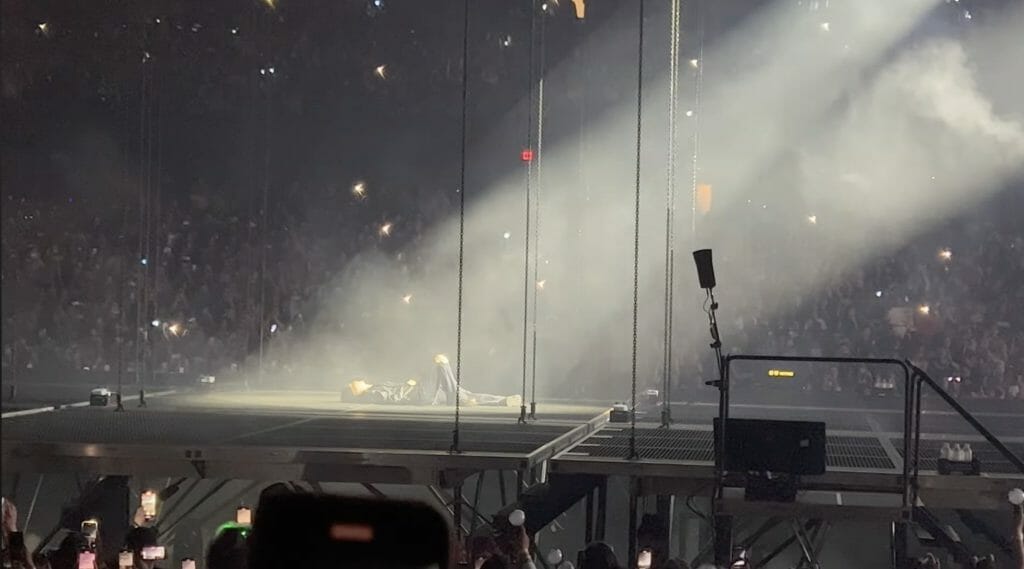 Lightning crashed behind Yoongi on the large screen, visuals for the frustration and energy that was finally being released through his work as Agust D. Destruction and creation of one's self. Yoongi grappled with these as he transitioned to his next two songs "Daechwita" and "Agust D." Yoongi took up the entirety of the stage with ease. He looked confident as he stared at a crowd of adoring fans enthusiastically waving lightsticks to his songs.
The artist continued with his song "Give it to Me." The visual of a hand with chains dangling from its fingers played behind Yoongi. These chains seemed similar to the strings attached to a puppet. This visual and the lyrics of "Give it to Me," show the growth that Yoongi has experienced as both an artist and a person. He recognizes how the "money, honor… [and] fame, flashlight" that he rapped about wanting in the song, acted as chains that controlled him for so long.
Outside of BTS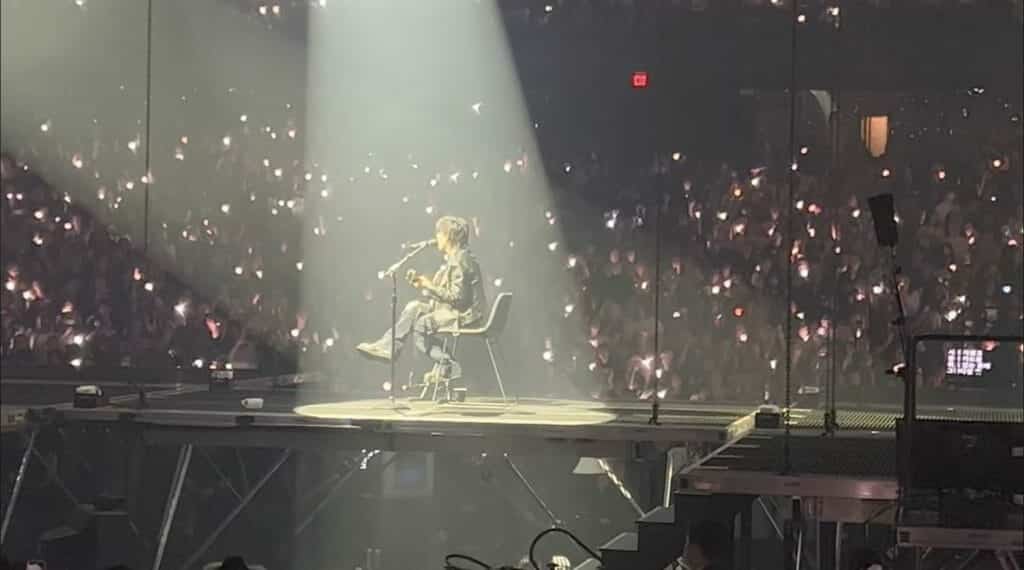 Yoongi once again grapples with his three different personas as he transitioned to the next part of the show. He picked up the guitar that all the members of BTS signed and began singing his solo song from the album Love Yourself: Answer, "Trivia 轉: Seesaw." Previous performances of this song have been on tours with his members, but now he sings this song alone without any of BTS's members there with him. He took a song that was essentially SUGA's song and made it a song for Agust D.
He did something similar with the songs that followed, including "BTS Cypher 4" from the albums Wings and "UGH" from the album Map of the Soul: 7. He's always performed these songs with fellow rappers RM and j-hope. Yoongi rapped his parts from each of these songs. The echoes of his member's parts played in the background. This emphasized how, even outside of BTS, he is his own person. It also served as an homage to the members of BTS.
Standing Alone and "The Last"
The stage that Yoongi performed on was made of nine panels. As the show progressed, they were slowly lifted into the air, one by one, and removed until only one panel was left when Yoongi performed his final song, "AMYGDALA." Removing the panels and stripping the stage down to something bare and vulnerable. It's similar to Yoongi's songs where he strips himself of his different personas. Standing alone, he allows himself to exist as a person. At the end of "AMYGDALA," Yoongi laid down on the stage. He was carried off by the same performers who brought him onto the stage. It's ceremonial, we watched the birth and death of this persona, of this era.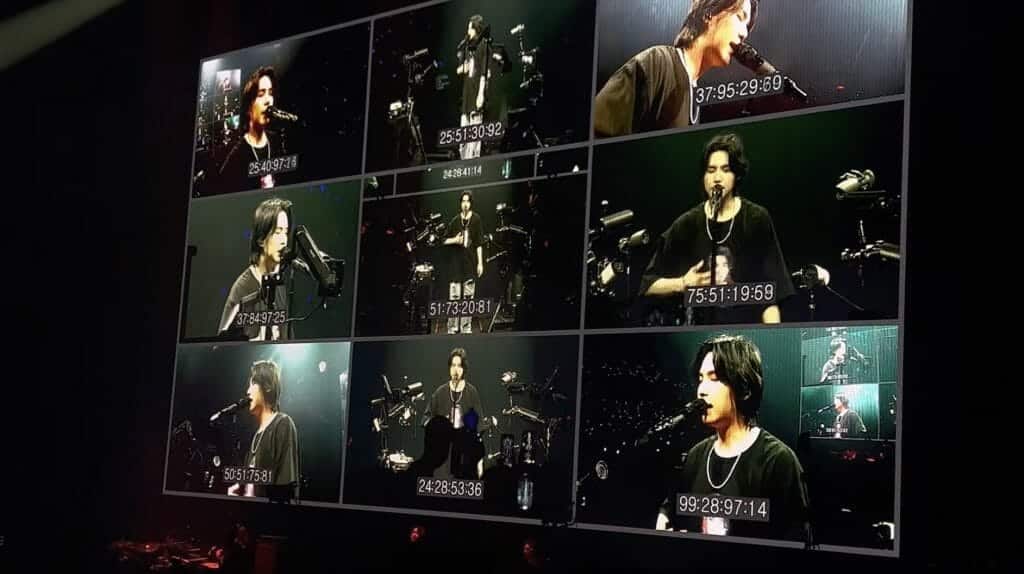 Yoongi returned for a final encore where, by this point, the entirety of the stage had been removed. The artist performed in the pit of the arena. Surrounded by half-broken-down equipment, we see Yoongi at his most bare, his most vulnerable. Behind him, the screen showed cameras recording him from multiple angles, up-close and distant. The pain of his song, "The Last," echoed through this final performance where, in the end, he simply walked off as the stage crew began packing everything up. No more dramatics and performance. He was simply Yoongi, walking off the stage at the end of a show.
Wrapping Things Up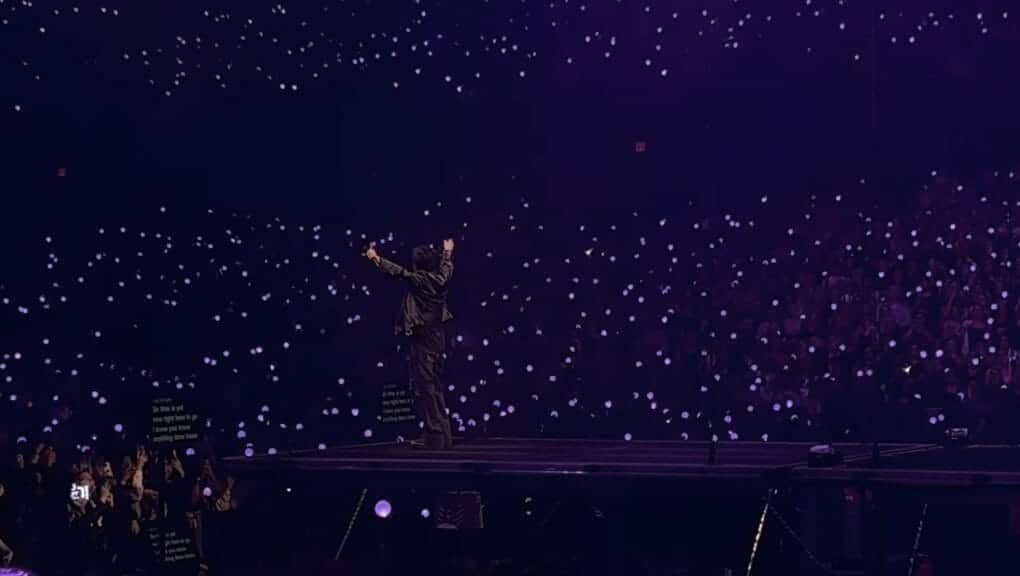 Agust D's live performance for his album D-Day was incredibly powerful. The show is about the different personas we have and what we go through to create and destroy them. As someone who has an identity crisis once a month, this show reminded me that these personas are just that, personas. At the end of the day, similar to how Yoongi simply walked off the stage, we walk away from these personas to be by ourselves.