In the Hip-Hop community, drug lords, kingpins, crime bosses, and gangsters, including the mafia, are glorified, idolized, and well-respected. In other words, despite his death in 1993, Escobar's spirit continues to roam through the streets of Hip-Hop.
"Everybody has a price, the important thing is to find out what it is."

Pablo Escobar
Who is Pablo Escobar?
We've all heard horrific crime stories about the infamous Columbian drug lord. But who is he, exactly? Pablo Emilio Escobar Gaviria was born December 1, 1949 in Rionegro, Columbia. In his early childhood, Escobar and his family moved to Envigado, Columbia, a suburb in Medellin–the city that would soon change the kingpin's life forever! When he became a teenager, Escobar began a life of crime–from selling stolen vehicles to smuggling illegal products, the Columbian drug lord entered a lifestyle he could never leave.
In 1970, Escobar founded his infamous crime organization, "The Medellin Cartel." By 1980, he was a billionaire. At the height of his career, Escobar's net worth was $4 billion. In addition, the kingpin owned 80% of the drug industry–distributing 90% of cocaine in the United States, making it no surprise that he ranked in $60 million every twenty-four hours!
Moreover, Pablo Escobar's crime organization, the Medellin Cartel, remains the largest– most powerful and most successful drug distribution of all time.
"Escobar made sure everyone in his community was taken care of, and he was able to accomplish the task of providing work and shelter for the ones that were in need of jobs or residence. Even to this day, Escobar is referred to as "The Godfather" or "Robin Hood" by his people because of the invaluable contributions he has made for society." – Elizabeth Gail, INQUISITR (2016)
Pablo Escobar's Forbes Impact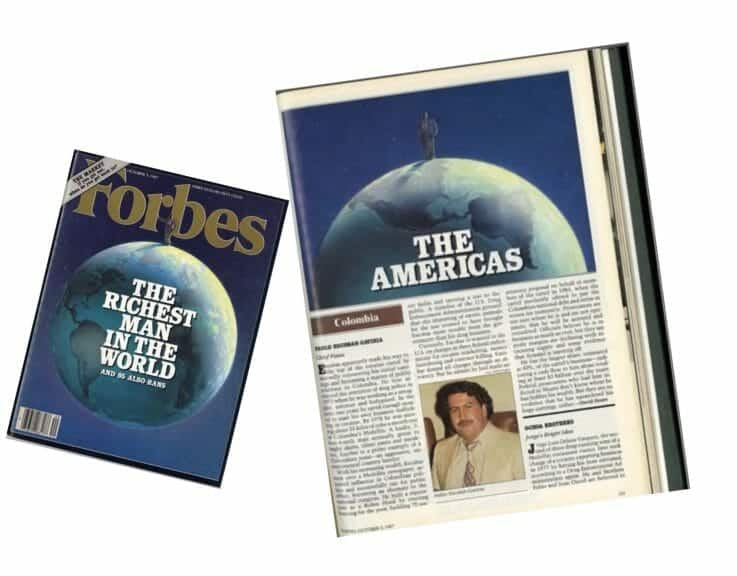 Pablo Escobar's features in Forbes magazine have played a considerable role in his overall influence on Hip-Hop. Hip-Hop music artists who dealt illegal narcotics and substances, such as cocaine, wanted to be a billionaire just like Escobar–making it no surprise why they often namedrop him in song lyrics, freestyles, and interviews.
In 1987, the Columbian drug lord debuted in Forbes–ultimately making him one of the most famous kingpins. This newfound fame was a double-edged sword, of course. Yes, it gave him "street cred," notoriety in the business spectrum, and fans, but it also made him a target and the FBI's most wanted. His success in the drug industry slowly transformed from a "Blessing into a curse."
For instance 1989, Escobar made the Forbes list for the third year in a row. That very same year, the drug lord was a fugitive–on the run– who would soon face a 14-count indictment in 1992 for his alleged involvement in the 1989 Columbian jetliner bombing that killed over 100 people, including two Americans.
Pablo Escobar's Hip-Hop Influence
As previously mentioned, numerous Hip-Hop music artists have name dropped the Columbian kingpin in their song lyrics, freestyles, and interviews, some have even created their own "Escobar persona."
Gucci Mane
Being one of the originators of "Trap music" – a music genre based on the tales of the drug industry on a hot rap beat – Gucci Mane is no stranger to the life of smuggling narcotics. He dedicated an entire song to Pablo Escobar to show how much the Colombian drug lord has influenced him. The intro of his song "Pablo" (2013) glorifies Pablo Escobar, stating, "Just about anybody who used cocaine in the 90s and 80s was using Pablo Escobar products. Escobar was probably the most violent, the most ferocious criminal that ever lived."
Nas
Throughout his career, Nas has used the alias "Nas Escobar" to subtly show how the drug lord has influenced him. In his song "Escobar'97" (1997), Nas name drops Escobar in the title and catchy hook, stating, "Honies, cash, weed, and cars, ghetto celebrities, hood movie stars, gat slingers now rap singers are who we are, went from Nasty to Nas to Nas Escobar." As of now, Nas is currently the co-owner of Escobar cigars – ultimately inspired by the Colombian kingpin.
Kanye West
For his seventh studio album, "Life of Pablo" (2016), West channeled three public figures that were important to him–one of them being Pablo Escobar. In this case, West wasn't inspired by the kingpin's drug industry success, but instead the La Catedral–the luxury prison that Columbia allowed the drug lord to make for himself.
West was recording 'Life of Pablo' during a dark period of his life, which is why he related to the kingpin's fame turning into a curse. In addition, West's version of La Catedral is his luxury Bel-Air mansion–but the world is the prison, and his luxury mansion is the sanctuary he isolated himself in.