Olivia Rodrigo has done it again, releasing another No. 1 album with all the songs to get you in your feels. Most people have been sharing their love for it on social media platforms such as TikTok. Some people have still found a way to drag her down.
The new album has had some of us sobbing over some songs. 'Making The Bed', 'The Grudge', and 'Teenage Dream' are the main culprits. 'Vampire' has soared to the top of the charts at No.1 with twenty-three million streams. Each limited edition of her vinyl has a different hidden bonus track. The songs include 'Obsessed' on the red vinyl, 'Scared of My Guitar' on the white, 'Stranger' on the blue, and 'Girl I've Always Been' on the purple. On top of all of that, Olivia has recently announced a world tour with plans for seventy-five dates.
It's easy to forget how young the star is. She released her debut song 'Driver's License' when she was just seventeen. In a statement about her new album, she admits, "I feel like I grew ten years between the ages of 18 and 20".
Neither her youth nor her success has protected her from criticism over both albums. People are once again calling Olivia out for plagiarized music, which is similar to the criticism that she faced for the first album. She has also been accused of writing homophobic lyrics in one of her new songs, 'Ballad of a Homeschooled Girl'.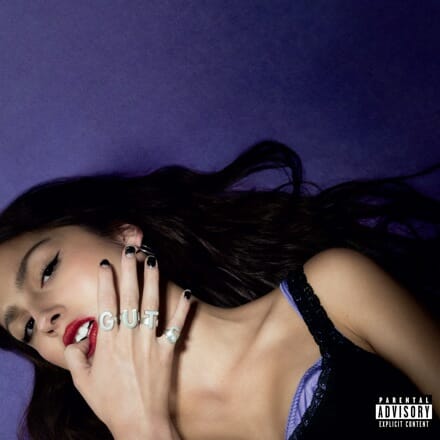 An alleged copycat
Olivia faced a lot of criticism over her first album, with songs like 'Good 4 u', 'déjà vu' and '1 Step Forward, 3 Steps Back' being compared to songs by Paramore and Taylor Swift. People claimed that 'Good 4 U' was too similar to the 2007 hit 'Misery Business' by Paramore. Then there was 'Déjà vu', which critics compared to 'Cruel Summer' by Taylor Swift. People also couldn't help but hear the similar chord sequence at the beginning of '1 Step Forward and 3 Steps Back' when they compared it to the beginning of Taylor Swift's song 'New Year's Day'. In the end, Olivia credited Paramore and Taylor Swift as cowriters on their respective songs.
Her new album has already been picked apart by critics, with her songs being compared to other songs. People compared her single 'Vampire' to a range of different songs, including Miley Cyrus' song 'See You Again'. Underneath a TikTok comparing the two, someone commented, "I'm not saying they're the same…but when I sing Olivia's Vampire in my head, I end up singing Miley's See You Again". Other users commented, defending Olivia, saying, "Why can't people just leave this girl alone lol" and "Why is everyone always comparing Olivia to everyone".
TikToker Jarred Jermaine has called out other songs on Olivia's new album, including 'Get Him Back' and 'All American B****'. He compares 'All American B****' to 'Start All Over' by Miley Cyrus and 'Get Him Back' to both Jessie J's song 'Masterpiece' and 'Toy Soldiers' by Martika. His videos led to a Twitter user reposting his videos with the caption, "Why is Olivia Rodrigo copying every existing song left and right".
Courtney Love also accused Olivia of copying her album cover. TikToker @king.asante explains the situation in his video.
Every guy she likes is gay
After the release of her new album, people also came for her, screaming 'homophobia'. In her song 'Ballad of a Homeschooled Girl', she sings the lyric: 'Everything I do is tragic / Every guy I like is gay'. This has caused some people to call her homophobic. Underneath a TikTok posted by @mamaoofie using the song, someone left the comment, "Yay let's support homophobia and young guys not fully knowing their sexuality yet". She responded to this by saying:
"This song is essentially about the lack of social awareness that can sometimes come from being homeschooled… This lyric is essentially her poking fun at herself because she was unable to pick up on the fact that a man was just being friendly to her and he was openly gay."

TikTok / @mamaoofie
Fans flooded the comments in agreement. One person commented, "It's so funny to me cuz they're the only people seeing the word "gay" as something bad. I'm so tired of people making being gay a taboo. We're equal."
Another person commented, "People are just always gonna find something to be mad about".
Since the controversy over the lyrics, Chipotle used it for an advertising campaign. They captioned one of their Instagram posts "Every guy I like is guac". Olivia commented on the post, "LMFAOOO THIS IS AMAZING". So it seems she's not taking the criticism to heart.
Haters gonna hate
Olivia Rodrigo definitely faces more scrutiny than other artists. This is especially visible when it comes to accusing artists of plagiarism. As many people have pointed out, there are only so many chord sequences in pop music, so it is inevitable that some songs will sound similar to others.
If it isn't copied songs, it's accidentally offending people. If it isn't accidentally offending people, it's singing music she is too old for. This is something @reservoirdougs and @emily_r24601 discuss on TikTok:
Maybe it is because she was a Disney star. Perhaps it is because she is a young, successful female artist. The haters on the internet are unavoidable. If there is one thing they can't criticize, it is her talent for songwriting and her ability to create No.1 hits. Most of us can't wait to see what she does next.