NewJeans: Your newest, freshest introduction to the k-pop scene. With just six songs, this girl group managed to reach global success. After their debut single, "Attention", in July 2022, their fame and popularity grew almost instantly. This group's career is just starting, yet it is seemingly on the track to timeless success.
Who are NewJeans?
Have you ever heard of them? If you're new to the k-pop community, NewJeans is a five-member Korean pop group starring Minji, Hanni, Danielle, Haerin, and Hyein. They debuted around July 2022 and are under the record label, ADOR, created by CEO Min Hee Jin. This label is housed underneath Hybe, one of South Korea's most prominent music corporations today (It is also home to Big Hit Labels, where global legends, BTS, reside). They are a part of the 4th generation of k-pop and represent gen-z in music.
NewJeans' music and the overall style as a group is an ode to and is inspired by Y2K and 90s R&B (even their website is Y2K themed!). This refreshing, new take is purposeful, as CEO Min Hee-Jin stated in a Billboard interview that this new girl group focuses "purely on music." In July, they made a "surprise" debut, releasing their music video, "Attention," without any promotions. This was somewhat of an unorthodox method in the Korean music industry. Despite that, it garnered around 1.3 million views within 24 hours.
On the Charts
They then released their self-titled EP, 'New Jeans,' containing four tracks: "Attention," "Hype Boy," "Cookie," and "Hurt." In December, they released a new single, "Ditto," and entering the new year, they released "OMG." Members are actively participating in the writing process of their songs. They make sure to have fun with the creative process–including the dances. Member Danielle mentioned that "it came more naturally" writing lyrics for "OMG" after their experience with their first EP.
Their 'New Jeans' EP landed on The Rolling Stone's Top Albums of 2022, with "Hype Boy" as their 24th best song of the year. Additionally, their songs have already reached The Billboard Hot 100 chart and reached up to 200 million plays on Spotify. They also took social media by storm–their songs are used on TikTok and Instagram for vlogs, dance challenges, and more. And most importantly, songs that are fun, enjoyable, and a new take on k-pop.
A Fresh New Wave
The name 'NewJeans' was quite a shock at first; k-pop fans, while intrigued, were confused. Yet the name was intentional for these 4th gen stars. 'NewJeans' is a double entendre; the first meaning references that denim jeans are a timeless piece in one's wardrobe. Secondly, the name is a play on words for "new genes," representing the new generation of music. The group wants to uphold these same concepts, making their mark with their music and style.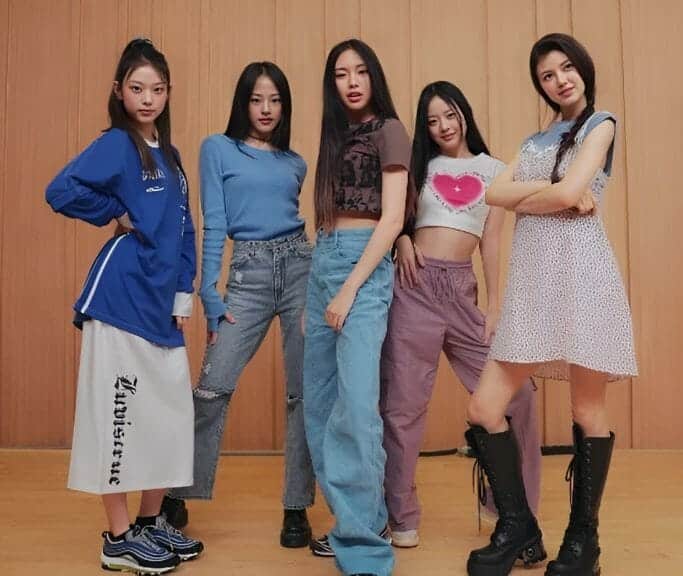 Like most k-pop groups today, social media is crucial for music promotion and popularity growth. Their song "Attention" was pre-released and was already trending throughout TikTok before the group's official debut. But once they did, it was easy sailing, gathering many fans from across the globe. Today, NewJeans has around 5 million followers on TikTok. This is all thanks to the beautiful combination between their lovable songs and overall appeal as a group.
Social Media Stars
Aside from the members themselves, they genuinely appreciate the support of their fans/fanbase called 'Bunnies.' NewJeans' music holds the power to unite people through song and dance; whether through TikTok, Instagram, or Youtube, fans love dancing along to their music. Danielle stated in a Billboard interview, "It's been enjoyable watching other people do our songs, and I keep checking because I'm inquisitive!" It strengthens fans' love for this group, leading them to support NewJeans more and more.
Additionally, as teenagers, the members of NewJeans actively participate in social media and TikTok trends on their pages. For example, the TikTok video format below was already a popular trend. But they decided to join in on the fun and add their twist. Many fans felt shocked and excited at this engagement since it wasn't like typical k-pop group promotions. It was fun, different, and, most importantly, relatable. This relatability ultimately developed a strong bond with their fans.
90s Nostalgia
Their internet presence is also a sort of representation of today's youth, aka gen-z. It is seen primarily through their music videos. Their videos have a continuous theme of growing up and have coming-of-age concepts: scenes of them going to school, laughing or hanging out with friends, developing a crush, etc. For example, the "Ditto" music video depicted friends hanging out at school and enjoying their time together.
The cinematography was presented in a soft haze–a dream-like focus–with bits filmed with an old-style camcorder (as if it were from the 90s). Minji stated that they were open to fan interpretations of the video. She said in a Rolling Stone interview, "I find the fact that you can be imaginative with the videos to be cute, and rather than having a clear answer, I think leaving it open is part of the allure of the video." Overall, fans loved and resonated with the nostalgic feeling it brought. It made them sincerely enjoy the song, the story, and the emotion it depicted.
NewJeans' likability lies in their charisma, feel-good music, and dedication to their music and fans. Within half a year, the group won various awards (including Rookie of the Year), became brand ambassadors for Gucci, Armani, and Chanel, and is doing fantastic with each new release. Many fans look forward to what's next to come for these girls. Whether through their music, dances, or messages, I can only imagine that this groundbreaking girl group is going up from here.