Hozier. That Jesus-looking dude who's desperate to get to church has mastered the art of a sultry pout and looks like he could've just sprouted from the earth. Whilst everyone else was playing animal crossing in lockdown, Hozier was traversing across Dante's Nine Circles of Hell, soon to be the inspiration for his 2023 album: 'Unreal Unearth'.
La Divina Commedia describes Dante's journey through Hell. With the ancient poet Virgil as his guide, Dante navigates past Hell's gates and through its Nine Circles. On their journey to Heaven to reach Dante's beloved, Beatrice, they meet the condemned souls who must endure eternal punishment.
The Italian poet and philosopher Dante Alighieri began writing La Divina Commedia ('The Divine Comedy') in 1308. He completed the epic poem prior to his death in 1321. During this period, Dante was exiled from Florence and lived in Ravenna, Tuscany. The reason for his exile was corruption and financial wrongdoing, themes which he did not shy away from in 'Inferno'.
Hozier can be seen quoting Dante right back in 2019, in the form of this tweet from Canto III of 'Inferno':
On the Zach Sang Show, Hozier reflected on his experience reading 'Inferno' throughout the 2020 lockdown. Sang asks, 'Are you kind of him (Dante) walking through society and taking notes?' In response, Hozier explains that 'the songs are just themes'. The epic poem is simply 'a device to structure the shape of the album.'
Eat Your Young
'Eat Your Young' was released on March 17th, 2023 as part of the Eat Your Young EP. The EP is comprised of three songs: 'Eat Your Young', 'All Things End', and 'Through Me (The Flood)'. The inspiration for 'Eat Your Young' is rooted in the third circle of Hell, whose inhabitants are suffering for their gluttony.
The three-headed dog, Cerberus, rules this circle. Here, the gluttonous must lie in the mud whilst they endure constant hail and excrement. The artwork for the Eat Your Young EP details bodies buried alongside bullets, coins, and a pocket mirror; items that allude to greed and vanity.
Footage from Hozier's live performance of 'Eat Your Young' at Alexandra Palace, London. If you look closely enough, you'll see him drop an entire guitar on his foot and continue singing. This man really does go through Hell for his fans.
Count Ugolino
'And said they: 'Father, much less pain 'twill give us

If thou do eat of us; thyself didst clothe us
With this poor flesh, and do thou strip it off.'

Inferno 33 I.61-63
In the ninth circle of Hell, Virgil and Dante meet Count Ugolino. Ugolino is a nobleman of Pisa, charged with treason and sentenced to starve in the dungeon with his sons and grandsons. In Canto 33, the Count speaks to Dante about his children. The Count recalls that as his children fell 'one by one' (33, I.71), then 'hunger did what sorrow could not do' (33, I.75). It is not the Count's sorrow, but his gluttony, which leads him to eat his young.
'An Absurd Little Theatre Piece'
Prior to the release of the music video for 'Eat Your Young', Hozier put out a statement explaining his creative vision:
'I wanted to do something slightly different for this, and put together an absurd little theatre piece consisting of two stages working in tandem with one another.'

Hozier
The video focuses on the perpetuation of gender roles in society, and the impact of this on the younger generation. At the beginning of the video, a woman gazes at a framed statue of Venus. She slowly paints her face grey and places black sleeves on her arms so they appear to be cut off, just like Venus'.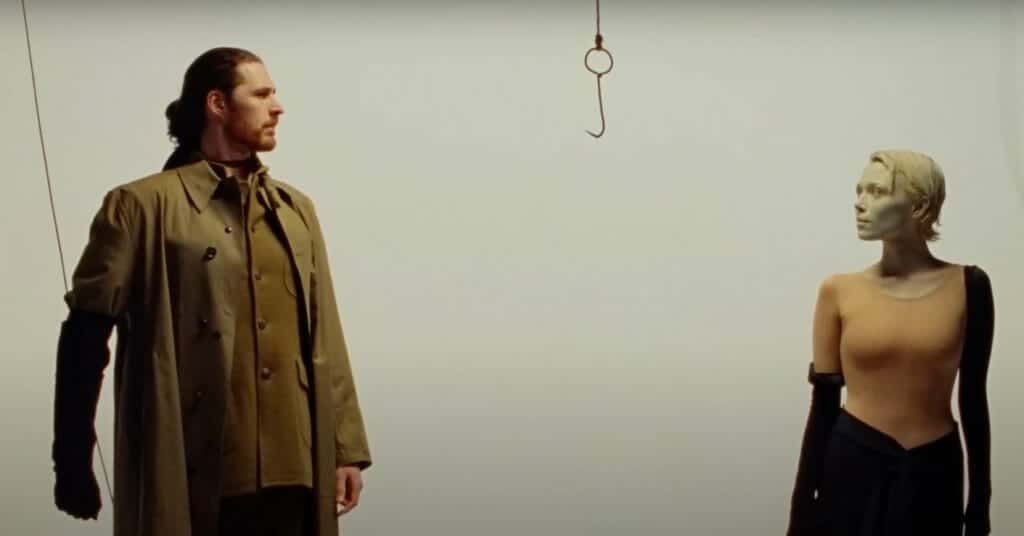 When the child in the video begins playing with a doll, he also is also given a black sleeve. This is because dolls do not conform to the gender roles he's been shown. When the lost limbs reappear at the children's show, it becomes clear that is the next generation who will see and have to deal with the damage done.
At the end of the music video, the audience of children is seen running away from a meat locker. It can be assumed that this contains the body parts of the young boy. In an effort to force him to conform, the boy's parents have physically cut him up. Just like Count Ugolino, their own gluttony killed their young.
Francesca
Hozier lifted the story behind the debut single from Unreal Unearth, 'Francesca', directly from the text of 'Inferno'. Dante meets Francesca (Francesca da Rimini) and Paolo Malatesta in the Second Circle of Hell: Lust. Noblewoman Francesca de Rimini was the daughter of the Lord of Rovena. To negotiate peace between Italian states, she was forced to marry Giovanni Malatesta.
In the knowledge that Francesca would not accept Giovanni's hand in marriage, the Lord of Rovena requested that his more attractive younger sibling, Paolo, be a proxy at the wedding. Francesca and Paolo fall in love and continue their affair unbeknownst to Francesca's husband, Giovanni. After ten years, Giovanni discovers them, killing them both.
When Francesca and Paolo are found in Hell, they are suffering 'Dantean Contrapasso', and batter an eternal wind. This is derived from the Latin "contra" and "patio", meaning "suffer the opposite'. Despite the blame to be laid upon her father, Dante holds Francesca responsible for the fate of her and Paolo.
Hozier states that the poem 'starts from a personal place' but that it also 'lives another life, it's not just a secret message'. That other life redeems the character of Francesca. The couple serves to be a testament to the enduring power of love as their 'punishment is to be thrown about in the storm having been swept off their feet in real life.'
Unknown / Nth
Hozier describes 'Unknown / Nth' as 'a song about being let down by someone who you really trusted'. It is the ninth circle of Hell: Treachery, which inspired this song. It is here where Satan resides, notably not as 'the King of Hell, but as is its primary and number one prisoner'. A fallen angel, Satan is the furthest from the warmth of God. He lies there frozen and cries as he chews on Judas.
The third verse of 'Unknown / Nth' makes a direct reference to this image of Satan. Hozier recalls a lover who once called him an angel, but now chews on the pieces of his broken heart:
'You called me angel for the first time
My heart leapt from me
You smile now, I can see its pieces still stuck in your teeth'

Hozier, 'Unknown / Nth'
All Things End
'All Things End' is a reflection upon the transience of life, and the temporary nature of all that we hold dear to us. In the Sixth Circle of Hell, Dante encounters the philosopher Epicurus. He is held here to be punished for heresy, as his philosophy was founded upon the belief that the soul dies with the body. Eventually, at the point of death, 'All Things End'.
The music video to 'All Things End' is set in an operating theatre. Throughout, a surgeon operates on the heart of Hozier-as-patient. In the first verse of the song, Hozier reflects upon how:
'If there was anyone to ever get through this life
With their heart still intact, they didn't do it right
The last time I felt your weight on my chest, you said
"We didn't get it right but, love, we did our best"

Hozier, 'All Things End'
Although the heart cannot physically be repaired, and Hozier-as-patient stops singing as he passes away, the music continues. As the lyrics continue, it appears that Hozier offers a counter to Epicurean philosophy. All physical things will end, but love endures.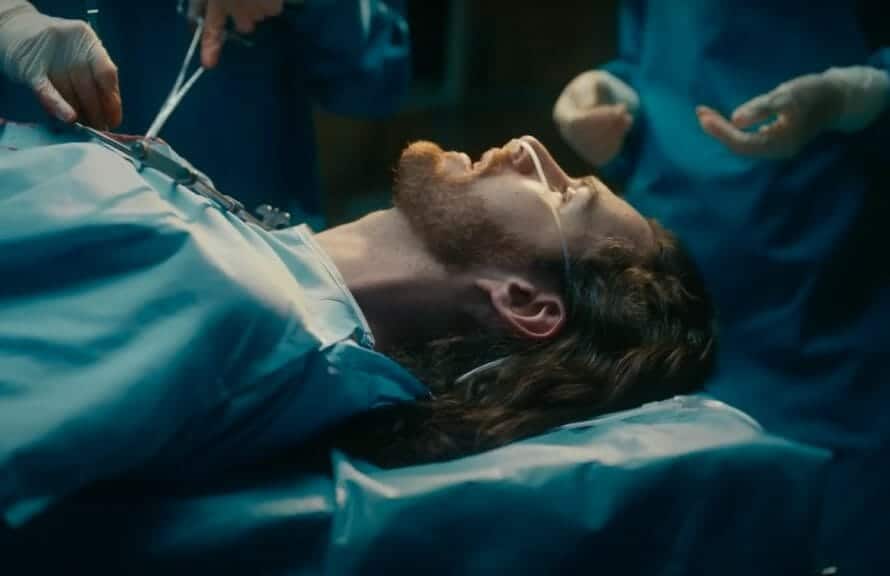 The echoes of '(knowing we can always start again)' and '(knowing we have another day)' in the last chorus of the song build towards the final line: 'we begin again'. Ultimately, this could be seen as a reflection of Dante's journey. He goes through Hell, Purgatory, and Heaven, but eventually returns to the world of the living.
Unreal Unearth will be released on August 18th, 2023. The tracklist is already available online, and the excitement is only set to build. Titles such as 'Butchered Tongue' and 'To Someone From A Warm Climate' are rumored to allude to further Circles of Hell. So, those attending his current tour of Europe are in for a deeply meaningful live performance.