This year's Evolution fighting game tournament came and went with explosive matches and exciting new announcements.
EVO is a yearly fighting game tournament that sees top players competing in many different popular fighting games. While many games are played at EVO, very few have the honor of being the main stage titles. More often than not, the Main Stage games are the most recent editions of the most popular fighting games. Older games are played competitively at EVO; not all make the main stage. This year's EVO had a stacked roster of Main Stage Games.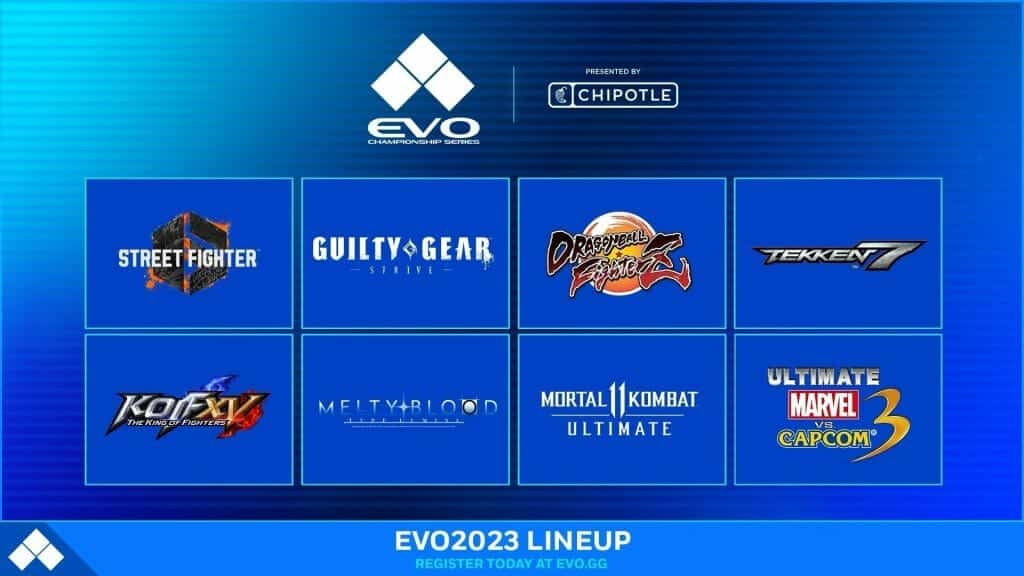 Main Stage Titles
This year, eight games were featured as the mainstage titles. The recently released Street Fighter 6 was front and center on the bracket. Many other fighting game franchises were present in the line-up. Tekken, Mortal Kombat, and The King of Fighters were all present with their most recent entries. Eyes were on Tekken and Mortal Kombat this year as this would be the last year Mortal Kombat 11 and Tekken 7 would be played at EVO, as their successors are soon to be released. Other more niche but still wildly popular games were present. Guilty Gear: Strive, Dragon Ball FighterZ, and Melty Blood: Type Lumina were played on the main stage. However, the most surprising inclusion in the mainstage lineup was the return of the iconic Marvel Vs Capcom series with Ultimate Marvel Vs Capcom 3 being played at the event.
This is an interesting inclusion as MvC (Marvel Vs Capcom) has not been present at EVO for some time. Marvel Vs Capcom 3 is also not the most recent version of the iconic series. The poorly received Marvel Vs Capcom: Infinite was skipped over in favor of its more popular predecessor. This was the highlight of the event for many, as competitive MvC 3 has not been seen as a large event like EVO in years.
Street Fighter 6
Street Fighter 6 saw the players AngryBird and MennaRD clash at the Grand Finals. AngryBird is a Ken player from the United Arab Emirates who is fairly new to the Street Fighter scene. While playing competitively since Street Fighter 4, he really took off in SF5, dominating many online tournaments toward the end of the game's life. MennaRD is a player from the Dominican Republic who plays both Blanka and Luke in Street Fighter 6. MennaRD has been around since Street Fighter 4, and like AngryBird, took off in SF5. AngryBird was the winner of Street Fighter 6's grand finals at EVO 2023.
Announcements for Street Fighter 6 were plentiful. The newest DLC character A.K.I was teased in a story trailer. They also revealed a collaboration with Teenage Mutant Ninja Turtles, with cosmetic items inspired by the series appearing in Street Fighter 6.
Tekken 7
Evo 2023's Tekken 7 grand finals had the players Arslan Ash and Ao competing. Tekken 7's Grand finals is one of many Grand finals this year to end in a mirror match. A mirror match is when both players are using the same character. Both players chose Kunimitsu. This may come as a shock to some, as many do not consider Kunimitsu to be anywhere near the top of any tier list. Despite this, she has been consistently placing well at many tournaments. Arslan Ash is a player from Pakistan. Pakistan, according to many, has been changing the way Tekken is being played competitively. Ao is a player from Japan who has been active in the fighting game scene since 2012. Arslan Ash won the grand finals of Tekken 7 at EVO 2023.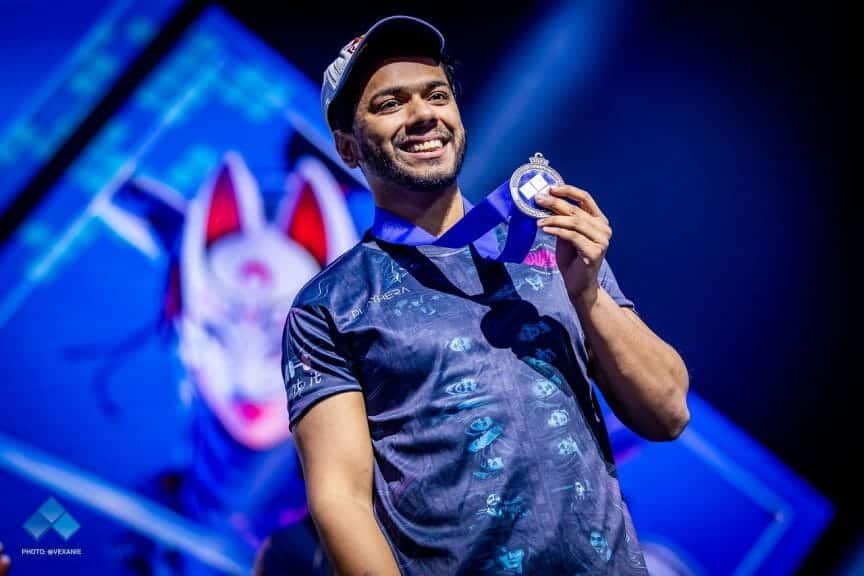 Seeing as Tekken 8 is months from release, the announcements were for the upcoming titles. Two characters were revealed for Tekken 8. The returning character Raven was revealed after missing out on Tekken 7. The second character is a newcomer: the Peruvian coffee enthusiast, Azucena.
Mortal Kombat 11
Mortal Kombat 11, in what will be its final year at EVO, saw the players Ninjakiller_212 and Nicolas meeting at the Grand Finals. Ninjakiller_212 is an American player who has been dominating the Mortal Kombat scene, winning last year's EVO and several other Mortal Kombat Tournaments. Nicolas is a fairly new player on the scene from Chile. The grand finals saw both players choose Fujin, another mirror match. In the end, Ninjakiller_212 emerged victorious.
With Mortal Kombat 1 releasing in under a month, announcements for the game are plentiful. At EVO the character Reptile was announced to be returning as well as a new character Ashrah. The trailer also reminded players about the Kombat Pack DLC.
Guilty Gear: Strive
Guilty Gear: Strive had the players Leffen and NBNHMR collide at Grand Finals. Leffen is a very prolific player in the fighting game scene. Originally an infamous Smash Bros. Melee player, Leffen has branched out, becoming a threat in many other games, like Guilty Gear and Dragon Ball Fighterz. NBNHMR is a new but dominating player in the scene, starting in 2022 and placing very well in Guilty Gear tournaments. Both players selected the character Happy Chaos. This year's Guilty Gear grand finals went to Leffen.
The announcement for Guilty Gear: Strive was the return of the fan-favorite character Johnny. Originating in 2000's Guilty Gear X, Johnny was an absolute fan favorite, which made his omission in Strive Strange all the more upsetting to long-time players. But, the natural-born gambler returns with playing cards as a part of his move set. Also announced was a series of balance changes, including the addition of new moves to the base roster characters.
King of Fighters: 15
KoF 15 grands saw the players Xiaohai and E.T. King of Fighters is a team-based fighting game, which means players can bring three different characters into battle. Despite this, both players had the characters Isla and Krohnein on their teams. However, Xiaohai brought Kyo and E.T. brought B. Jenet. In the end, Xiaohai won the tournament, surprising very little. Xiaohai has been at the top of the King of Fighters scene since King of Fighters 13.
The announcements were the newest Fatal Fury game, Fatal Fury: City of the Wolves. Also announced was an enhanced edition of King of Fighters 13. Also announced were two new characters for Kof 15 in 'Najid and Duo Lon.
Melty Blood: Type Lumina
Melty Blood: Type Lumina has the players Moai and Dai competing in the Grand finals. As with other games this year, Melty Blood's grand finals ended in a mirror match. Both players choose the character Michael Roa Valdamjong, who has one of the more normal names of all Melty Blood characters. Moai, the Japanese player won the tournament, beating Dai, who is also from Japan. There were no announcements for Melty Blood at EVO this year.
Dragon Ball FighterZ
Dragon Ball FighterZ's tournament ended with the players Hikari and Yasha meeting in the grand finals. Like King of Fighters, Dragon Ball FighterZ is a 3 vs 3 team game. Like so many other grand finals this year, DBFZ ended in a mirror match, with both players picking the exact same teams. Both players brought Vegito, Gogeta, and Android 17. The American player Hikari was victorious over the French Yasha. There were no announcements for Dragon Ball FighterZ at EVO.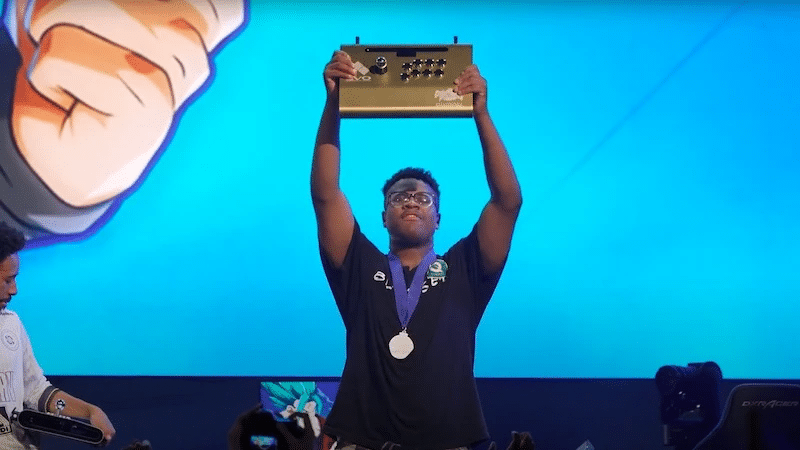 Ultimate Marvel Vs Capcom 3
In the most anticipated grand finals of EVO this year, Ultimate Marvel Vs Capcom 3 had the players Jibrill and Evasion facing off in the grand finals. Like DBFZ and KoF, Marvel 3 is a team fighter. Like Dragon Ball FighterZ, both players took the exact same teams. Both players chose Vergil, Dante, and Zero. This particular team is so common it has its own name: ZMC, or Zero May Cry, as Dante and Vergil are from the Devil May Cry series of games. Jibrill was the winner of Marvel Vs Capcom 3's grand finals. There were no official announcements for Marvel Vs Capcom 3 at EVO.
Other Announcements
Other large announcements were present at EVO this year not concerning the mainstage lineup. 2013's Killer Instinct had an announcement of a 10th-anniversary update coming in the fall. Under Night In-Birth 2 [Sys: Celes} was announced as well. Nickelodeon All-Star Brawl 2, Granblue Fantasy Versus: Rising, Rivals of Aether 2, and Project L all received new trailers.
Overall 2023 is looking to be an amazing year for fighting games, with amazing tournaments taking place, announcements abound, and new games right around the corner.