Taylor Swift, she's all wonderstruck, you know? She finally decided to break her silence and spill the beans about what's going on with her love life. It went down during her "Eras Tour" stop in Foxborough, Massachusetts, on a fine Saturday, May 20.
Now, she stood there on stage, looking all radiant, and said, "Listen up, y'all. I gotta tell ya, I've never been this darn happy in my entire existence. Like, seriously, in every aspect of my life, things are just fallin' into place." And then she dropped a bombshell by singing a surprise song for all the fans. Can you believe it?
But hey, it's not just the tour that's makin' her beam with joy. Taylor spilled the tea and mentioned that her whole life finally feels like it's makin' sense. And to celebrate that, she decided to bless us with a song that brings back some beautiful memories.
Now, let's talk about those rumors that've been buzzin' around for weeks. Apparently, our girl Taylor might be catchin' feelings for none other than Matty Healy from The 1975. Yup, you heard it right! After her split from her longtime boo Joe Alwyn, the British heartthrob Matty seems to have caught her eye.
First, he was spotted at her Nashville show, lookin' all smitten and snappin' pics of Taylor's mind-blowin' performance. The next night, he took the stage himself, showin' off his skills. And guess what? He surprised everyone when he joined Phoebe Bridgers' opening act, rockin' out on the guitar alongside her. They even had matching skeleton onesies! And before leavin' the stage, Matty gave Phoebe a sweet kiss on the cheek. How cute is that?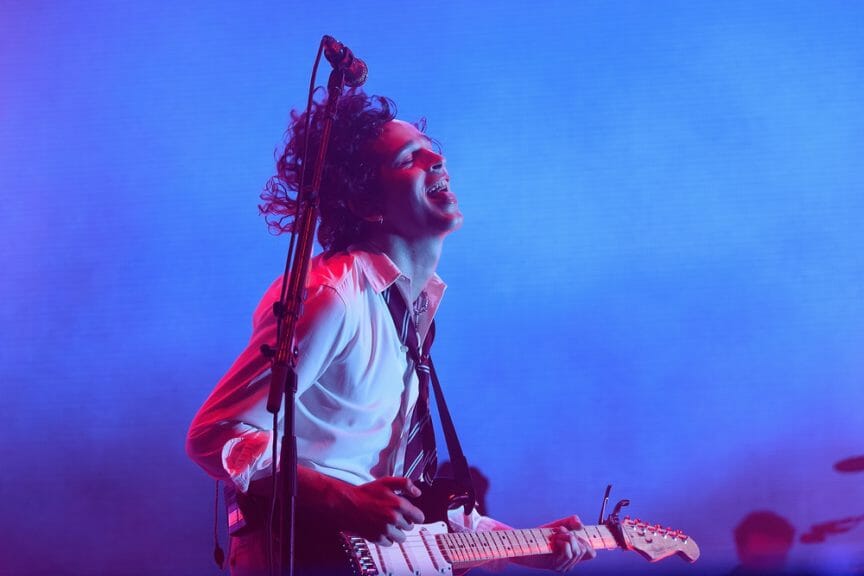 Now, things really got interesting when Taylor and Matt were spotted havin' a rooftop dinner in the Big Apple with their buddy Jack Antonoff. There was even a fan photo (which is now deleted) showin' them holdin' hands as they left the restaurant. Sparks were flyin', my friend!
But here's the kicker: This ain't the first time these two have been linked romantically. Back in 2014, they were rumored to be an item, but they denied it. Yet, it seems like there's always been a special connection between them. Taylor surprised everyone when she showed up at The 1975's concert in London a while back, rockin' the house with a song from her latest album and even jammin' with the band on their hit "The City." Talk about a power duo!
And let's not forget about Taylor's breakup with Joe Alwyn. Word on the street is that it wasn't a total shocker to those close to Taylor. Her inner circle knew something was up, but you know our girl, she's strong. She doesn't want anyone feelin' sorry for her, especially her amazing fans.
Just a few days after the breakup news hit the headlines, Taylor took the stage in Tampa, Florida, and boy, did she have a lot to say. She was like, "Whoa, guys! It's been ages since I've been on tour. And let me tell you, so much has happened. Like, seriously, it's been a wild ride!"
So there you have it, the lowdown on Taylor Swift and her recent love life adventures. She's wonderstruck, y'all, and it looks like love is in the air. Can't wait to see what happens next!