Fans are shocked and impressed when Machine Gun Kelly admits he was 'tripping on LSD' during an all-star softball game in Cleveland last summer.
In viral video clip from the 2019 all-star 'Cleveland Versus the World' softball game, Machine Gun Kelly is shown making the most impressive hit of the game, whacking the ball all the way into right field and scoring a cracking home run.
Machine Gun Kelly (MGK), born in Cleveland as Richard Colson Baker, was one of the most notable members of the all-star game, playing alongside the likes of actor Jamie Foxx, gymnast Simone Biles, and fashion designer Jerry Lorenzo. The 30 year old musician is famous for hits such as Bloody Valentine, I think I'm OKAY (with YungBlud), and Bad Things (with Camilla Cabello).
Although the game achieved wide-spread press and excitement at the time, a recent tweet by the rapper may garnered even more attention.
On 13 September MGK replied to a tweet linking a video of his home run that was captioned ' Best hitter Cleveland has had this decade'. MGK's reply was short but very bewildering: 'I was on LSD.'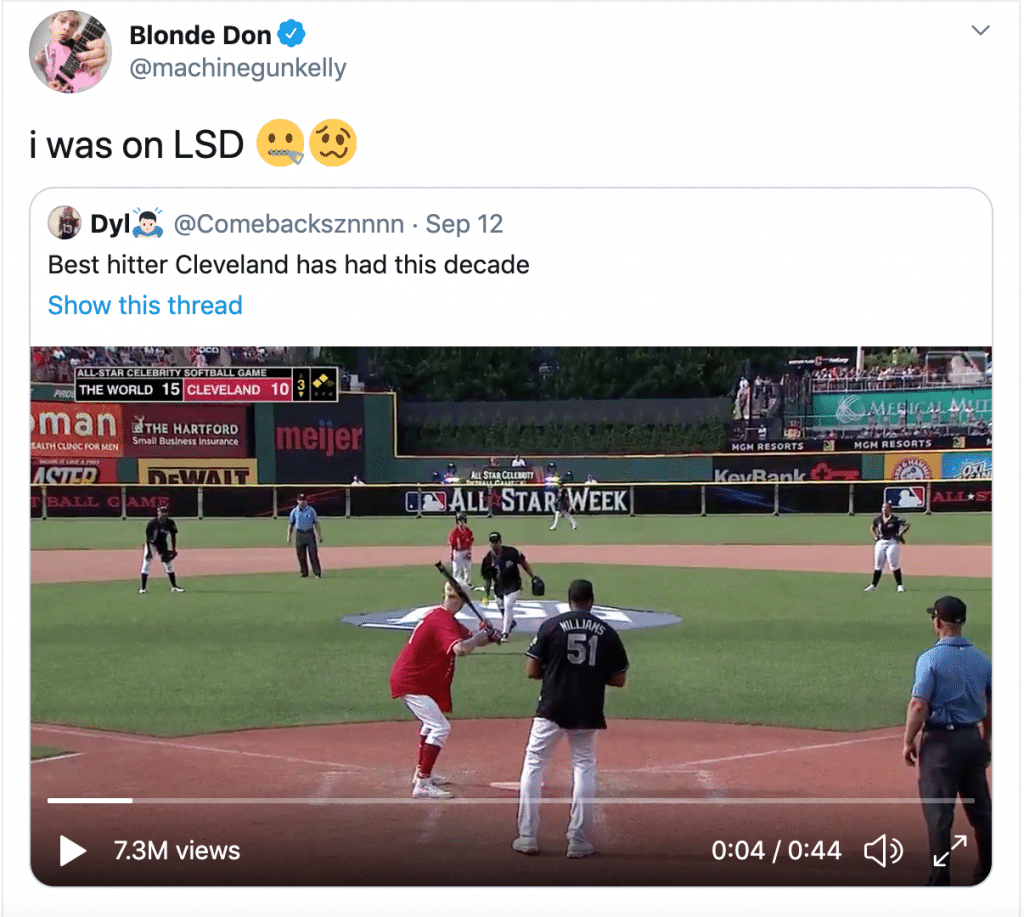 Twitter users were quick to jump on this tweet, shocked by his incredible softball abilities even though he admitted to being high on hallucinogenic drugs at the time, (a fact which should have substantially impaired his sporting abilities and coordination).
This is not the first time MGK has admitted to trying hallucinogenic drugs and much of his lyricism alludes to numerous substances, but fans none the less were rocked by this pronouncement.
If you watched the game last summer and want to rewatch MGK's hit with the new knowledge of his supposed non-sobriety, or if you just enjoy funny and shocking tweets in general, check out @machinegunkelly on twitter now!