I'm sure many of us wouldn't mind being kissed by 33-year-old, American superstar Katy Perry. However, for 19-year-old American Idol contestant, Benjamin Glaze, he was less than impressed when he got a surprise peck from her in a recent audition for American Idol.
Glaze admitted to the judges, who now consist of: Katy Perry, Lionel Richie and Like Bryan, that he had never kissed a girl, after stating that he had never been in a relationship. Katy then demanded for him to come over and kiss her on the check, which was then shifted to a quick peck on the lips as she moved her head.
Watch the video below:
Despite many of us being jealous of Glaze. It turns out that he didn't enjoy the experience and was left visibly shaking.
Here's what he had to say about the incident to the New York Times:
"Would I have done it if she said, 'Would you kiss me?' No, I would have said no."
"I was raised in a conservative family and I was uncomfortable immediately. I wanted my first kiss to be special."
For many of us, we wouldn't think much of an event like this, if anything we would be jealous of Glaze. However, incidents like this serve to expose the double standards within gender politics. If the opposite was to happen, if a 33-year-old man was to coerce a 19 year old into kissing him on television, the story would be quite different. Sexual harassment can happen to all genders and Katy Perry's actions showcase this. Glaze said that despite not feeling sexually harassed he did feel uncomfortable. Fortunately, Benjamin didn't feel threatened, however, some people might react differently, and that's something we all have to remember.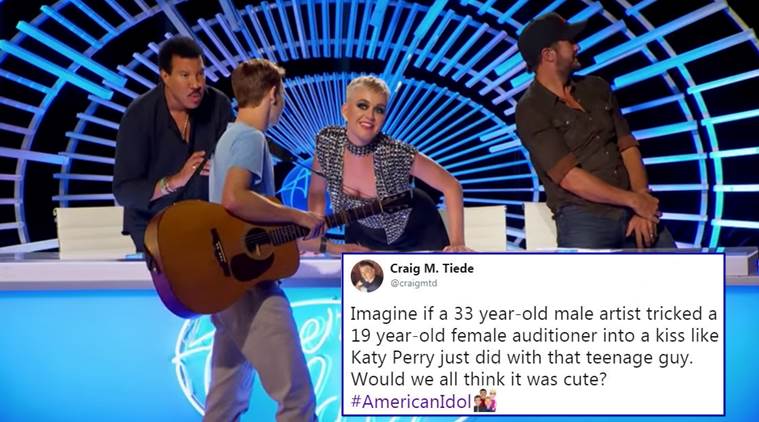 Benjamin has since defended Katy Perry after their on-air kiss stating: "I am not complaining about the kiss, I am very honoured and thankful to have been apart of American Idol." However, Katy's actions have resulted in an internet frenzy calling her out on the non-consensual kiss, with some pointing out that there would have been outrage if it was a male judge who kissed a woman in the same way.
Check out the article below for more news regarding sexual harassment: