Many of us remember Bella Thorne as cute and quirky Cece Jones, dancing through trouble on Disney Channel's hit show Shake It Up.
Talk about shaking it up when we hear of her newest achievements of earning over a MILLION dollars in under 24 hours on OnlyFans!
The 22-year-old's forecasted earnings were $1 million in a month! Bella Thorne is reportedly the first account holder to win those earnings daily.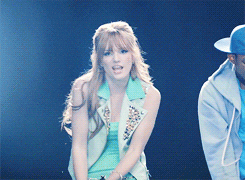 As an actress, she has blown past those Disney Channel days into more serious works, such as CSI: Crime Scene Investigation, The O.C., and a TV adaptation of Scream. No longer held down by her child-star image, she has matured and grown into an adult woman.
Last year in June of 2019, Thorne leaked her own nude snaps after being threatened by a hacker and firmly stood by her decision.
She told Paper Magazine in an interview that OnlyFans has helped her regain control of her image.
"OnlyFans is the first platform where I can fully control my image; without censorship, without judgement, without being bullied online for being me."

Bella Thorne, Paper Magazine
Not only has she taken back her image, but she is also promoting herself in the adult film industry. As the director of a short erotic film, Her & Him, she could express her comfort within her sexuality through another form of media.
The film was about a boyfriend who finds evidence on his girlfriend's cell that she plans to kill him.
The entirety of the project came from PornHub's new Visionary Director's Series to bring fresh faces to the industry to spice things up.
The shift from child star to porn director, Thorne said:
"What inspired me to do the movie was basically thinking about this relationship between a male and a female and this fight over dominance and how this relates to our general world, besides in a sexual scenario."

Bella Thorne, Paper Magazine
I believe Thorne's drastic career transitions have been her just searching for who she is and who she wants to be. I am glad that she is no longer held down by taboo societal confines and can be successful while being herself.
If you would like to learn more about Bella Thorne's new upcoming roles, click here.