Barbie is unquestionably the most iconic brand in the toy industry. Barbie dolls have always appeared tall, slender, and beautiful in our impressions growing up. However, the Barbie with Down syndrome recently launched by Mattel may break your stereotypes of Barbie and represent a diverse and all-inclusive figure.
First Barbie with Down syndrome
Mattel, a US multinational toy manufacturing firm, has announced the release of its first Barbie with Down syndrome. It is part of Mattel's Barbie Fashionistas Doll collection, a diverse line that launches Barbie with distinctive body types, facial characteristics, races, and cognitive abilities, to reflect a broader spectrum of diversity.
Click here to view or purchase the new Barbie with Down syndrome!
According to the National Down Syndrome Society (NDSS), the physical characteristics of the doll with Down syndrome were carefully evaluated by a medical expert. This Barbie features details of Down syndrome by displaying a rounder form, smaller ears, and a flat nasal bridge, with slightly slanted almond-shaped eyes, compared to previous Barbies. A single line appears on the doll's palms, an attribute associated with Down syndrome.
As for the doll's fashion, in the pattern of the doll's puff sleeve dress, butterflies are depicted, as well as yellow and blue colors, which are symbols of Down syndrome awareness. A fine detail is the doll's pink necklace, with three upward chevrons symbolizing the three copies of Down syndrome's 21st chromosome, the genetic material that results in Down syndrome-related traits. This Barbie wears pink ankle foot orthotics, which some children with Down syndrome use to support their feet and ankles.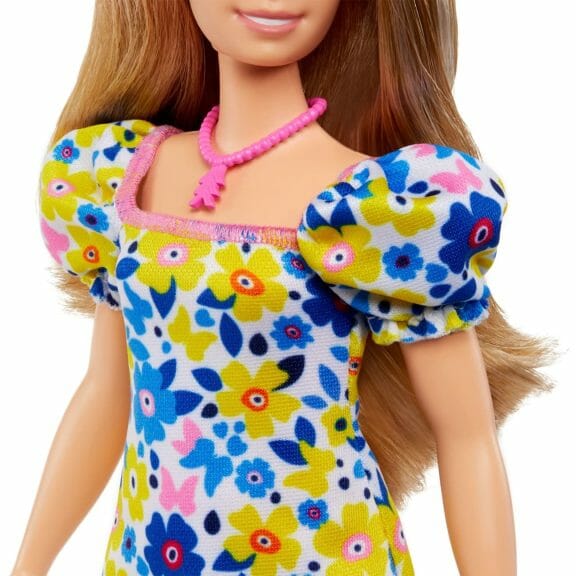 Mattel has pursued perfection in this doll in detail, bringing the public a more accurate representation of people with Down syndrome. Therefore, individuals with Down syndrome can also feel more related to the Barbie. The three chevrons are signs of unity, symbolizing "the lucky few" whose lives include people with Down syndrome.
More than a toy
"This doll is breaking barriers by creating the first fashion doll with Down syndrome, allowing more children to project their future through fashion doll play and image what is possible." Said Kim Culmone, Barbie's Senior Vice President & Head of Design.
According to Lisa McKnight, Executive Vice President and Global Head of Barbie and Dolls, Mattel, Barbies play a vital role in children's early development, and this new Barbie with Down syndrome is dedicated to counteracting social stigma through playing.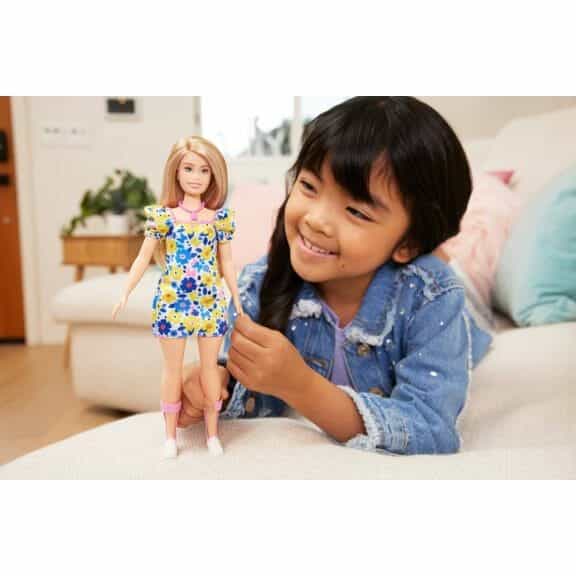 Barbie with Down syndrome isn't just a new toy. It's an agency that lets children with Down syndrome know that they're not marginalized and separate. It would be a moving moment to see a disabled child holding a doll with Down syndrome and discovering they are no different from their peers in social status. Children can feel more included and represented in society. More people can see and hear their circumstances and voice. Promoting diversity in media is a critical step toward achieving equality and eliminating discrimination.
Those with Down syndrome and other disabilities should be seen more often in media and popular culture, and they are not anything to be ashamed of. Frequent media exposure to dolls with Down syndrome reduces the stigma and negative preconceptions associated with the disease. It can lead to empathy, understanding, and a sense of community.
Ellie Goldstein, a British model with Down syndrome, expressed excitement about the doll on her Instagram. Ellie felt overwhelmed and emotional when she first saw the doll. However, she was proud to see Barbie with Down syndrome highlighted in front of the world's eyes.
Representation of diverse groups
Apart from the doll with Down syndrome, Mattel has been striving in recent years to accomplish its goal of social equality and diversity by releasing Barbies of all races and impairments. Mattel has launched several Barbie and Ken dolls with wheelchairs and prosthetic legs to represent people with mobility disabilities.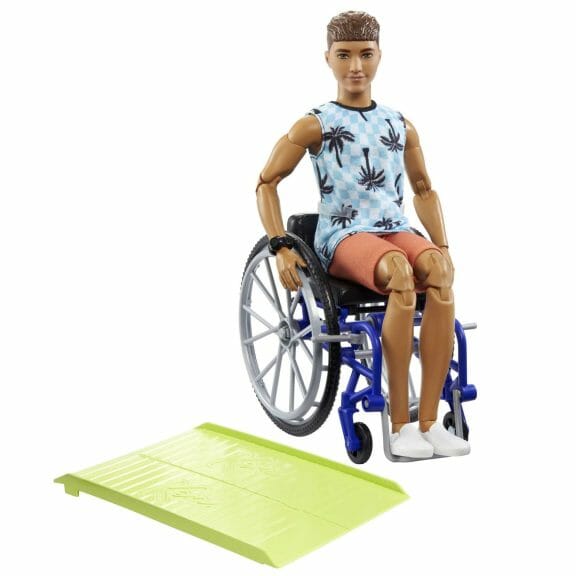 Unique dolls symbolize the boundless possibilities of different groups being highlighted in the fashion and entertainment industries. They convey more subtle meanings than a childish toy when playing with them.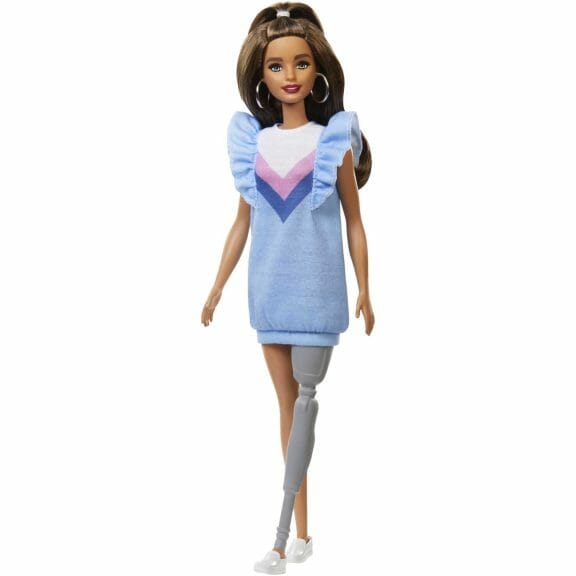 Barbie is challenging the norm of faultless, slender, and beautiful dolls. What comes next? We are looking forward to seeing the upcoming release of diversified Barbie.