It's been said many times in the past 6 months, going on 7, but it still remains true: quarantine is hard. We've had to adjust to our new normal, some taking it more seriously than others. Finding the small joys, the little things that we can do are key. Flying your drone around, scanning the skies and ground below for something interesting to capture is exactly what the Drone Photo Awards are all about from Siena, Italy.
The Drone Photo Awards are part of the larger Siena Awards Festival going on in Siena, Italy. This category alone saw entries from 26 different countries. The top 45 entries will be on display during the festival, running from October 24 through November 29 in one of Italy's oldest science museums, the Accademia dei Fisiocritici in Siena. Jim Picot of Australia took the top prize in this category and its pretty easy to see why, how incredible is that shot?! That shark is attempting to prey on the school of salmon as they form into the heart shape. Just goes to show there are so many incredible things going on around us that we can't always see, except for shots like these.
Other Winners From The Drone Photo Category
Another image from the Drone Photo Awards that is truly amazing, seeing a horse pulling a sled with two people across a frozen lake.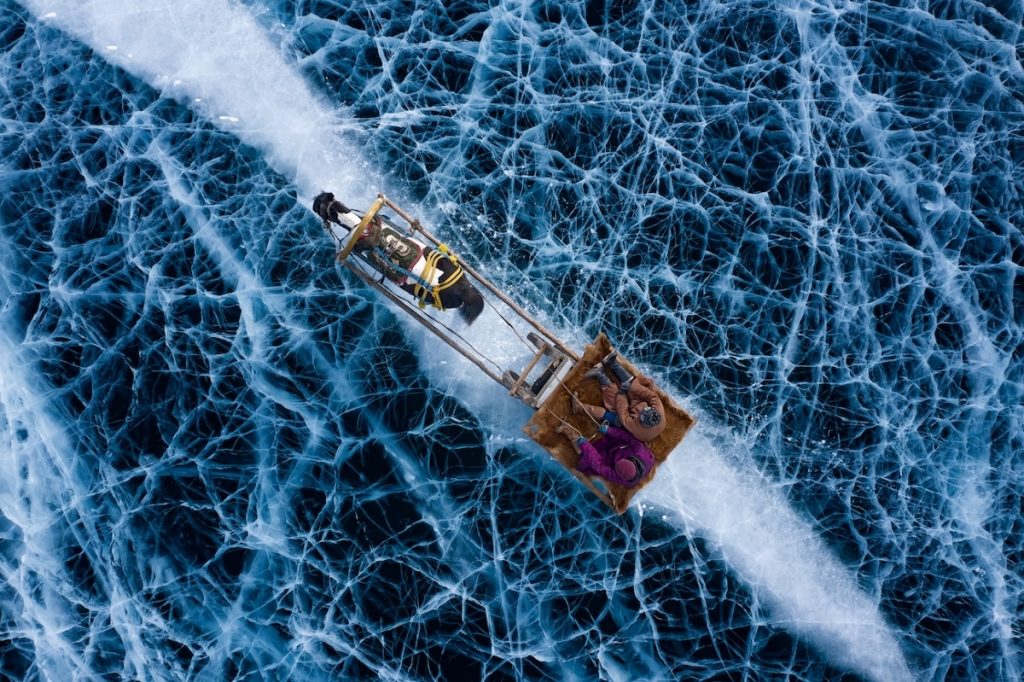 For any Disney fans out there, like myself, who else thinks this could be Kristoff, Ana, and Sven? But seriously, they are just going about their lives across this frozen river/lake like they've done it every day, which being in Eurasia they probably have.
One of the creators of the new category for the festival had this say:
"The exhibition represents the only group exhibition held in Italy on aerial photography, with images that capture the beauty of the world seen from the skies and allow imagination to tell a story"

Creator of Drone Photo Awards
With everything we have been going through this year, it is so nice to see some of that beauty in the world that is still out there for us to enjoy. Appreciating what's around us and discovering new ways to excite our senses is a great way to help with the isolation we are all experiencing. Hang in there everyone and keep staying safe with those masks on!
To see another crazy shot, click here