What Are Distressed Jeans?
Distressed jeans are denim jeans that have been altered or styled to look more worn-in and vintage.
Distressed jeans often contain rips, frayed edges, tears, and discoloration. Distressed jeans are meant to appear older than they are. They are meant to give a more lived-in appearance. You can find distressed jeans in places such as thrift stores or even high-end retailers. The simplest and most fun way to obtain your desired distressed jeans of your dreams however are by just DYI'ing them!
Tools For Distressing Your Jeans
The best part about getting that distressed jeans appearance is you don't need to purchase anything you don't already have. Here are a few tools that you most likely already have at your disposal that you can use.
1. Tweezers
Tweezers or a seam ripper to grab the thin ends of the jeans' threads. A safety pin can also be used to get the same effect. Any of these can be found in the household.
2. Tailor's chalk
Tailor's chalk will be helpful in order to mark out where you will be cutting. Chalk is easy to wash off after you're done distressing your jeans.
3. Cutting tools
A box cutter, kitchen knife, or a pair of good old scissors is necessary to cut into your jeans. For smaller cuts, using a razor or a cheese grater will allow you to make warn-out marks on places like the knees or back pockets.
4. Piece of cardboard
A piece of cardboard would be super helpful to place behind your jeans when cutting them. The cardboard will prevent you from slicing into another part of your jeans.
5. Sandpaper
At the end of your distressing process, the sandpaper will allow you to sand down the newly formed cuts and rips to give them an older appearance.
What's the difference between ripped jeans and distressed jeans?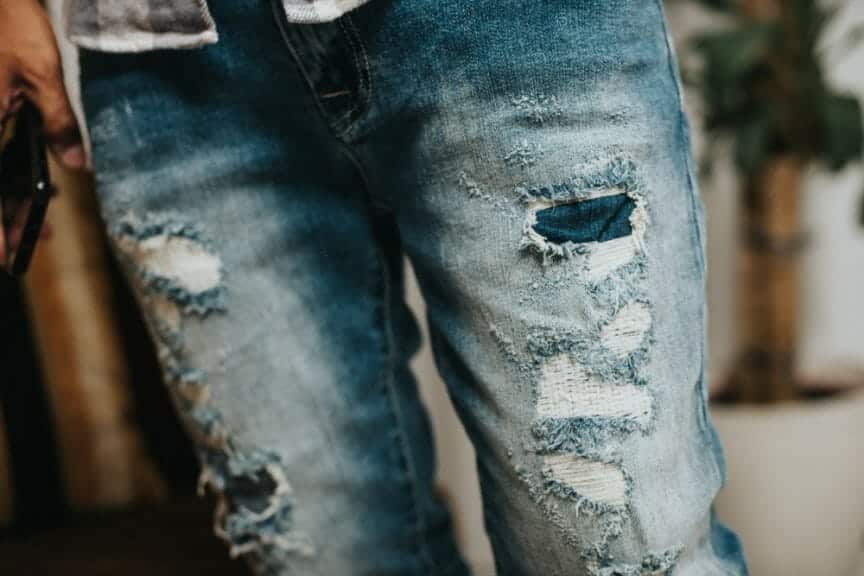 You may be wondering if ripped jeans are distressed jeans or if distressed jeans are ripped jeans. They are actually two different types of jeans. Firstly, ripped jeans typically are labeled by fashion companies who take their jeans and purposefully create rips or gashes into any part of the pant legs. Ripped jeans have larger rips than distressed jeans and they don't typically look worn out.
Distressed jeans naturally mimic the distressed pattern jeans form from too much wear. For example, they tend to be more distressed at the knees, pockets, and bottoms. They contain smaller rips and fraying which can be commonly found in jeans that have been naturally distressed.
Distressing your jeans in 7 steps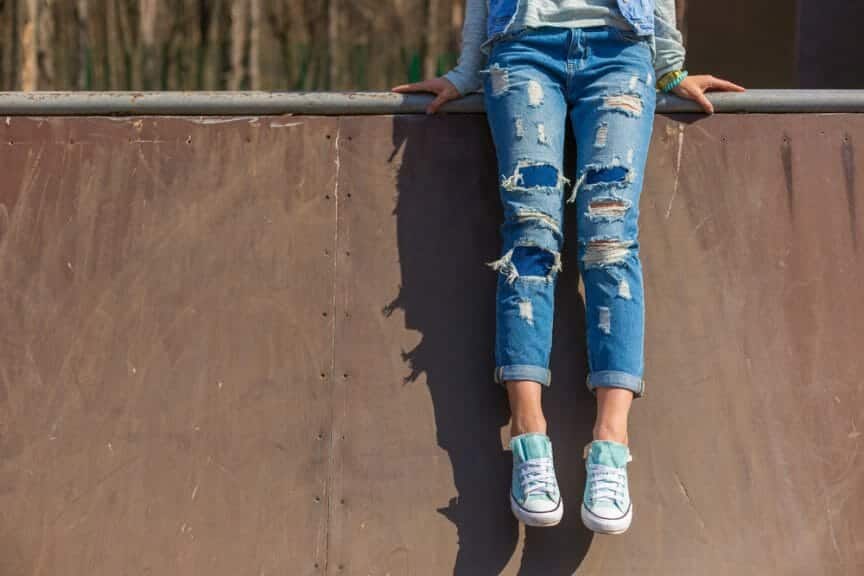 1. Pick your jeans
Your best option when picking jeans to distress would be a pair your already own or from the thrift store. Picking an old pair of jeans would make the process even easier when distressing and give it a more distressed look than starting with a fresh pair. Straight-legged or boyfriend jeans will give you more room to work with and give your jeans a truly vintage look.
2. Mark your jeans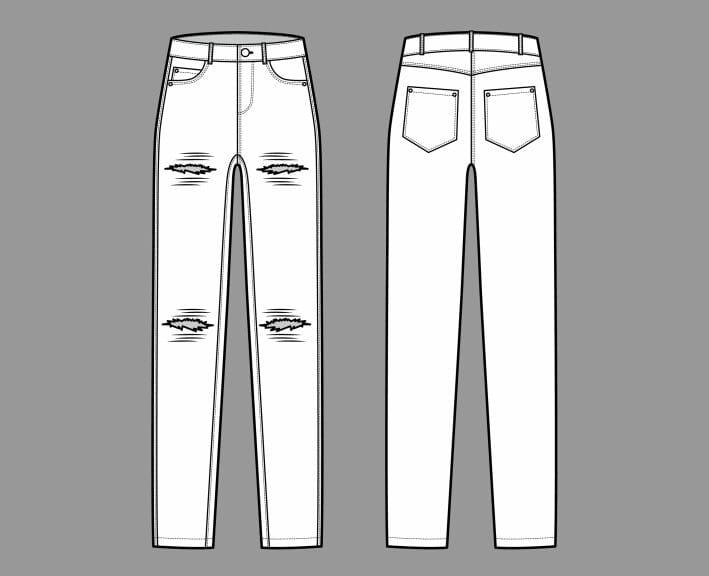 With your chalk draw where you will place your cuts. You'd want to typically cut in areas where jeans naturally distress over time such as at the knees, thighs, front and back pockets, and the bottoms. Draw horizontal lines about 3-4 inches in length in these areas as well so your cuts can naturally follow the threads in your jeans.
3. Cardboard placement
Now you will prepare your jeans to be cut by placing cardboard in between the pant's legs. The cardboard will prevent you from cutting into your jeans.
4. Cut your jeans
Using your cutting tool start cutting your jeans by slicing at the marks you made. Make sure to follow the cutting guide you created. Now use a smaller tool to tug at the sides of the cuts your created. Tweezers, a safety pin, or a seam ripper will be useful for this part. It is recommended to also turn your jeans inside out in order to tug at extra threads.
5. Use sandpaper on your rips
After you're done creating rips and holes into your jeans use the sandpaper to sand out your work. This will smooth out the rips you created so they appear older than they are. Sanding down the rips will also wear out the jean color around the edges of the cuts. Using your sandpaper at any part of the jeans you'd want to create an extra worn-out look is recommended.
6. Wash your jeans
After you're done make sure to wash your jeans. This will help remove any extra fray or loose hanging threads. This will also get your jeans ready for wear!
Styling your distressed jeans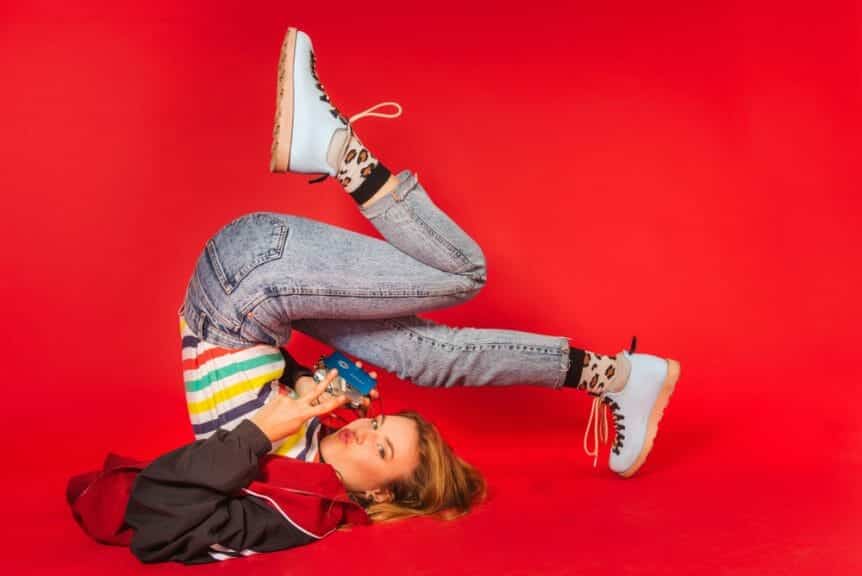 Now that you have a new pair of distressed jeans in your closet, let's talk about how to style them. Distressed jeans always pair well with a simple neutral-colored top. Pairing your jeans with a vintage tee can give you a nice relaxed old school vibe. Distressed jeans can also pair well with a leather or denim jacket.