Traditional Palestinian clothing is a form of identity, and each piece holds great meaning and history behind it. This article will explore Palestinian culture through its fashion by specifically looking at the Palestinian thobe and the art of Tatreez.
The Palestinian Thobe
The Palestinian thobe, dating back to the 11th century, is one of the most common and easily-identifiable pieces of Palestinian clothing. These traditional women's dresses are hand-embroidered with various designs and colored thread, an old tradition that is still practiced today.
The thobe is a simple straight-cut dress featuring long, wide-cut sleeves and maxi length. Embroidered with traditional symbols, it can sometimes take many months to complete, depending on the complexity and size of the design. Thobes come in various colors and have different necklines, hems and seams depending on the region they are from.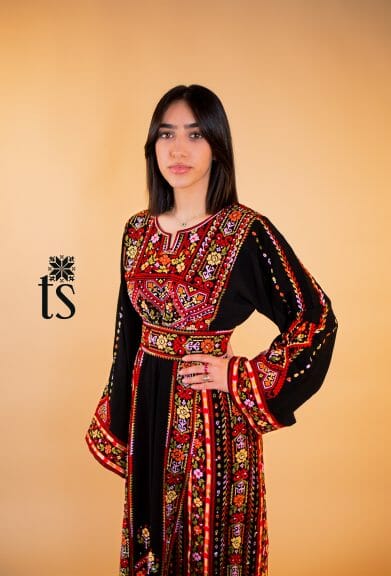 Since 1948, the Palestinian thobe has become a symbol of hope for Palestinian women. As well as this, it is a means of connection to their homeland and honors the centuries-old craft of Tatreez.
Tatreez (Embroidery)
Tatreez has been a common practice in Palestine for many centuries. Although it is traditionally a form of hand embroidery, machine embroidery is also common due to it being a time-effective alternative.
There are several designs and styles of Tatreez, all of which belong to different regions and areas in Palestine. By looking at the Tatreez on a woman's thobe, it would traditionally suggest which region she was from in Palestine. The colors of the thread used in the Tatreez can also indicate a women's origins, as well as her marriage status and wealth.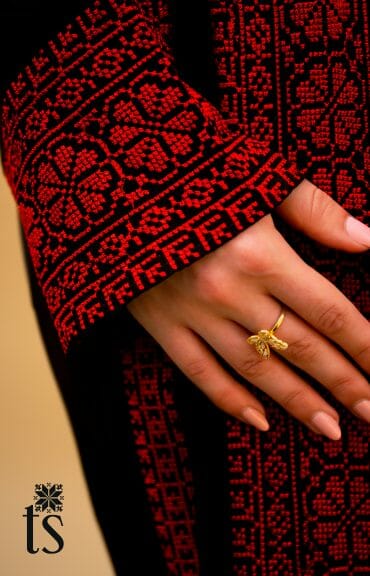 Lina's Thobe
Lina Barkawi, the founder of Lina's Thobe, said: "According to my research, colors of thread designated a woman's marital status, the amount of embroidery present indicated economic status (abundant during prosperous times and scarce during times of hardship), and motifs revealed her origin. The most popular example of the color marital designation was the changing of threads on an already completed thobe to blue when a woman became widowed."
Lina's Thobe is a service empowering, teaching and delivering a fully customized thobe from end-to-end. "I first began my tatreez practice a few years ago and decided to create a thobe from scratch, a process I documented using the Instagram handle @linasthobe. Meanwhile, I also received an MA in Near Eastern Studies from NYU in May 2020 with a thesis focused on the tatreez practice by Palestinian women in the diaspora. I am also currently a Director of Product Development and Innovation at Mastercard."
Lina said: "I choose motifs based on the story I want to tell in each of my tatreez projects. For my [own] thobe, I chose motifs that represented my identity and upbringing e.g. a mlawlaw representing my curly hair, a palm tree representing the meaning behind my name, and a Panamanian orchid (not tatreez) representing my mother's heritage in colors that I personally found beautiful."
You can see Lina's thobe and the thought behind it below: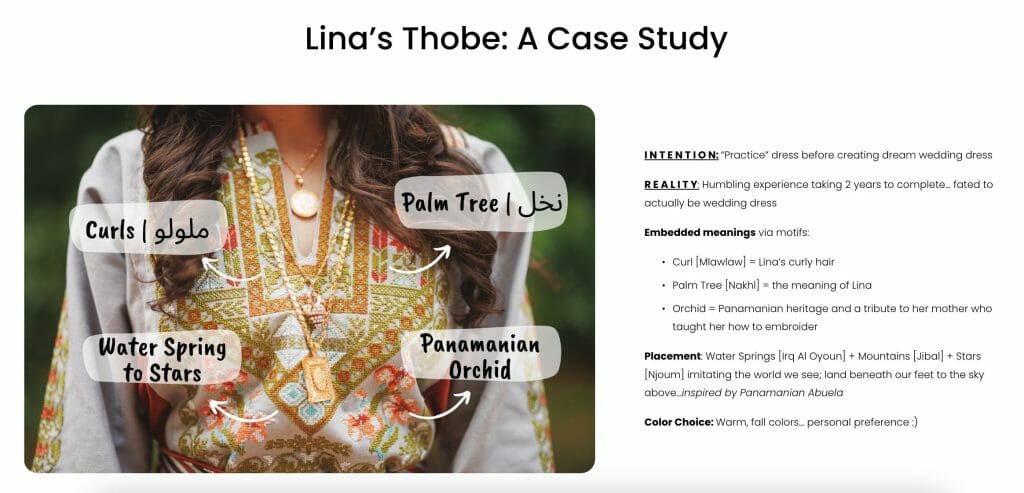 Tatreez Motifs and Symbols
Tatreez motifs and designs vary in the different Palestinian regions. Flowers, leaves, stars and trees make up some of the traditional symbols used, but there are many more than just these.
For many centuries, Palestinian women have embroidered their own clothes and dresses. This intricate skill that has been passed down through generations of daughters and granddaughters, is why the craft of Tatreez has been preserved so well.
The symbols that are embroidered into the clothing have significance behind them. Traditionally, these symbols were often indicative of the environment or region of Palestine that they belonged to.
Jaffa, as an example, is known for its orchards and fruit, a common one being oranges. In the Tatreez, it is common to see orange trees and orange blossom for this reason. An interesting fact is that this is where the name Jaffa orange comes from!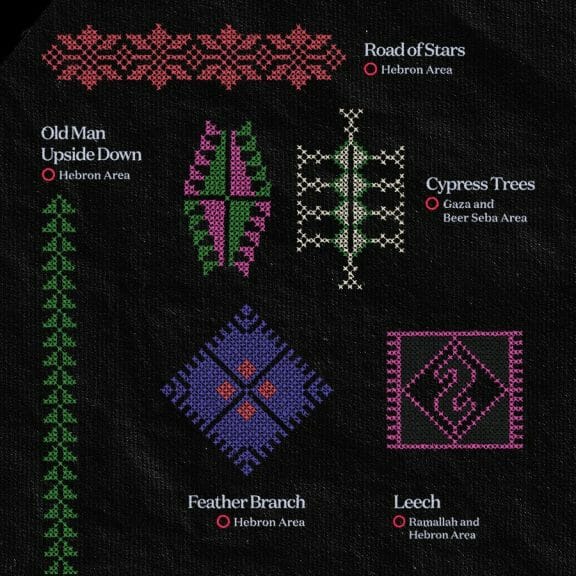 In Ramallah, the S-shaped leech symbol is one of the traditional motifs on clothing within the region.
The Cypress tree symbol is another traditional symbol seen in Tatreez, and is used in Ramallah and other regions. It can be embroidered in several styles, including the ones shown below:

Images 1, 2 and 3 show some of the Cypress tree motifs commonly used in Ramallah.
Image 4 shows a Cypress tree motif commonly used in Hebron.
Honoring Cultural Clothing: Palestinian Traditional Dress Day
Palestinian Traditional Dress Day has just passed on July 25th, which celebrates and honors Palestinian culture and traditional attire. Having a dedicated day to celebrate this is important within a multicultural society and for Palestinians who use their clothing as symbols of resistance and hope.
To keep Palestinian culture and tradition alive, there are businesses that stock and sell cultural clothing, including the traditional thobe.
Tatreez Sisters
Tatreez Sisters is an online clothing business that aims to share the beauty of Tatreez and help keep Palestinian culture alive.
Leanne Mohamed is the founder of Tatreez Sisters and a Palestinian herself. She said:
"This day is important to have because it's all about preserving our beautiful Palestinian traditions in the face of colonial efforts to erase them. We will forever keep Palestine alive and thriving and celebrate its rich culture and heritage, especially within the diaspora."
"Whilst we mark this celebration on the 25th of July every year, our appreciation for our rich history extends far beyond a single anniversary – it's a part of who we are every day."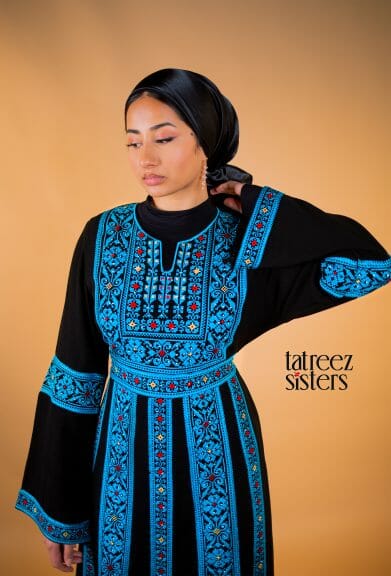 Leanne added: "Tatreez is the Arabic word for a unique style of Palestinian cross-stitch embroidery, deeply rooted in the history and culture of Palestine. As a British Palestinian woman who grew up in the diaspora, Tatreez is important to me as not only is it a means of preserving my cultural roots, but every embroidered garment that I wear also feels like home."
"Palestinian Tatreez is a special part of our ancestral history; an inherited art form passed down to us from our ancestors, but with the increasing numbers of Palestinian women in the diaspora, Tatreez is now considered to be an 'endangered art' of Palestinian embroidery."
"We are proud to share our love of Palestinian embroidery with all of our sisters around the world. We want to show the world not just the wonderful beauty of Tatreez but also why it is so important to Palestinian women as a form of resistance."
You can find out more about the history of Palestine and Palestinian culture through TatreezSisters on their Instagram: @tatreezsisters
World Embroidery Day
In addition, World Embroidery Day fell on July 30th. It celebrates and encourages the practice of embroidery, and although it is not dedicated to it specifically, it can link to the beautiful craft of Tatreez.
Ultimately, diversity in fashion should be widely celebrated and encouraged, not just for its depth of history and culture but also for its beauty.