It seems that the celebrity world is losing its romantic touch. With Ariana Grande's divorce, Rauw Alejandro's infidelity, and Joe Jonas and Sophie Turner's divorce, millennials and Gen Z are running out of reasons to believe in celebrity romance. However, there is hope; hope that these breakups will provide us with iconic revenge outfits.
The term 'revenge outfit' has been around since Princess Diana's 'revenge tour' in the 1990s after Charles' confessions of adultery. Starting with her iconic Christina Stambolina black dress and ending with a one-shoulder Royal Blue Versace piece, Princess Diana unintentionally became a fashion reference for women all over the globe.
Since then, celebrities have normalized 'dressing for revenge' on the red carpet after their breakups, and we are all hoping that Rosalia, Ariana Grande, and Sophie Turner will continue Diana's legacy.
Meanwhile, here are a few of the most iconic revenge outfits that clearly define the development of the term in the celebrity world.
Mariah Carey's Two-Piece Wonder
We will begin with Mariah Carey's 1997 VMA's two-piece set.
After her separation from Tommy Mottola, Mariah Carey served this iconic look with a hip-high slit at the 1997 VMA, where her hip-high slit was received with the audience's hollers.
The artist claimed that the outfit choice had the aim of making a statement of newfound independence. Mariah Carey managed to make showing skin empowering rather than objectifying, and for that reason, it will go down in fashion history as one of the most iconic 90s fits.
Selena Gomez: The Revenge Dress Millennial Queen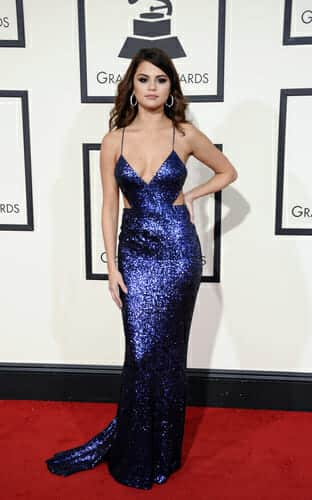 Selena Gomez is arguably the 2000s celebrity who has given us the most Revenge Outfits. Both her breakup with Justin Bieber in 2016 and with The Weeknd in 2017 resulted in stunning revenge outfits that left all of us in awe.
However, it is undeniable that her 2016 Grammy Award dress is unbeatable. The celebrity drama that stemmed from her breakup with Justin Bieber culminated in this gorgeous, shiny purple cutout piece that has been recreated by many fashion brands like Zara.
Ariana Grande: 'Thank U, Next'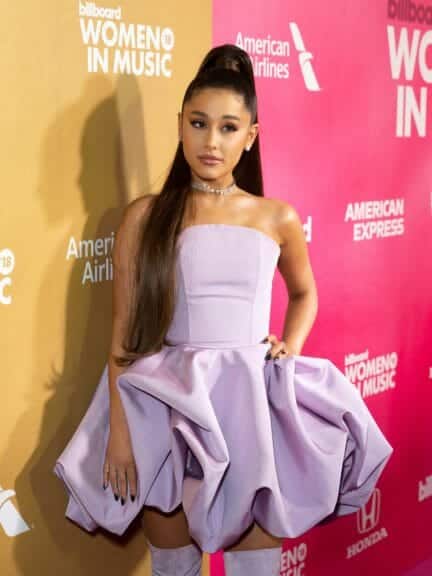 As mentioned, fans are expecting Ariana Grande to follow the 'revenge dress' trend and rightly so, as the artist has a history of 'revenge dressing' that cannot go unnoticed.
For instance, in 2018, after her engagement to Pete Davidson was broken off, the singer paired the release of her single 'Thank U Next' with this playful purple dress, which she wore to Billboard's Women in Music Awards that same year.
The powerful lyrics of the song, clearly directed towards her ex, combined with the feminist connotations of the color of her dress, created a clear message of female independence similar to that of Mariah Carey's in 1997.
Reese Witherspoon in Nina Ricci's Sunshine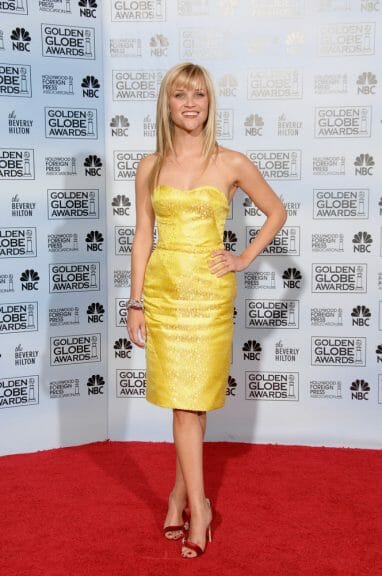 We have so far seen many dark-toned, revealing 'revenge' dresses, but this should not deceive you. There are many ways to engage in 'revenge dressing'.
A great example of this is Reese Witherspoon's yellow Nina Ricci dress.
The actress and producer's first red carpet appearance after her divorce from Ryan Phillipe was at the 2007 Golden Globes, where she opted for a sweet look that truly encapsulated her wholesome personality.
Showing us all that 'revenge dressing' is all about showing yourself as whole and loved as well as empowered and independent.
Bella Hadid's Alexander Wang Sheer Shocker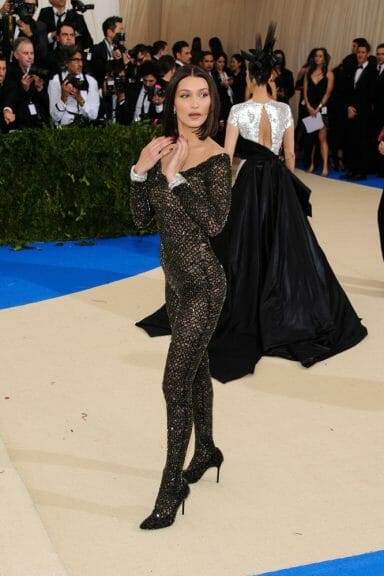 After Reese Weatherspoon's sweet revenge, we present to you Bella Hadid.
Bella Hadid's revenge outfit at the 2017 Met Gala after her breakup with The Weeknd is probably one of the most outrageous pieces ever seen on the red carpet.
This Alexander Wang sheer jumpsuit truly captures the attention of the beholder, leaving nothing to the imagination except, who was crazy enough to let her go?
Irina Shayk's Versace Strut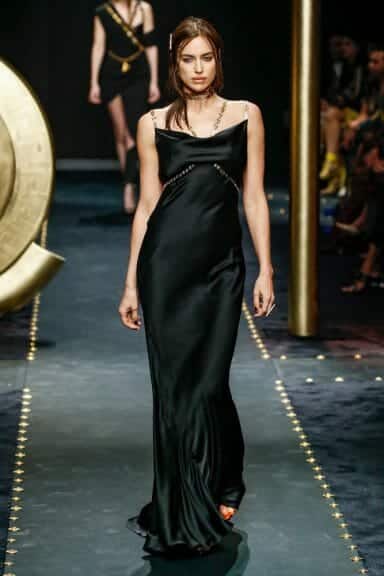 Being a model really has its perks when it comes to 'revenge dressing'.
In 2019 after the model's breakup with the actor Bradley Cooper, she booked a modelling gig with Versace in the Italian city of Milan. Meaning that during Milan's Fashion Week, Irina was being styled by Donatella Versace and photographed by professionals. She literally had a revenge album.
Moreover, the model sustained Versace's 2019 slicked-black look off the runway, making even her paparazzi photos revenge-worthy.
Miley Cyrus's YSL Gold Cutout Dress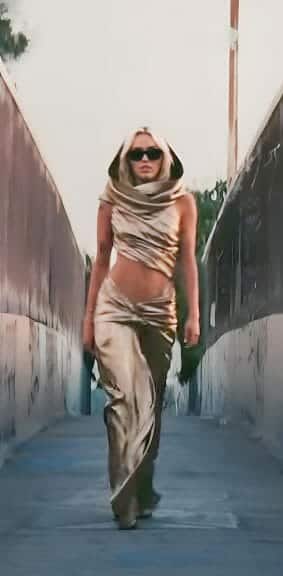 Although the outfits shown previously are iconic in their own unique ways, Miley Cyrus, without a doubt, wins the 'Revenge Dressing' battle in the 21st century.
As mentioned in reference to Ariana Grande, pairing a revenge outfit with heavy symbolism is the only way to exploit fashion for revenge. And no one has done this better than Miley Cyrus.
After her controversial divorce from Liam Hemsworth, the singer released a version of Bruno Mars's "When I Was Your Man", which played at their wedding. This song is titled "Flowers", which she released on her ex's birthday.
However, what was truly iconic about this move was her YSL Gold Cutout Dress, which resembled (heavily) the dress worn by Jennifer Lawrence on the premiere of The Hunger Games. Not only did Miley look breathtakingly powerful in this dress, but she also forced Liam to confront infidelity allegations, making this revenge outfit the most iconic to date.
Will Sophie Turner, Ariana Grande, or Rosalia be able to top this?
Princess Diana's Christina Stambolina LBD
Finally, it is only fair to discuss the dress that started it all.
This Christina Stambolina Black Mini Dress was worn by Princess Diana at a Vanity Fair event in 1994, on the same day that Charles' infidelity confessions were released on national television.
Lady Di had originally planned to wear a different piece, but the public declarations of her husband encouraged her to pick out this dress which she had originally kept hidden out of fear of breaking the royal family's dress code.
By going with her fashion gut instinct, Princess Diana unleashed a trend that continues to dominate celebrity breakup culture to this date.