For many, leaving university and entering the great, cruel world of work is daunting. Cue the overthinking and the uncertainty lingering in the near (or far) future. When they say first impressions count, I dwelled on my wardrobe. Would it all have to go or accumulate dust? What even is work attire? Does it change between fields? Will I be stuck in a uniform? 
In some ways, yes. You might have to leave your crop top or sweatpants at home until the weekend, but it doesn't mean you'll never again lay your finger on another sparkly dress. It's all about how you match things. Think, Silk skirt, oversized blazer, a fashionable white shirt, and obviously, some jewelry to match. Additionally, the workplace uniform does not and should not equal discomfort. So, don't feel afraid to go into hybrid territory (i.e., formal trousers that feel like joggers). As long as it looks like the part, it should be fine.
That said, writing about the things you can wear or shouldn't wear is equally important as showing you the potential of an outfit. 
The Silk Skirt
We all love a maxi skirt, but sometimes it isn't easy to understand whether the HR team will call you up on it or not. This green silk skirt hits all the boxes. It's both comfortable, professional, and obviously stylish. It likewise gives you a chance to choose some fun colors. Matching this with a black or grey turtleneck will give the skirt the spotlight it deserves, though don't be afraid to experiment with a monochrome outfit.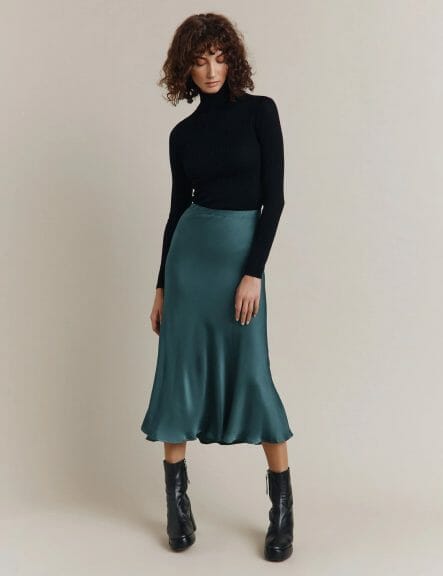 The Oversized Blazer
Ah, yes, the oversized blazer. Fashionable, warm, and versatile. You can pair it with jeans on a weekend or wide-legged trousers for a work meeting. Now, I know, by definition, this isn't your regular, structured blazer. This relaxed fit would be ideal for the summer season. A chic pair of sunglasses and a brown leather (or faux) briefcase to match, and you're sorted.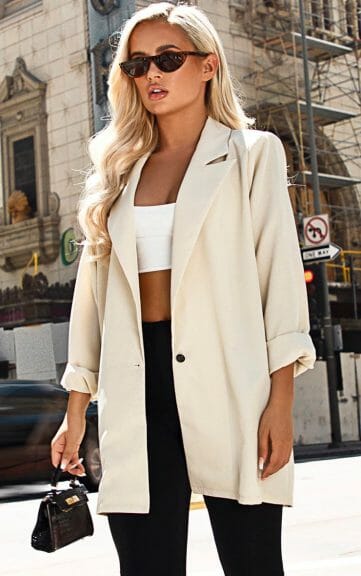 The Suit
Ah, the statement, the power, the confidence. The suit, whether regular fit, relaxed, or a bit out of the ordinary, can go far. Imagine big shoulder pads, funky buttons, or even an unusually big wide of trousers. While this might not be everybody's cup of tea, this blossom color is beautiful. Chef's kiss. It's an outfit in itself and calls for rolling out of bed, throwing it on, and you're set and pretty damn à la mode.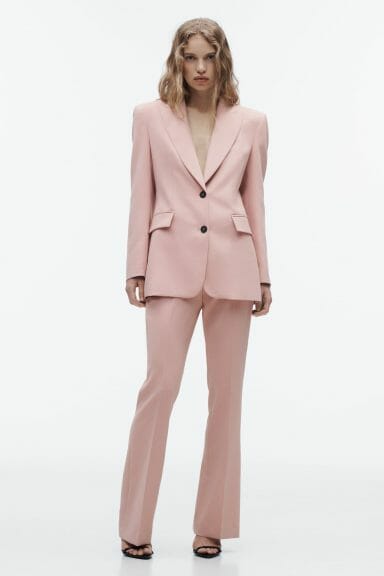 The White Shirt
I know what you're thinking. Why white? And you're right. It doesn't have to be any specific color. For the purpose of the ongoing theme of making boring outfits fun, I'll stick to it. However, I do encourage your imagination to run wild.
This, this right here, is what I'm talking about. The longer back, the oversized fit, and the folded material in the back. Simple, yet different. Plus, you can get it in blue! Furthermore, let's focus on the earrings. Doesn't it just escalate the outfit? It's elegant but lovely to look at.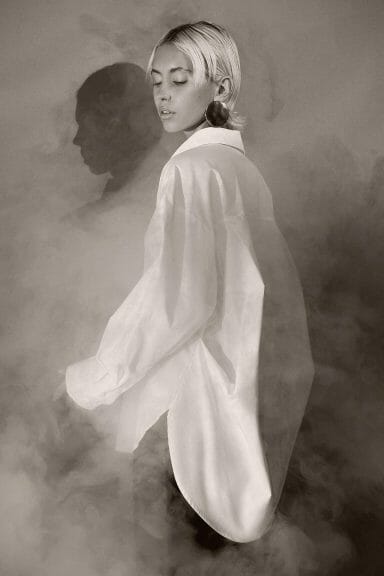 The Accessories
We're entering into an even more personal category. How much or how little? We want to be fashionable but not overly decorated with silvers and golds and rose golds. It needs to work as an outfit. Your outfit needs to find a balanced level in terms of color, material, or statement piece v basics. Likewise, let's not forget about a headband, belts (leather or chain), rings, etc. There's a world of accessories out there. It's up to you to try it out and make it work.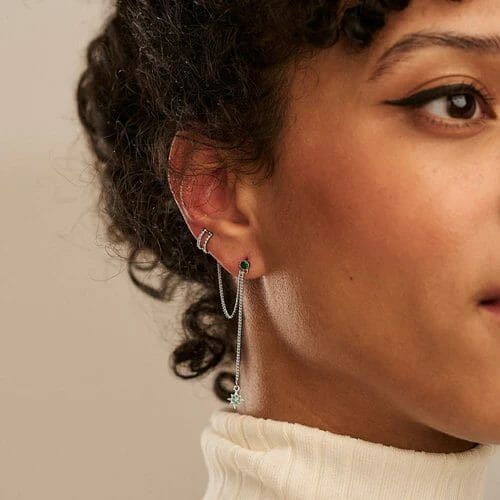 The Maxi Dress
I know what some of you might say: I thought this was meant to be exciting, something more cutting-edge. While that is a justified remark, a simple black sweater dress can go a long way. You don't want to purchase items you cannot match with the rest of your wardrobe. A dress like this is versatile. You can add color through accessories, shoewear, and belts. In addition to this, it's easy to wear! You don't have to worry about it being too tight, especially when working in the office.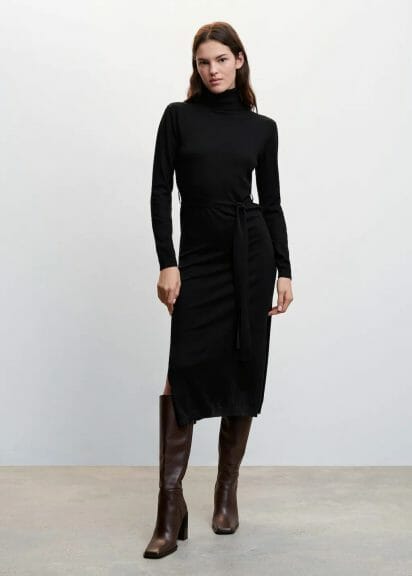 The Coat
If you've been following any of my articles, you'll know how much I love a good coat. While I haven't included the much-needed black wool coat, this double-faced reversible coat offers much more. In color burnt umber, it comes with a choice of leather and shearling, ideal for various events, including a night out, a walk in the park, or a long day at work.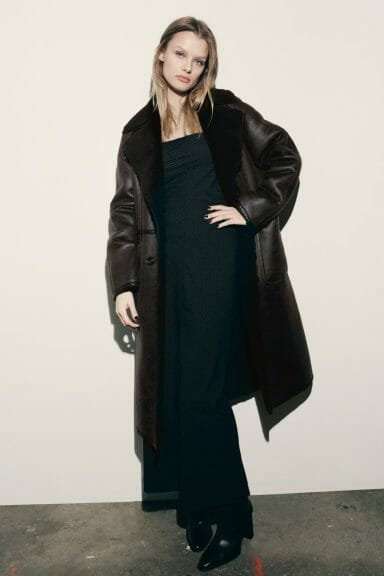 Briefcase
The briefcase certainly does not have to be exclusively for work. It can function as a weekend or airport bag you can strap onto a suitcase. However, it is practical; you can experiment with colors, materials, and shapes. Thus, you may opt for a more straightforward leather bag to match most outfits in your wardrobe, or you might choose to purchase a colorful, more oval-shaped bag to add character.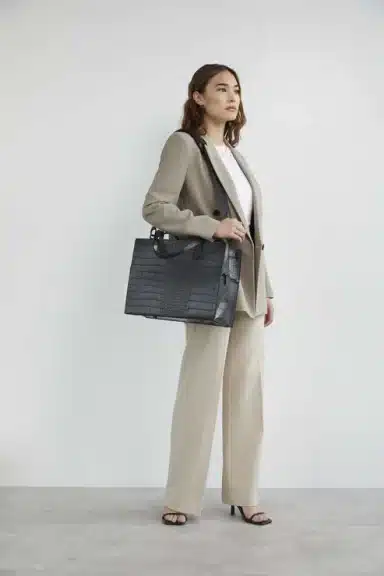 If none of these inspires you, think beyond the examples I've presented. Think maxi-printed dresses, red leather coats, pencil skirts, etc. Indeed, do not take makeup for granted. Designs and fun colors on the eyelid can be a great way of tying an outfit together. You might even choose a red lip to match that classic suit.
Regardless, do not feel pressured to fit into a specific mould. Your style is your own; more often than not, this speaks volumes of confidence. If all else fails and times are dire, visit Pinterest or take some inspiration from Rachel Green. Plus, never underestimate the thrift shop down the road.