We've all been struck with the same problem at least once in our lives – the 'I have nothing in my wardrobe' issue.
When, in fact, you have so many clothes, but just nothing that quite works the way you want it to. And then, you're off again buying more pieces to wear once and never wear again.
This is where sustainability and buying clothes with long-term intent become a great way of avoiding such issues. Then, your clothes can be worn seasonally too!
Building a timeless, sustainable, and year-round wardrobe often consists of a few mistakes. These can include:
Following micro-trends
Buying 'staple' items, but with difficult colors or patterns
Investing big money in poor-quality items
Bulk buying for specific seasons or layering items
With so many shops and stores in shopping malls and online, it is difficult not to fall into these patterns. But why are they so bad for creating a timeless wardrobe?
Following Micro-Trends
The phenomenon of micro-trends has been made much more evident with the rise of social media, namely TikTok. Whilst it is one of the largest hubs in the world for exploring all things culture, fashion, and lifestyle, it is also extremely influential on the things we buy and wear.
Whilst micro-trends often consist of very stylish and unique trends, they are harmful in the process of creating a wardrobe that works all year round. Furthermore, they are not a sustainable way to build a wardrobe of multi-wear clothes.
'In addition to hindering self-expression in style, micro-trends leave detrimental effects on the environment. Polyester, a synthetic fabric made of plastic and oil, makes up more than half of clothing in the fast fashion industry due to its low production cost and versatility. While only 15% of clothing in the U.S. is recycled, the other 85% ends up in landfills'.

Harker Aquila, Rise of Micro-Trends: Social Media's Harmful Grasp on Fast Fashion
For example, one of the biggest micro-trends a few years back was patchwork denim. At the time, the unique style was praised among influencers.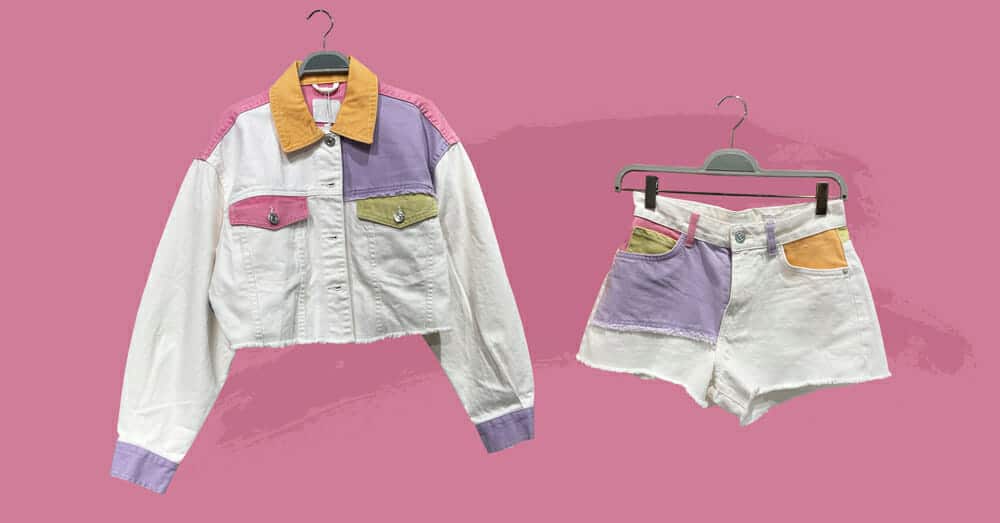 But now we see those jeans, jackets, or tops in our wardrobe, or at places like Goodwill, and wonder why we bought them in the first place.
That internal feeling of 'Why did I ever buy this?' That's how it feels to be 'micro-trended'.
However, a good way to avoid that feeling is investing in items that are more cohesive for multiple outfits, and also something you can style in many different ways.
And whilst the unassuming, plain clothing may be 'boring' at first glance, building a wardrobe of essentials will help your clothes go so much further. It will also begin a journey of sustainable fashion.
For example, plain denim jeans or shorts are perfect staples for all seasons, and with such a variety of styles and neutral colors, jeans can be tailored to look however you like. Jeans can be worn during the colder months, and shorts can be brought out during the spring and summer.
Luckily, because of the similar style, material, and colors, you can match up nearly anything with denim, creating much more versatility throughout the seasons.
Of course, a current trend is the baggy jean look, but investing in a pair of high-quality denim will last you all year if not longer. Sustainability is not only where you shop, but how you shop.
Layering Up And Down
Buying clothes that can easily be layered up and down makes it a lot easier to transition between seasons.
For example, having a collection of short-sleeve and long-sleeve tops, along with other cuts such as strapless, camis, and button-downs can create an extremely versatile wardrobe.
During colder seasons, you can layer long sleeve tops over short sleeves, or as a throwback to Y2K, short sleeves over long sleeves.
During those awkward months, you can have short-sleeved tops, with a jumper on top, for an easy layer when the weather begins to be unpredictable.
Furthermore, having a range of styles can make seasonal wardrobe organization much easier. When you reach the colder months, all those thin, strappy tops can be put away to make space for all the warm, cozy jumpers!
And then during the hotter months, flip this idea and pack away all thick materials for later wear, and bring out all the clothing better suited for summer.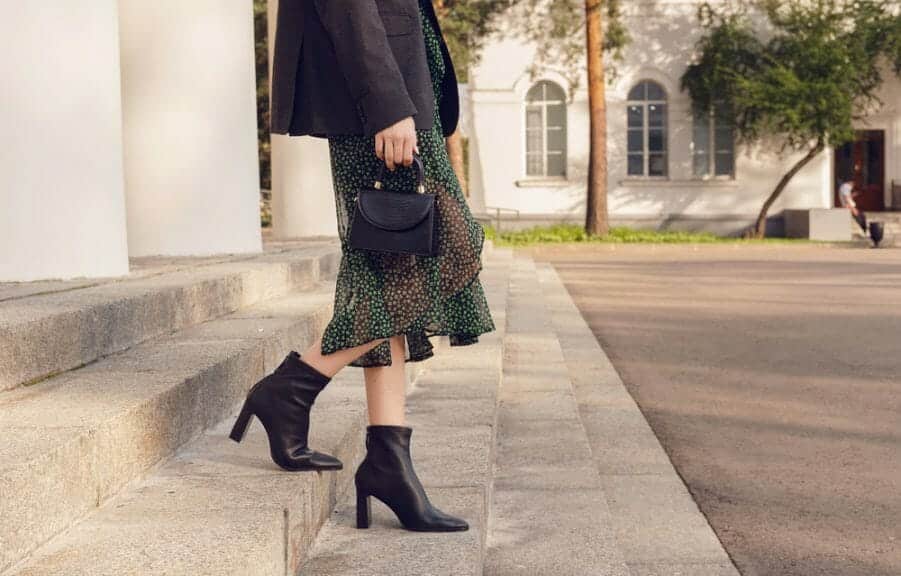 Another great idea with layering is investing in skirts or dresses which can be worn in all weather conditions. With specific elements of layering, most dresses and skirts can become seasonal articles!
For example, buying skirts in multiple lengths like mini, midi, and maxi, means that you have many styling opportunities.
Some options include tights or long socks for the colder months. But of course, during summer, it can be bare legs all the way!
Another great thing about dresses is that they can also be worn with multiple types of shoes. The skirt, tights, and boots combination is a timeless trend, which seems to make its reappearance every winter.
But of course, skirts and dresses with strappy sandals, casual trainers, or heels, are also a summer staple. It all depends on the event and personal liking!
Furthermore, investing in a high-quality, versatile jacket such as a leather blazer, puffer jacket or trench coat is a great investment for seasonal wear.
Why Sustainability Is Necessary For Building A Seasonal Wardrobe
By following fast fashion, not paying attention to personal taste, or investing in classic items, you'll often find yourself stuck in the 'I have no clothes' conundrum.
But, by learning personal style and discovering new ways to shop for clothes you'll love, and wear time and time again, building a capsule wardrobe becomes so much easier.
And with the basics laid down, accessorizing up and down means you can transform a summer wardrobe into a winter one with a few minor changes!