Images Via
It feels like it's hip to troll the Trump administration. Everyone's doing it: Meryl Streep, Melissa McCarthy, former Mexican president Vicente Fox, dozens of international comedy shows, Merriam-Webster Dictionary … But one guy's gone a step further and made a troll out of Trump himself.
Here's the story, according to The Huffington Post: Chuck Williams was "as surprised as anyone else" by the election results. He decided to "release some steam" through his art: sculpting figurines. That's something he's done professionally for more than thirty years, including a stint as Disney's Senior Staff Sculptor. But this time, Williams made something less kid-friendly than at his old job. He sculpted the president … as a naked troll doll.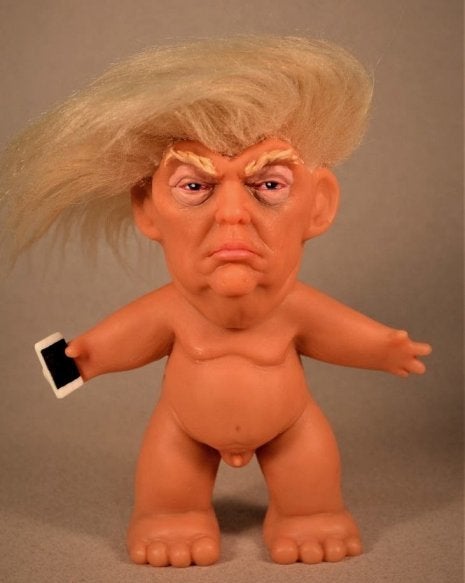 What on Earth is This?!
The body is a sickly spray-tan brown except around the eyes. The figurine's face definitely resembles the president's: perpetual frown, hateful glare, bullfrog throat. His arms are creased, his torso is flabby, and his ass sags. His hands are baby-sized, and so is his schlong. That's right: the figurine is, as they say in polite society, "anatomically correct."
Besides all that, it looks like any other troll doll, including the big messy hair. The choice of toy is pretty fitting, as many have blamed his electoral upset on internet trolls. (For their part, 4chan users on the "politically incorrect" board /pol/ have been quick to take credit.)
But Just … Why?
Williams then posted pictures of his new toys to his Facebook and "discovered that so many friends wanted one." Like any businessman, he saw a market for these dolls and sought to meet that demand. On February 13, he started a Kickstarter campaign called "The Official World's Greatest Troll Sculpt." The goal was to raise $38,000, and donors matched it in a week! With two weeks before the deadline, people have paid nearly ten times that amount.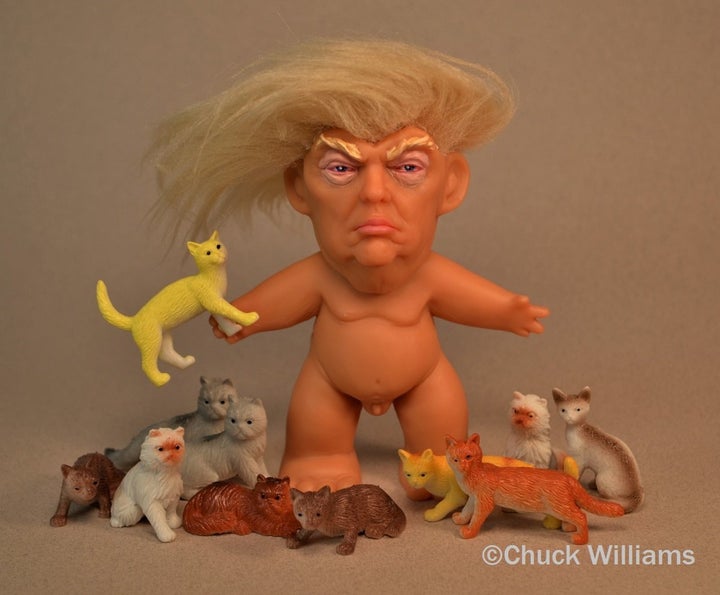 Some might wonder if the $25 needed to get a troll doll is really a strong anti-Trump gesture. For example, all these people could have donated $25 to the ACLU or Planned Parenthood instead. But for Williams, what matters is that it's "brought a smile to all sides of the political spectrum. I am grateful to have made so many people happy with this sculpture." And in terrifying times like these, it's nice to be able to laugh.
Does this news sound familiar? I'll bet Williams took inspiration from the naked Trump statues of last year. The wang even seems to be the same size.