Kurt Cobain is commonly known for his incredible talents as a singer, songwriter and guitarist. But he was also a poet and an artist. And now his paintings are about to be exhibited.
The exhibition, run by United Talented Agency, will take place at the Seattle fair. Sadly, only two of Cobain's paintings will be on display. However, they will be accompanied by his notebooks, and works by other artists. So it may also be in the interests of fans of artists like Mike Kelley, Nate Lowman, Elizabeth Peyton and Raymond Pettibon to check this exhibition out. What all of these people have in common with Cobain is a rebellious side to what they create. It's this deviation from the norm that makes them so interesting.
In Cobain's paintings we see the dark  edge that pervaded his music.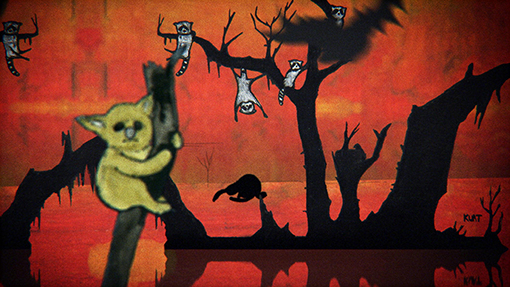 Of course not all of these works are being exhibited. His art work for the Incesticide album cover will be one of the two original paintings displayed. Neither will be sold, however. This will no doubt disappoint Cobain's devout fans. But it is understandable given how special these paintings are to his family.
So if you're a lover of Kurt Cobain, art, or the darker side of life, it might be worth heading down to Seattle. The exhibition is taking place between the 3rd and 6th of August.
Hopefully this won't be the last time Cobain's paintings are exhibited. But it's certainly the first. And there's only ever one of those.