Before I begin, have you heard of this thing called "digital art"? It's a new concept to me, and one that apparently can bear a hefty price tag.
For those who are also without the know, I pulled a quick definition from Wikipedia. It reads:
"Digital art is an artistic work or practice that uses digital technology as part of the creative or presentation process."

Wikipedia
It's kind of an interesting medium to grasps, so if you're still not quite sure you can do some more research. With pieces of digital art selling recently for millions of dollars, it's no wonder one man has took to his throne and set out to live stream for not days, but years.
Tim C Inzana has spent the first 100+ days of 2021 locked in his room live streaming on Twitch. Why? In hopes to make millions. The 34-year-old is set on spending up to even the next 10 years live streaming selling his stream as a piece of art.

His estimate as it stands asks for 5 million (£3.6m) for 5 years and 10 million (£7.3m) for 10 years. Interestingly he's allowing five people to purchase the 5 year options, but only one of them will be awarded the 10 year.
It might seem crazy to think someone can livestream in a room for a decade, but in the world we live in today, I'd say I've seen stranger things. Inzana claims that both his family and his fiancee are on-board with his expedition.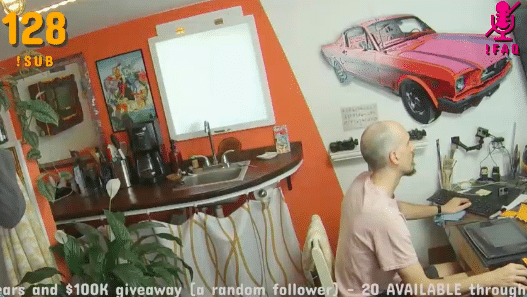 Even with his hopes to make millions he's offered a third option. If he gains up to 7,000 subscribers on his channel, he will postpone the original offers and stream for free for up to 5 years. That is if his subs stay over 7,000.
When talking about his project as a whole, he simply claims he wants to make the world a better place. And that's a good enough answer for me.
More on weird digital stuff we didn't know about. Apparently an artists has shown what the anatomical skeletons of cartoon characters look like. It's weirder than you think.
You can check out his stream here.