Target lost $9 billion in one week after releasing its Pride collection for this year. Similarly to Bud Light, conservatives are boycotting Target to protest their support of the LGBTQ+ community.
Target's Pride Collection
Every year, Target releases a Pride collection featuring products by LGBTQ+ designers. They provide an array of items to choose from, offering clothes, books, party supplies, and more.
This year, Target's standout Pride-themed merchandise includes overalls that say "Gay," a Drag Queen decorative bird figurine, and a shirt that reads "Live, Laugh Lesbian."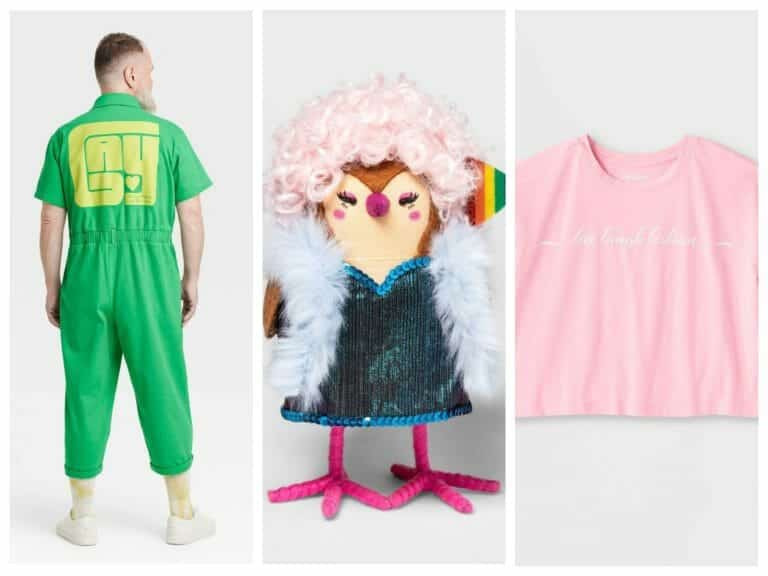 The collection welcomes all consumers, though, with stylish unisex options and tuck-friendly bathing suit bottoms. And not all the products are as bold as the ones pictured above. So, whether you're ready to show off your identity with a fun outfit or are only looking for a small token to show someone you support them, Target's Pride collection is the place to look.
Conservative Backlash
After releasing their Pride merchandise earlier this month, the hashtag #BoycottTarget began trending on Twitter. Since then, Target has reportedly lost $9 billion as right-wing consumers refuse to continue buying from the retailer. Many relate the backlash to that of the kind Bud Light received after endorsing transgender influencer Dylan Mulvaney.
Conservative shoppers complain that Target's Pride collection attempts to groom and indoctrinate children by offering merchandise for all ages. In this vein, Fox News reports that parents do not support companies that market transgender ideology toward children.
"Their woke agenda is being force-fed to their children. First, it was in their schools, then it was in the sports teams of their children. Now it's like you can't even peacefully shop at Target as a family."

Charly Arnolt, host of "Outkick"
Reinforcing this idea, the song "Boycott Target" has gone viral, taking the #1 spot on Apple iTunes.
Additionally, right-wing activists are concerned with the religious affiliation of one of the designers.
Transgender designer Erik Carnell's brand, Abprallen, highlights his love for drawing and desire to connect with the queer community. However, conservative shoppers mainly focus on one of Carnell's products, which says, "Satan respects pronouns." Carnell claims that the phrase is meant to be tongue-in-cheek as he is not a Satanist.
Further, this design was never available at Target. While Target did include Carnell's products in its Pride collection, they only featured phrases like "We belong everywhere" and "Too queer for here."
Target's Response
Many Target stores moved or altered their Pride displays in response to the backlash. In the statement they released, a Target spokesperson claimed, "Since introducing this year's collection, we've experienced threats impacting our team members' sense of safety and wellbeing while at work. Given these volatile circumstances, we are making adjustments to our plans, including removing items that have been at the center of the most significant confrontational behavior."
Apparently, "emergency" calls were made, and Target managers had 36 hours to move their Pride collections to the back of their stores and cut the size of the section. They also could not have Pride merchandise on mannequins or large signage. These changes have mostly been implemented in conservative states like South Carolina, Arkansas, and Georgia. Though, the Pride collection is still prominently featured in other locations and on the Target website.
Following the release of their statement, the same Target spokesperson reassured LGBTQ+ consumers that "our focus now is on moving forward with our continuing commitment to the LGBTQIA+ community and standing with them as we celebrate Pride Month and throughout the year."
Beyond Target
As mentioned previously, Bud Light received this same conservative backlash earlier this year. After a sponsorship with trans influencer Dylan Mulvaney, right-wing beer drinkers boycotted Bud Light and its affiliates.
Now, Target is facing the "Bud Light treatment," along with several other brands and companies.
California Governor Gavin Newsom called out Target CEO Brian Cornell for "selling out the LGBTQ+ community to extremists." Further, he claimed their decision to remove Pride items highlights "a systematic attack on the gay community happening across the country."
In such a way, the backlash Target received reflects a larger problem of increasing anti-LGBTQ+ legislature and rhetoric in America. And the fact that Target (and Bud Light) conceded to such backlash sets an alarming precedent for other companies and the LGBTQ+ community.