Image Via
The recent Easter bombing attacks in Sri Lanka have left the community in a state of crisis when more than 320 people were killed in violence against the mosques. It has now been uncovered that these acts of cruelty were enacted as "retaliation for Christchurch"—stated by the country's Deputy Minister of Defense.
These bombings were suspected to be set up by a local radical islamic extremist group known by the name of the National Thowheeth Jama'ath. This has yet to be 100% confirmed by officials as foreign help and involvement was detected. Little is know about the National Thowheeth Jama'ath group accept that they have connections to the terrorist group known as Jamaat-ul-Mujahideen, which specializes in attacks against Muslims.
JMI was established last year claiming a name similar to a group in Bangladesh. There is not much else know about these groups adding to the distress and fear throughout the country. The Minister has claimed that Sri Lanka is getting international assistance, the US included, in hopes to protect the population from future acts of violence against Muslims and their place of worship.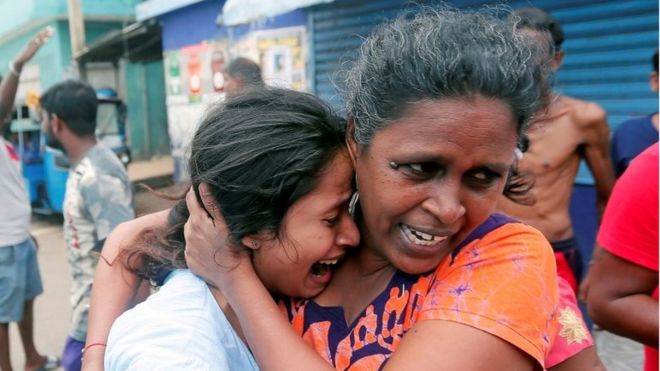 This event is more than just an unjust act of discrimination against a religious group, but part of a much bigger global issue. A problem that runs deeper than the nine bomber's who decided to kill themselves in front of hundreds of innocent bystanders. The bombers themselves were from well-educated middle class families, investigators reported. One of them being a women who took her own life in front of her children, killing them in the process. This is a problem of hate and disconnect in the world that has attempted to reconcile itself through the barrels of guns and explosives that go off as families kneel to pray.
Officials struggle to pin down the direct group responsible for the bombings and the funding behind it, though the man leading the mission was one of the bombers himself. It has been questioned whether or not the Islamic State, otherwise known as ISIS, was involved in the massacre, but no clear evidence has linked the group. The citizens have directed their anger towards the government as they seek answers and the promise that the defenses will stop these radicals in the next attempt.
It has been confirmed that all the bombers were Sri Lankan citizens and that ongoing terrorist attack plots are believed to be in progress. The country is still in the line of danger, Sri Lanka's minister of defense claims. This event is a reminder of the war raging across the world. One that is bigger than religion itself , one that holds no bias for race or faith. A helplessness that turns mothers into murderers and forces individuals to turn on their own community in attempt to find peace.
For now, the country mourns for their losses and weeps in the ashes they used to call home.