The International Olympic Committee confirmed that breakdancing will officially be added as a sport in the 2024 games.
The decision was confirmed by the IOC on Monday in the hopes that younger fans would tune in when the games come to Paris.
"Breaking," as it's commonly called by locals, was a huge hit at the 2018 Youth Olympics in Buenos Aires.
The dancers will hit the floor at a venue in downtown Paris, alongside sport climbing and 3v3 basketball.
17-year-old American dancer Logan "Logistx" Edra told Sky News:
"It can resonate with a lot of people because hip-hop culture resonates with a lot of people, hip-hop music resonates with a lot of people.

It being in the Olympics, it makes sense that people would refer to it as (a sport)," she added. "But I think one thing for the breaking community is we want to make sure that it's not known as just a sport but an art, a sport, a culture."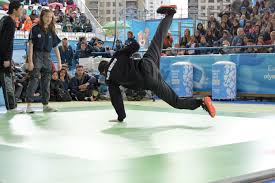 When asked if this could be the first time the Olympics cross gender lines, Richard "Crazy Legs" Colon told Rock The Bells he could foresee it happening.
I mean, the thing is, that within breaking, we already do that," he said. "Sometimes at a breaking event, you'll have a portion of it called a "Bonnie and Clyde" where it's a b-boy and a b-girl versus a b-boy and a b-girl. We've been doing that for maybe 20 years now."
As far as judging the competitors goes, Crazy Legs said the judges would be looking for "character, rhythm, explosiveness, power moves, and a foundation."
"You can't just go in there and just flip, flip, spin, spin, spin, and never dance. You have to dance."

He finished: "For me, I'm not going to call it a sport. I think with, and out of respect for the Olympic platform and it is their platform, I think there's going to have to be some compromise.

I think a lot of this is still about educating the Olympics, IOC and whatever federations from each country on what the terminologies honor the culture. I think that because of breaking being so unique, it should not be renamed by outsiders just because it's on their platform."
Other new sports like skateboarding, sport climbing, and surfing will debut at the 2021 Tokyo Olympics.