After 15 long years of non-league play, Wrexham AFC will finally play in League Two. But what's next for the club?
On April 22, Wrexham secured a 3-1 victory against Boreham Wood, giving them enough points to win the National League. Winning the national league means that next season Wrexham will play in the next tier of the English Football System. What exactly does that mean?
Well, The English Football League system is a series of interconnected professional and semi-professional leagues throughout England. It starts from county leagues in Rockingham County and goes all the way up to the English Premier League, one of the most competitive football leagues in the world. Wrexham will play in League Two next season, the lowest division with only professional teams. While it's called League Two, it's actually the fourth tier in the English Football System (I didn't say it had to make sense!).
This past season, Leyton Orient won League Two and will be promoted to League One next season. Stevenage and Northampton Town were close competitors that Wrexham may have to keep an eye on for next season if neither is promoted through the League Two playoffs. League Two will be a strong test for Wrexham, who haven't played fourth-tier football in 15 years.
WE ARE CHAMPIONS!

AFTER 15 YEARS, WE ARE BACK IN THE FOOTBALL LEAGUE!

🔴⚪️ #WxmAFC pic.twitter.com/8crPfDlwqs

— Wrexham AFC (@Wrexham_AFC) April 22, 2023
A Trip to Vegas, Gareth Bale, and the U.S. Summer Tour
Really, the question should be what isn't next for Wrexham? Since winning promotion, the club is making global headlines every other week. Last week, news broke that Reynolds and McElhenny agreed to send all of the club's players to Las Vegas to celebrate their season. Paul Mullin told the Footballers' Football podcast that the American owners had arranged a very American celebration for the team.
"I don't know if I can say it yet, but we're off to Vegas. It should be unbelievable, that's literally what [the owners] were texting me about two minutes ago."

Paul Mullin / Footballers' Football Podcast
Throughout last week and weekend, pictures and videos showed players lounging by the pool, visiting Wet Republic, and taking in a concert by the Chainsmokers. In a Tweet, co-owner Rob McElhenny posted a picture of the squad with a caption that read: "The Gang Throws a Pool Party in Nevada For The Greatest Football Team on Earth."
The Gang throws a Pool Party in Nevada for the Greatest Football team on Earth. pic.twitter.com/DBATyKQHnX

— Rob McElhenney (@RMcElhenney) May 8, 2023
The offseason hasn't been all fun and games for the co-owners Ryan Reynolds and Rob McElhenny. Last month, McElhenny and Reynolds made soft pitches to try and sign Gareth Bale. In a tweet to Bale, McElhenny said, "Let's play golf, where I totally won't spend 4 hours trying to convince you to un-retire for one last magical season."
Reynolds chimed in to add that he would "shave a professional-grade golf course into Rob's back" if Bale "gave Wrexham a season." Apparently, their pleas were without success, as Bale announced at the FEVO Sport Industry Awards that he had no plans to make the move.
This summer, the club will also venture to the U.S. for a series of fixtures. The team will face Chelsea in Chapel Hill, North Carolina on July 19, LA Galaxy II in Carson, California on July 22, and Manchester United in San Diego, California on July 25.
Hey @GarethBale11 let's play golf, where I totally won't spend 4 hours trying to convince you to un-retire for one last magical season 🏴󠁧󠁢󠁷󠁬󠁳󠁿 🏴󠁧󠁢󠁷󠁬󠁳󠁿 🏴󠁧󠁢󠁷󠁬󠁳󠁿 🏴󠁧󠁢󠁷󠁬󠁳󠁿 ❤️ pic.twitter.com/FZgXZbM4zx

— Rob McElhenney (@RMcElhenney) April 25, 2023
Cool. But Why Are We Talking About This Random Welsh Football Team?
Many people now know the story of Wrexham AFC after the hit series "Welcome to Wrexham" premiered last October on Hulu. The series follows a Ted-Lasso-like narrative arc as Reynolds and McElhenny purchase the Welsh football team knowing close to nothing about soccer (and even less about football).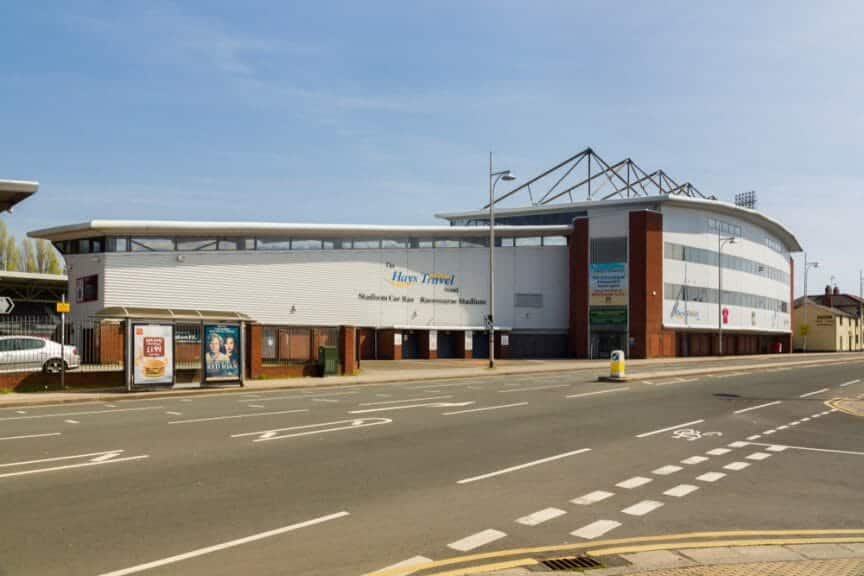 Throughout the series, viewers get an intimate look at just how much Wrexham AFC means to the town of Wrexham. For example, when the club was seeking new ownership in March 2011, the city of Wrexham united to form the Wrexham Supporters' Trust, which raised enough money to place a bid to purchase the club. From March 2011 to November 2020, The city of Wrexham literally owned the club.
A lot changed once Reynolds and McElhenny bought the club in November 2020, but the city has supported them from the beginning. BBC Sport reported that 98.6% of the Wrexham Supporters Trust – which has over 2,000 members – supported the Hollywood actors taking over the club. The owners' financial resources and Hollywood connections have given the club obvious advantages that other National League teams don't have, helping the club bring in star players like Paul Mullin and Ollie Palmer, secure new sponsors like TikTok, and fix up the 216-year-old stadium.