As we roll into the Final Four, there can be no doubt this tournament has been a tournament for the underdogs. All top seeds are eliminated as we head into the final weekend of NCAA basketball, culminating in Monday's Championship Game. We are going to take a look at who has come this far and their chances at glory.
San Diego State
The San Diego State Aztecs were a top 20 team in the country coming into the tournament and are used to winning regular season or conference titles. But they had never been to the Elite Eight before this season.
So they must rely on their tremendous on-court chemistry to pull off the victory on Saturday. A chemistry that translates to both sides of the floor, with exciting guards Darrion Trammell and Matt Bradley's fast hands complimenting explosive forward Nathan Mensah's inside presence.
This team is fun to watch! They get after the ball defensively with ferocity, and their length and dynamism make them titanic in fastbreak situations.
But, in the half-court, they still have patience and instinct for the right pass to open shooters or cutters. This comes from their clear comfort within their roles, the system, and, seemingly, the stage.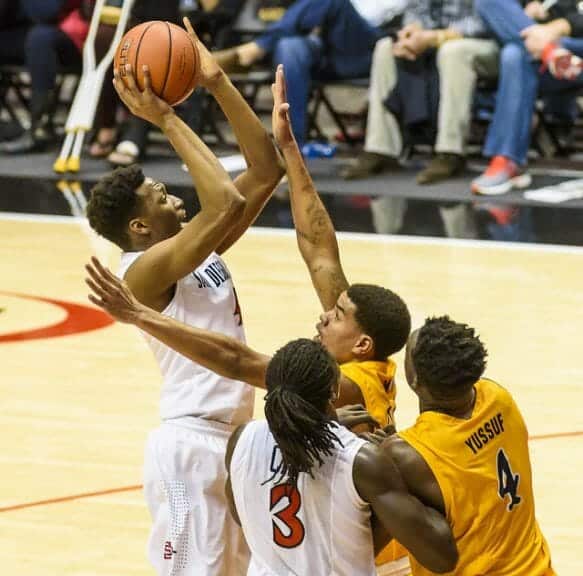 Trust Fall
The Aztecs' confidence stems from their infectious Head Coach, Brian Dutcher, who believes in his team. Speaking to ABC 10 News, Dutcher spoke of an exciting post-game victory ritual. He performs a trust fall off a ladder after cutting the net from their regular season clinching win.
Nate said to me – 'Are you gonna do the trust fall Coach?' and I said
'Well are you gonna catch me?' and he said 'Yeah we'll catch you!'
I said 'Then I'll do it!' So, did another trust fall and your team's got to like you to do that, so I think my team likes me. I've got a great relationship with these guys and I trust them to no end.
An exciting look into the relationship between coach and team there and how vital it can be to success. It also emphasizes how much the team has bought into Dutcher's ideas which is crucial to making a run in March.
This team plays with a fire in its belly, making them a considerable threat to their next-round opponents.
Florida Atlantic University
FAU is the Cinderella story of this year's NCAA tournament, going into all but one of their tournament matchups so far as the lower seed. And that will continue into the next round as they face up against the above-mentioned San Diego State Aztecs.
However, FAU won't be daunted by the matchup after toppling both 3rd and 4th-seeded Kansas State and Tennessee earlier in March. And as a team that can light you up from three, you can never count out The Owls.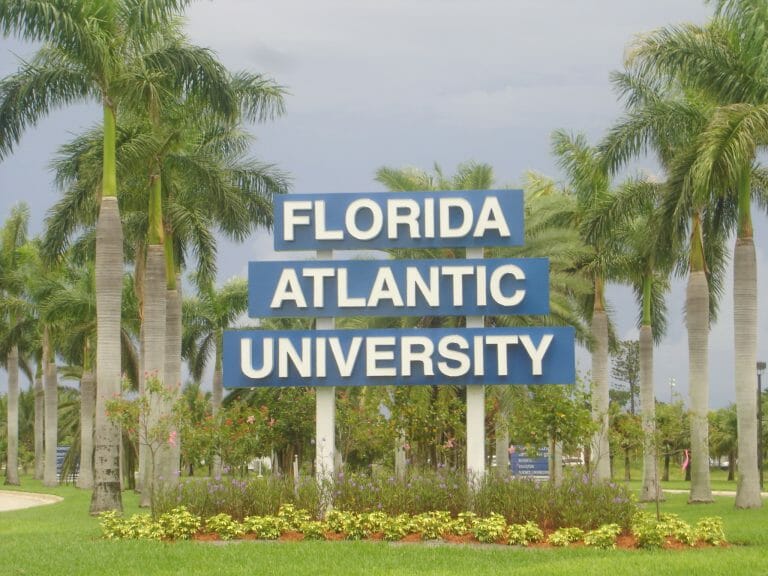 As a team who relies more on their shooting ability rather than their athleticism and strength, it will be interesting to see how FAU attacks SDSU.
They won't want to allow the Aztec's size to show and will likely be content to slow the ball down and work their opponents in search of open shots.
Another exciting matchup will be The Owls' 7″1 Center against the interior of San Diego, who have been powerful throughout the tournament. The big man from Nalchick, Russia, had 13 rebounds in his last game vs. Kansas State.
This mammoth output, if he could reproduce it, could be crucial to Florida Atlantic's chances, as if he can create second-chance opportunities for these lights-out shooters, they could make life very difficult for San Diego State.
And possibly beyond?
University of Connecticut
UConn can come into this one confident as the only team in the Final Four with past NCAA tournament success. The Huskies won the chip as recently as 2014 and will be raring to go in search of their fifth National Title.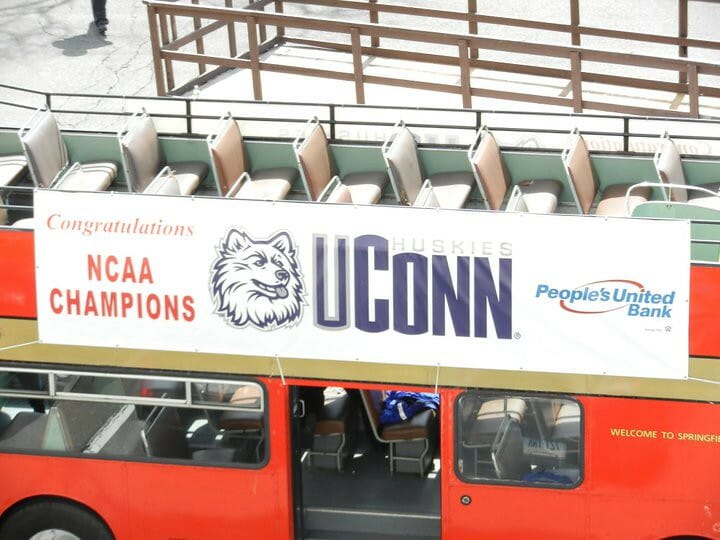 If this team were to pull it off and go all the way, they would jump ahead of the Kansas Jayhawks in the all-time rankings of NCAA Tournament winners. But that'd not the only thing that has this team riled up.
Hotel Fiasco
Just one week ago, the UConn team was peculiarly forced to switch players' hotel rooms in Las Vegas.
After returning to find their rooms putrid with vomit and dirt 'and worse'. Due to this strange circumstance, the team's preparation for their Sweet Sixteen matchup was disturbed.
This adversity has not held the Huskies back, but it could have possibly created an 'us vs. them' mentality in the camp. And with this being UConn's first venture past the Sweet Sixteen since they won it all in 2014, the stars may just be aligning.
Athletic Director David Benedict wanted to play down the effect of the mishap. Stating that "Everything worked out fine." But he was glad to have made it through the early stages and believes this team will grow as the tournament progresses.
I think in the first and even second round of tournaments, it's more of a burden to play at UConn than it is an advantage… Obviously, now you get to the Sweet 16, you can really just kind of go out and just let it rip.
UConn certainly will be hoping to let rip on Miami and progress to the Championship Game. But none of the teams left to go down without a fight.
Miami FL
Miami has had a tough run of it in this year's NCAA Tournament. With their first game coming against many peoples' outside pick, Drake.
They showed great resolve in that game to take the wind out of the sails of a team coming into March hot.
The Hurricanes exchanged leads with Drake throughout the first-round matchup and came out on top with a 63-56 victory. They may not have played their best basketball, which will always be disappointing but wins like that can galvanize a team.
They were down 8 with 4:30 to go in the game, and at that point, it was do or die. The toughness this team showed to deny baskets and chip away at the lead is the spirit you need to succeed in March.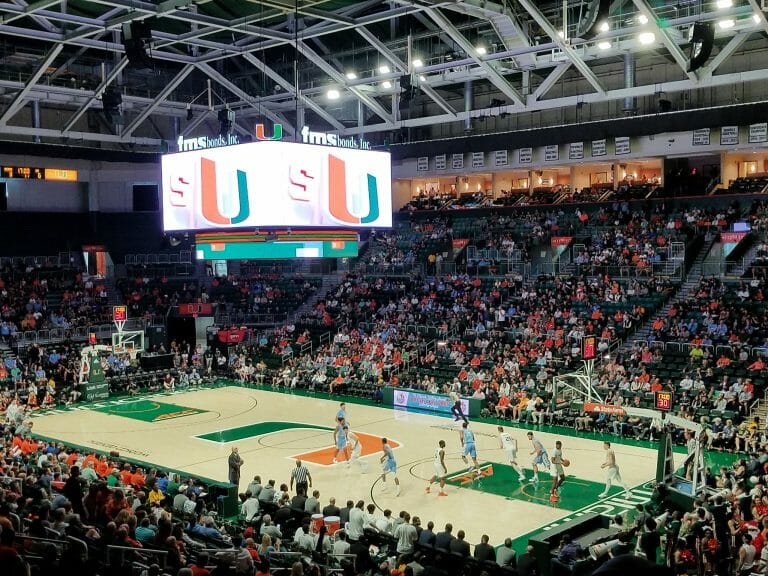 Resilience
This gritty determination was displayed again in the Elite Eight, a first for Miami. When they can back from 13 down with 13:29 to go against Tennessee.
The Longhorns were upset 88-81 after they led for most of the game only to fall to a 7-point loss.
But Miami was stellar, never letting the score affect their play and methodically going about their business. This aspect of their play makes them such a massive threat as we progress to the tournament's final two games.
Not to say this team is just a defensive juggernaut.
They have several slick guards, including Isaiah Wong and Nijel Pack, who have been scoring in bunches to aid their team in these victories.
It's a very open Final Four, and it has been tough throughout to predict outcomes as the underdogs have come to play this year. Saturday can't come soon enough for hoops fans worldwide waiting to see who will be crowned the Kings of March Madness.