Over a week has passed since the UConn Huskies snatched their fifth National Championship. And now all fans can do is reminisce over some of the tremendous play we have seen this March. So, let's dive into some of the standout performers of this year's NCAA tournament.
1. Adama Sanogo
It would be rude to kick off the article without a player from the champions.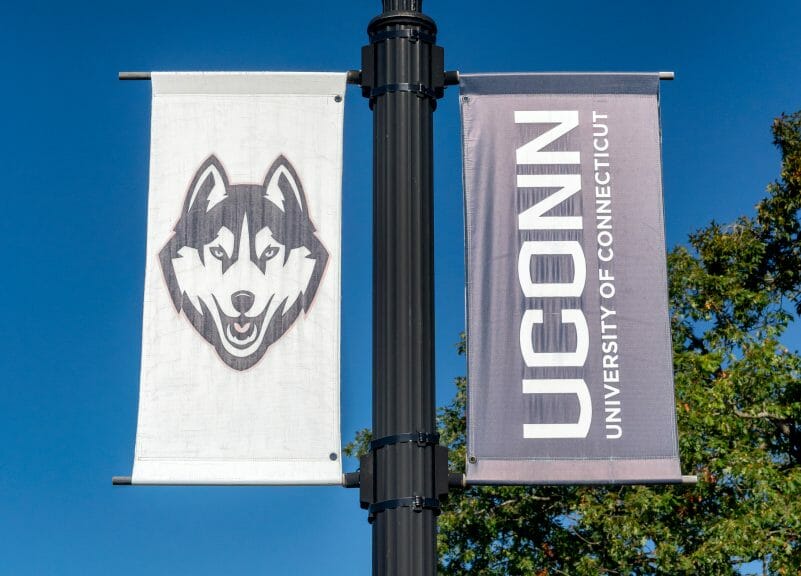 Adama Sanogo was an absolute terror in the painted area for opposition defenses all tournament. This dominance saw him named 'Most Outstanding Player of the Final Four'.
At 6″9 and around 240 lbs, the forward was often able to use his imposing frame to gain an inside position on his opponent. Once he was inside there was no stopping the Malian. He was consistently racking up layups and dunks with ease due to his strength down low.
His relentless nature seemed to demoralise his opponents, as they realised no one on the court could keep him out of the paint.
This was apparent in the final matchup of the tournament. As when SDSU went on a run to cut the UConn lead to 6 with around 8 minutes left, Sanogo used his size again. Not only to score inside and defend well but also to set tough screens for his teammates.
Although he is not just simply a big athletic rim-runner. Sanogo showcased a broad offensive arsenal to accompany his tough defense inside.
Whether it be draining threes or bullying players with his back to the basket, he really seems to have the determination and coachable attitude to have a strong career in the NBA.
Since his team's triumph, Sanogo has elected to declare for the 2023 NBA Draft. So we will likely see Adama exerting his influence on an NBA roster soon enough.
2. Matt Bradley
Although San Diego State fell to the Huskies in the championship game, Matt Bradley can look back on his performances with pride. The skillful guard showed his class in each game but just couldn't get himself going in the final.
However, he has shown strong character since the defeat, as in the post-game press conference he said this:
Moving forward, you know, we got a taste of it. And, I can see in everybody's faces returning, they want it again. We're sad but ultimately we just have to keep our heads high and realize we had a great comeback story this season.
The Aztecs were flying high from a 1-point victory in their first Final Four matchup, in which Bradley was a key factor. Scoring 8 points in the opening 5 minutes of the contest, draining two 3's.
This laser 3-point shooting and his nifty ball-handling ability, saw him end the game with 21 points. Leading his team in scoring against a tough FAU team.
These are the type of games that NBA scouts are looking for their prospects to shine. And as a projected second-round pick, stepping up in big moments can only help his draft stock. If selected, Bradley is likely to fill a roster spot as a three and D guard. Then it will be up to him to try and use the NBA's unbelievable resources to improve.
3. Isaiah Wong
The Miami Hurricanes were many people's underdog pick to win it all before the tournament began. And Isaiah Wong was a huge part of that.
The clever shooting guard has developed his body and game massively since his freshman year on the Canes. This development has seen him progress both when finishing in traffic and defensively. He has also been able to enhance his basketball IQ as he has demonstrated his ability run the point for the shooting guard position.
While his 3-point shooting can be a little streaky, his ability to slice through defenders with his dribble and create his own shot is very valuable at the next level. Although with the way the NBA is moving now, his 3-ball will have to improve to give him the best chance at success.
Wong was instrumental in some of Miami's more memorable performances in March Madness. Namely, his 27-point outing against the Indiana Hoosiers, where he shot 4-6 from 3-point territory.
Wong is only a Junior, so he still has another year to develop at the college level if he chooses to take it. This may be a strong option for him, giving him another year to hone his craft. And if he manages to put up another 60 points in next year's tournament, a lot more eyes will be on him when it comes to next year's draft.