On August 16, after climbing for five days on sheer granite and gneiss, Alex Honnold and Hazel Findlay completed their 1,200 meter (3,750 foot) climb of Greenland's Ingmikortilaq.
Honnold and Findlay arrived in Greenland on July 9th eager to begin a long and varied adventure in the name of climbing and climate change research. In the following weeks, they would hike, ski, climb, and assist with vital research on glacier density, depth, and melting methods.
The pair culminated their Greenland travels with one of Earth's tallest untraveled natural surfaces. Ingmikortilaq (pronounced Ing-mick-ort-till-lack) rises 1,200 meters straight out of icy water. Meaning "the separate one" in Greenlandic, Ingmikortilaq is comprised of three million years old rock, a medley of slick granite and unstable gneiss prone to breaking off in climber's grips.
Honnold and Findlay started their climb from a dingy at the cliff's base, and spent the following five nights sleeping strapped onto the rock face in their sleeping bags, facing freezing conditions from their "shiver bivy." The rock is 225 meters (750 feet) higher than Yosemite's El Capitan.
Hazel took to Instagram to describe the climb, noting the loose nature of the rock they were on: "Unfortunately the Gneiss rock wasn't the best quality and we got pretty scared navigating the loose rock as a big team. We started off with 4 of us plus film crew and in the end, Alex and I climbed to the summit as a pair."
Along the way, they placed two temperature sensors at various points on the wall to help scientists study permafrost.
The expedition team also consisted of Dr. Heïdi Sevestre and Adam Mike Kjeldsen. Dr. Sevestre works as a glaciologist with the Arctic Monitoring and Assessment program. Kjeldson served as the team's specialized Greenlandic guide. Together, the team completed the "first true crossing of the critical Renland ice cap from the Pool Wall," according to the formal news release. It was a five-day endeavor.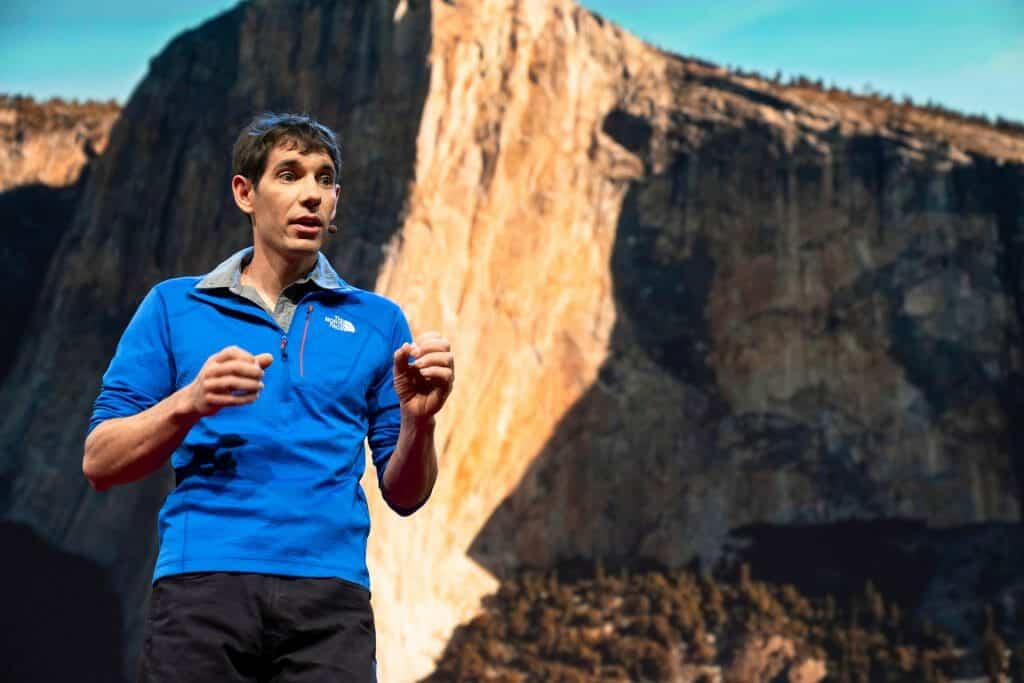 Hidden in Nordvestfjord in the Scoresby Sound region of eastern Greenland, Ingmikortilaq has been described as "ground zero" of climate change research. Greenland's massive ice sheet covers almost two million square kilometers, consisting of almost 80% of the country's surface area. After Antarctica, Greenland's ice sheet is the second largest in the world.
Honnold's name entered household conversations after Free Solo was released, a documentary that followed his attempt to climb Yosemite's El Capitan without any rope or assistance. Following his success, Honnold was the first climber to free-solo the famous rock face.
A newly minted 37-years-old, Honnold celebrated his birthday in Greenland the day after he summited Ingmikortilaq. On Instagram, he wrote: "Today I'm celebrating my birthday in Greenland, which feels like a special place to be no matter what day it is."
Much like Honnold, Findlay has been climbing for most of her life. Starting at age six, Findlay began on the limestone sea cliffs of Pembrokeshire. Findlay was the first woman to free climb El Capitan and has since completed the climb three times via three separate routes.
Honnold and Findlay's Greenland adventure will soon be available to stream on Disney+: On the Edge with Alex Honnold.
Interested in outdoor adventure? Click here to read about Maggie, the Turkish dog who was rescued from Ben Navis, the largest mountain in the UK.