Images Via
Have you ever gone skiing or snowboarding on an active volcano?
Well, some people consider that a whole new adventure on its own.
Sam Smoothy, Xavier De Le Rue and Victor De Le Rue decided to brave the molten lava and clouds of dust of the active volcano Mount Yasur on the South Pacific island of Vanuatu this month.
After engaging in snow-sports in various places around the world, they grew bored of the usual terrain. They wanted to try out something new – something hotter and more dangerous. Who said skiing had to be limited only to snow?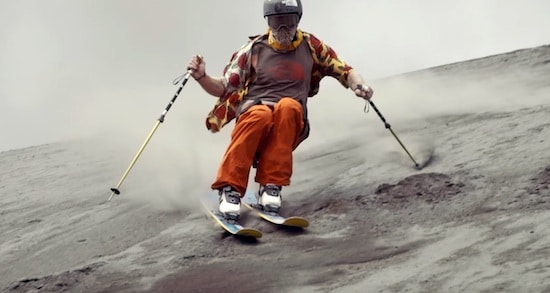 When the trio reached the Tanna island of Vanuatu, they were touched by the simplicity of the people living there. It appeared as if they were unaffected by the growth and changes in the rest of the world. Xavier De Le Rue jokingly said the island people probably thought the three of them were a bunch of weirdos for coming all this way to slide down molten ash.
However, when the three men actually embarked on their first fire-sports expedition, they realized skiing on ash is a rather tricky experience compared to skiing on snow.
The glowing lava sparks spouting out from the volcano every few minutes made them cough perpetually. They trekked up Mount Yasur wearing protective goggles and handkerchiefs around their mouths and noses to avoid breathing in the harmful dust particles. However, even these accessories could not reduce their nervousness on attempting to slide down an actual active volcano.
Physically, the heat from the molten lava spurts made the men sluggish while skiing down the ash slopes. Mentally, they were terrified because of the uncertainty of the volcano's eruptions. But overall, the trio did not regret the precious moments they spent circling around the mountainous inferno of blazing lava.
If you want to take on the same adventure, I would suggest you go for it! But beware of the flames that could engulf you any minute.
If you thought these guys were fearless, wait until you see this skier scale snowbound alpine slopes in the dead of night.