The Artemis program, a grand endeavor to bring humans back to the Moon, carries an air of inevitability. It boasts widespread political backing, robust international collaboration, and an accomplished maiden mission known as Artemis I.
What sets Artemis apart is the extraordinary display of bipartisan support, with both Republicans and Democrats aligning in favor of NASA's lunar ambitions. The plan to send humans to the Moon, not just once but on a recurring basis, has garnered remarkable consensus. The vision, hatched during the Trump administration, received swift reaffirmation from the Biden White House upon assuming office. In fact, the Biden administration's diplomats have been actively expanding the "Artemis Accords," amassing the participation of two dozen countries.
While the support for Artemis is widespread, there exists a disconcerting sign. The program's budget is spiraling out of control, and the timeline for human lunar voyages remains hazy. These concerns came to the fore at a recent gathering of NASA's Advisory Committee for Human Spaceflight.
Jim Free, the esteemed figure overseeing human spaceflight into the deep reaches of the cosmos, delved into the budgetary intricacies spanning fiscal years 2024 to 2028. During this five-year period, NASA is poised to funnel a staggering $41.5 billion into the Artemis program, with a single human landing being the probable outcome at best. Within this colossal sum, a mind-boggling $11 billion is allocated for the Space Launch System (SLS) rocket, a vehicle already developed for this audacious lunar mission.
To put things into perspective, this $11 billion roughly matches the funds earmarked for not one but two lunar landers, which are arguably as intricate as the SLS rocket itself. Curiously, NASA awarded its inaugural lunar lander contract only in 2021, despite the fact that the SLS rocket has been under development since 2011. The rationale behind allocating comparable funds to a flight-proven rocket and the intricate development of two formidable human landers remains enigmatic.
During the meeting, when queried about the persistently high costs associated with the SLS rocket, Free revealed that NASA is striving to curb expenses by transitioning from development to operations. In his own words, "We're trying to transition to the Exploration Production Operations Contract, and that's happening towards the end of this budget horizon where we're trying to get our dollars down. So you won't see that necessarily captured in this line item. We're looking for more than a little bit to get the affordability."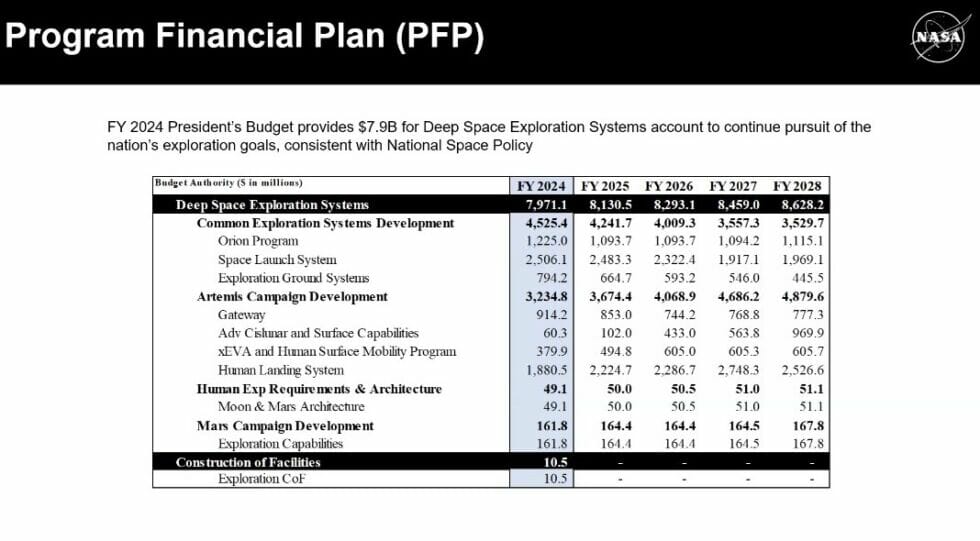 NASA's budget proposal also designates $4 billion for the Lunar Gateway, a celestial way station that will not even be utilized during the initial lunar landing. While it may serve as a charming hub, the Gateway holds no essential role in actualizing lunar landings.
During his presentation, Free cautioned that even with the president's budget proposal, there might not be sufficient funding to execute the Artemis program as originally envisioned. The program's blueprint calls for an inaugural human landing in 2025, a milestone that is highly likely to slip by two or three years, followed by another landing in 2028, with similar anticipated delays.
He stated, "A lot of the program managers are here in the room," alluding to the major components of the Artemis plan—the SLS rocket, Orion spacecraft, and lunar lander. "And I'm sure they tell you, they need more than this to execute."
Free also expressed concern about Congress's struggle to pass a timely budget, relying instead on continuing resolutions (CR) that hamper the launch of new initiatives required to propel the Artemis program forward. The weight of such predicaments weighs heavily on his shoulders, as he strives for stability amidst congressional turmoil.
"That feels like the weight of the world on my shoulders, trying to get stability in Congress," Free admitted. "If we're trying to grow on budget to launch more stuff, and we're on a CR, it's our budget from last year, so we can't grow. We can't start new programs when on a CR, without an exception."
One of the primary quandaries confronting Artemis is its expanding budget at a time when Republican lawmakers are eager to trim the federal expenditures. Furthermore, a looming debt-limit crisis and escalating interest rates further complicate matters. At what juncture does Artemis transform from a necessity to a luxury? Wayne Hale, chair of the advisory committee, hinted at this notion, emphasizing the need for Congress to prioritize amidst numerous pressing matters.
"In the end, the kind of space program we have hinges on the desires of the American people and their elected representatives," Hale remarked. "We, as space enthusiasts gathered here, yearn for more, but the allocation of taxpayer dollars necessitates prioritization amid the multitude of governmental obligations."