It is often the case that stories pertaining non-European countries do not always find the attention they require within the European News scene. There are various and extensive articles offered on the current situation in Sri Lanka, however as a consumer of both UK broadcast and print news; I have come to realize that they are not at the forefront or particularly accessible.
I found myself well-informed about the battle between Rishi Sunak and Liz Truss, the dangerous implications of the recent heatwaves, and even about the alleged debacle pertaining to Elon Musk and the Google co-founder's wife, Nicole Shanahan before I had a fully formed and sufficient knowledge of the situation in Sri Lanka (being half Sri Lankan myself this is particularly dismaying). So, I found myself in want of delivering the truth as clearly and concisely as possible in hopes of spreading awareness of the severity Sri Lanka is faced with and the corrupt leadership that created the situation in the first place.
It has been suggested that the Covid-19 pandemic played a significant role in causing the detriment Sri Lanka is facing today. Whilst it is true that the pandemic and its unsuccessful containment measures saw to country's overall growth declining from 3.1% per year in 2018–19 to -3.6% in 2020; it was the leadership running the country in these years that caused the most severe damage to the country.
So, let's, deep dive… How did this happen and why did the country get to this point?
Who are the Rajapaksa family?
Who
When discussing the political situation in Sri Lanka it is important to first familiarise oneself with the knowledge of the Rajapaksa family. The Rajapaksa family is a politically prominent family in Sri Lanka. In the years 2005-2015, Mahinda Rajapaksa served as the Prime Minster of Sri Lanka. During these years the Rajapaksa family became particularly powerful as many members were able to infiltrate senior positions in the Sri Lankan state.
Where
Sri Lanka is defined as a semi-presidential representative democratic republic; however, The Economist Intelligence Unit rated Sri Lanka a 'flawed democracy in 2019. It has been suggested, that under the Rajapaksa Family's corrupt rule the country was heading towards autocracy.
What
During the 2015 Presidential election Mahinda Rajapaksa was defeated and 3 December 2018, a court suspended Rajapaksa's powers as Prime Minister. Rajapaksa eventually resigned from the post of Prime Minister on 15 December 2018. Despite this, the family's grasp on Sri Lankan politics did not end here. Though an amendment to the constitution meant Mahinda was prohibited from running for a third term; he had no intention of relinquishing any power. As a result, it was decided that his brother, Gotabaya, would be a candidate in the November 2019 presidential elections. Gotabaya's political experience was grossly limited as he had only ever held an unelected post of defense secretary during Mahinda's administration. Despite this inexperience, as well as accusations of war crimes during the civil war; Gotabaya won the political race and was elected as President in 2019.
There is also the third Rajapaksa brother, Basil, who after being dismissed of corruption charges, was responsible for forming the new political party; The Sri Lanka Podujana Peramuna (SLPP) that Gotabaya emerged as a candidate for during the 2019 presidential election. In fact, in 2018 Basil stated, "The truth is that if Gotabaya comes forward it will be I who will run the country since he is new to politics".
What's more, during his presidency Gotabaya introduced the 20th Amendment which saw to a further rise in the Rajapaksa dynasty's power, as it enabled him to further his presidential powers and appoint members of the Rajapaksa family to positions of power. Subsequently, after Gotabaya's appointment, Mahinda Rajapaksa became Prime Minister again on 21 November 2019. In August 2020, Rajapaksa was sworn in as Prime Minister of Sri Lanka for the fourth time.
Why
Ultimately, the popularity of the Rajapaksa family collapsed after their leadership instigated and catalyzed the economic crisis that began in 2019; resulting in Sri Lanka defaulting on its debt for the first time in its post-independence history. Within 30 months of coming to power, serious damage was caused to Sri Lanka.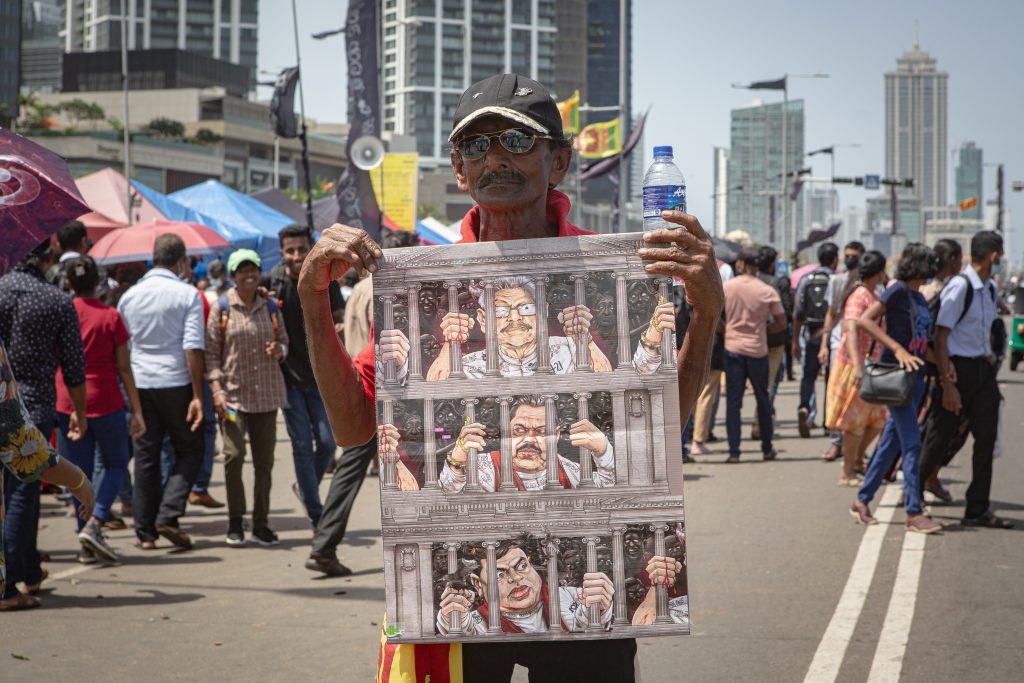 What impact have they had on Sri Lanka?
It is widely believed that Sri Lanka's crisis is entrenched in this family; who grasped at power to the point of autocracy and in doing so, callously submitted the nation to a fate of bankruptcy. To ascertain and understand the full extent of damage the Rajapaksa family inflicted upon Sri Lanka it is helpful to examine the detriment each of the three individual brothers had on the country:
Mahinda
When in 2005 Mahinda was elected as president; he and his family began an uninhibited quest to borrow money. This was at first to pay for Sri Lanka's thirty-year civil war which ended in 2009. However, this advanced into a desire for 'super-growth' which saw to the frenetic development of roads, airports, stadiums and power grids. Whilst GDP grew from $20bn (£16.6bn) to $80bn the Rajapaksa family had borrowed $14bn in the process and had also become caught up in accusations of corruption such as money laundering and bribes.
During Mahinda's leadership, Sri Lanka scored extremely low in the Transparency International Corruption Index. Moreover, during his presidency, Mahinda and his family were the subjects of numerous state resource abuse complaints from organizations and election monitors which included claims of their involvement in fraud, misuse of powers, money-laundering activities and even murder. These activities are said to have taken $5.31 billion out of the country illegally through the Central Bank using Rajapaksa's close association with Ajith Nivard Cabraal, the former governor of the Central Bank of Sri Lanka.
Gotabaya
Soon after Gotabaya took office in 2019, he went about introducing ultranationalist agenda which pushed for the dominance of the Sinhala Buddhist majority. Additionally, he appointed military generals, despite their involvement in war crimes, to run 15 civilian government ministries. This proved to be inefficient and resulted in higher defense spending than during the civil war, causing a significant drain on Sri Lankan resources.
Furthermore, in early 2022, Rajapaksa's administration was eager to avoid debt restructuring and opposed an IMF bailout in favor of a homegrown solution for the debt crisis. This decision substantially depleted foreign currency reserves and gold reserves. The ill-informed effort to boost the Sri Lankan Rupee instead saw to a 30% depreciation of the Rupee against the dollar in the days following major shortages of fuel, food and medicine.
Basil
An overwhelming number of Cabinet ministers, opposition politicians, and even the Rajapaksa Family's own aides and confidantes have pointed to Basil as the one who oversaw the economic downfall of the nation. He has been described by several ministers as having unparalleled influence over the president and cabinet, despite proving severely incompetent at running the economy, ignoring multiple warnings that a financial meltdown was on the horizon, and being plagued with corruption allegations.
For example, Udaya Gammanpila, former Minister of Energy and Member of Sri Lanka Parliament for Colombo district has stated both that "Gotabaya didn't know how bad things were and Mahinda was getting old and not in the best health, he was just the figurehead. Everything was controlled by Basil" and "Basil was the true power".
What is the current state of the Sri Lankan government?
Gotabaya Rajapaksa initiated a self-imposed exile on 13 July 2022 following widespread protests led by the Sri Lankan people who demanded his resignation due to extensive discontent over his handling of the country's economic crisis. He fled to the Maldives and then to Singapore, where he has remained since. His resignation letter was accepted by the cabinet on 15 July though a cabinet minister has suggested he will return to Sri Lanka.
Since then, the six-time Sri Lankan Prime Minister, Ranil Wickremesinghe was voted in by MP's as acting president, and legislators have now elected him to serve the remainder of Gotabaya Rajapaksa's five-year term until 2024. Wickremesinghe declared a state of emergency last week that Sri Lanka's parliament has approved. Wickremesinghe's government attempts to maintain order amongst the crowds of discontented demonstrators while trying to find a way out of the country's worst economic crisis.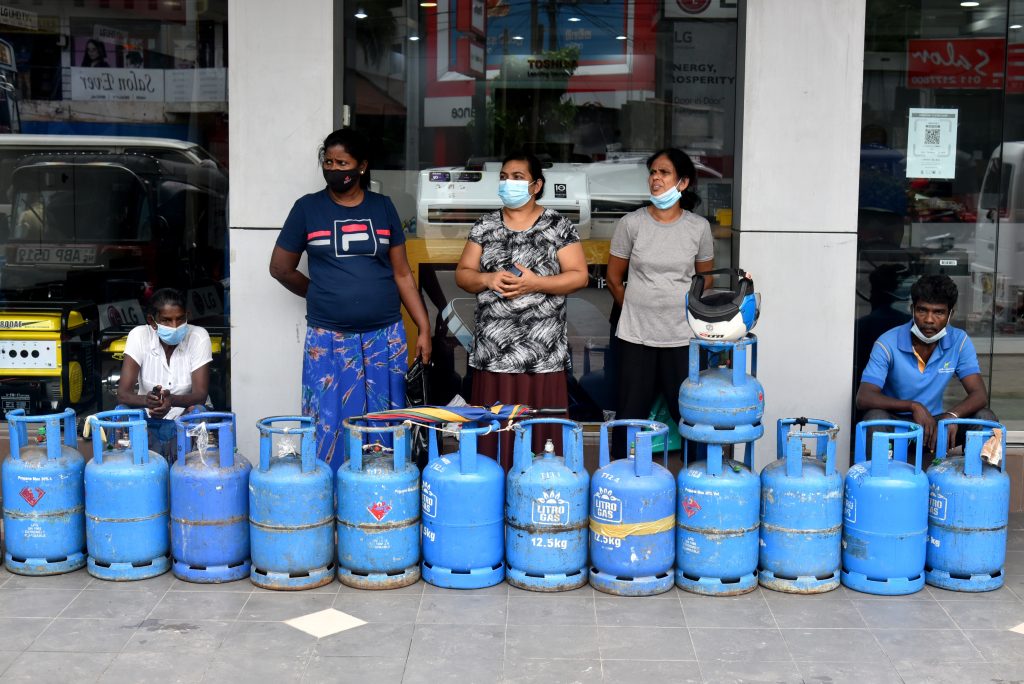 What does the crisis mean for the Sri Lankan people?
Without the ability to purchase or borrow foreign currency, the Sri Lankan government is not able to buy desperately needed imports, including food staples and fuel, causing domestic prices to rise.
As a result, the Sri Lankan people are rapidly losing the ability to buy everyday goods as consumer inflation reached 39% at the end of May. What's more, due to power outages instigated to save energy and fuel, schools are currently closed, hindering children's education significantly.
Further impacts Sri Lanka is facing:
Insufficient fuel supply
Fuel queues
Overcrowded public transport
A rise in transport cost
Power supply interruptions
Significantly increased cost of living
What happens next?
The election of President Wickremesinghe is part of what appears to be a three-step solution that Sri Lanka's government intends to set in motion:
The first is to start by instilling a modicum of political stability, which it is said, Wickremesinghe represents, despite some unpopularity.
The second is renegotiating the debt with several bilateral creditors, such as Japan, China, India, and a few European countries. The International Monetary Fund (IMF) most recently suggested that Sri Lanka should begin debt restructuring talks with China, while the state's government seeks a financing loan from the Washington-based fund.
The third is to input long-term reforms to reset the economy. These are reforms Sri Lanka has been talking about for decades but has been unable to execute.
What can we do to help?
Our ability to support the Sri Lankan people begins with spreading awareness and remaining up-to-date and well-informed on how the situation progresses. If you feel this article has helped you ascertain a better understanding of the crisis and its causes then please make sure to share it and continue spreading awareness.
In the meantime, there are of course charities, organizations, and businesses that are striving to aid Sri Lanka you might consider interacting with:
And, while you're at it why not check out another important News story covered here at Trill Mag? Find out all about the futuristic construction being undergone in Saudi Arabia here.