The USA's attack on LGBT rights continues with the Parents' Bill of Rights introduction. The bill supposedly intends to give parents more control over their children's learning. However, in practice, it suppresses knowledge and acceptance of minority identities.
The bill comes alongside a push to ban certain books in classrooms. These books usually pertain to POC and LGBT history or identity. Speaker McCarthy claims that the bill allows parents to have a say in what children discuss in the classroom. On the other hand, the restriction of this specific information suggests that the erasure of oppressed identities has become conflated with protecting children.
What is the Parents' Bill of Rights?
According to Speaker Kevin McCarthy, the Parents' Bill of Rights (H.R.5) operates on five main principles:
The right to know what's being taught in schools and to see reading material.
The right to be heard.
The right to see school budgets and spending.
The right to protect their child's privacy.
The right to be updated on any violent activity at school.
The House approved the bill in a 213-208 vote. The Senate, mainly composed of Democrats, is not likely to do the same. However, Republican-led states and their lawmakers are eager to enforce these measures on a state level. In contrast, many Democrats oppose H.R.5 in its current form. They argue that it puts LGBTQ+ children at risk of abuse at home and in the classroom, which contradicts the original aim of protecting children.
One part of the bill suggests increased contact between parents and teachers. This is helpful for matters relating to studies and general school life, keeping parents aware of their child's progress more effectively. Unfortunately, this extends beyond just academic and well-being issues. It would be a requirement for teachers to disclose a student's sexuality or gender identity to their parents, which is potentially dangerous if the parents are not accepting. Even if they accept their child, outing somebody before they are ready strips them of their agency and choice to do so when they want to.
Another aspect of its implementation is reconsidering how appropriate teaching materials are for children. The question of what is "appropriate" is an instead loaded one. Aside from the apparent censorship of overly sexually explicit books, calls to limit access to teaching materials about the LGBTQ+ community strongly prevail. So, is this bill an attempt to protect children or to control information and erase minority identities?
AOC's Scathing Condemnation
Alexandria Ocasio-Cortez is one of the most notable figures on the opposing side of the debate. AOC condemned the decision in a House session, accusing Republicans of tip-toeing around the reality of the bill.
The senator emphasized the danger of restricting books by highlighting already banned books. Past legislation of a similar kind resulted in the banning of The Life of Rosa Parks by Kathleen Connor, a book that tells the story of Rosa Parks and her role in the Civil Rights movement. Duval County in Florida banned the book, and others minimized the role of race in their teaching of Parks' life, deeming it "inappropriate" for children to learn about. Cortez ironically called the book "too woke" for the GOP and highlighted how ridiculous it is to ban these books.
She even described the bill as "fascist" due to the role of book bannings in authoritarian governments in asserting dominance over the people.
The Role of Book Bannings
AOC linking book bannings and fascism is far from baseless. By limiting the information available to the people, governments can control them more effectively. A more extreme example is the Nazi Party burning all books that contradicted their values. Banned books included any books that promoted free-thinking and left-wing ideas, or discussed Judaism. The act of book burning itself symbolises the censorship of already suppressed voices, with Jewish authors facing the heaviest restrictions.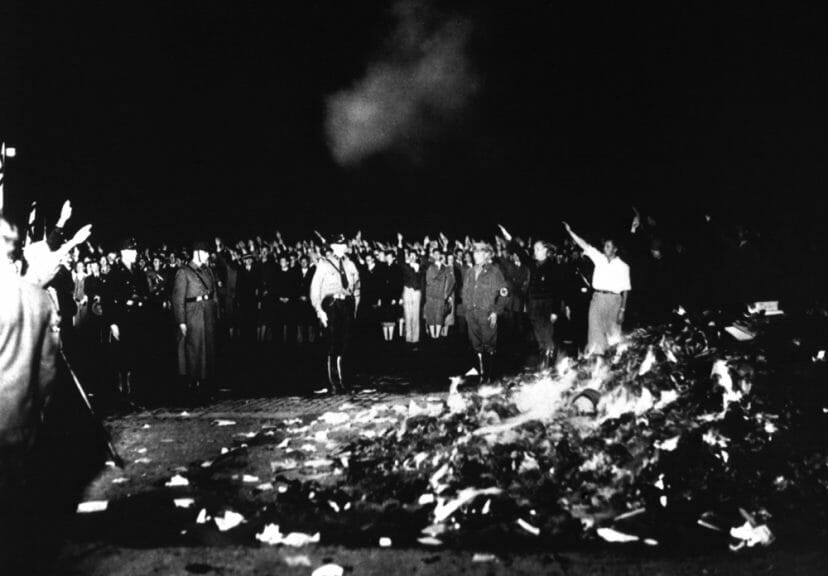 According to the American Library Association, there were nearly 700 attempts to restrict library resources in the first eight months of last year. Books about or by marginalised groups are disproportionately impacted by these measures. These groups are already under-represented in literature, so these bans effectively attempt to erase them. Furthermore, school libraries in Utah require permission to loan out books with LGBTQ+ themes, making the process more difficult and limiting access to this information.
These bannings are almost comically ironic for a country that so strongly reveres freedom of speech. Perhaps the First Amendment only applies if a book is not too "political" or "radical" for conservatives to stomach. Republicans, however, have a somewhat skewed view of the "radical" and incorrect, as evidenced by previous book bans.