Ukrainian President Volodymyr Zelensky visited Washington to thank President Joe Biden for his ongoing support.
It is the first official foreign visit Zelensky has made since Russia invaded Ukraine in February.
"It's always a high honour to welcome a foreign head of state to Congress, but it's nearly unheard of to hear from a leader who is fighting for his life, fighting for his country's survival, and fighting to preserve the very idea of democracy,"

Senate Majority Leader Chuck Schumer.
The US confirmed before the meeting that it will pledge a further $1.85bn (£1.53bn) in military aid to the beleaguered nation; including advanced air defence systems.
Details of President Zelensky's visit were kept secret, with official confirmation coming only hours before he was due to arrive.
The trip saw the Ukrainian president meet with the national security committee and congressional chiefs from the Democratic and Republican parties.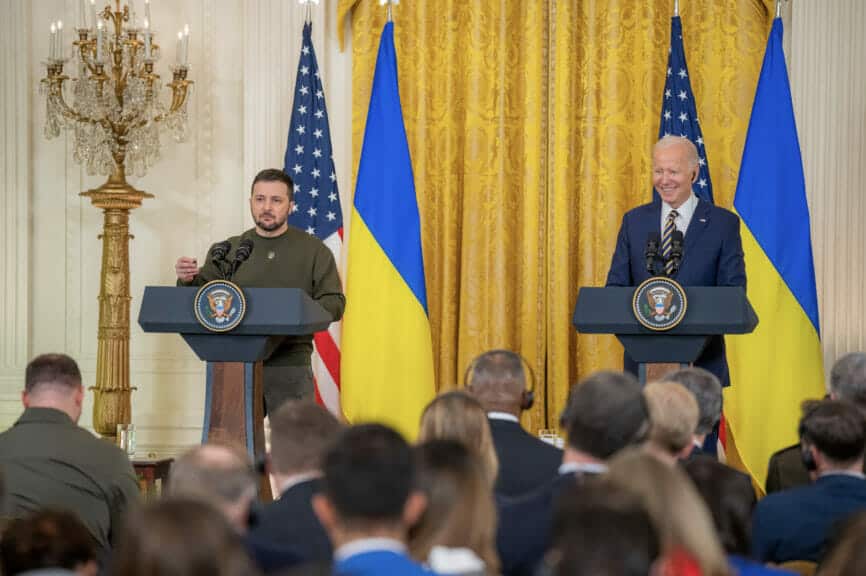 In an emotional speech, President Zelensky told members of Congress "Your money is not charity, it's an investment in… global security and democracy."
President Zelensky hailed US support and gave Joe Biden a bravery medal from a Ukrainian army captain.
"You are the man of the year," President Biden told President Zelensky of Time's decision to put him on their cover.
President Zelensky has had regular phone calls with Western leaders since the war broke out, but, the benefits of traveling to Washington outweighed the security risks.
Since the Russian invasion 300 days ago, the US has been the leading military donor to Ukraine.
So far the US has given Ukraine $21.2 billion in security assistance.
"The visit will underscore the United States' steadfast commitment to supporting Ukraine for as long as it takes, including through the provision of economic, humanitarian, and military assistance."

White House spokesperson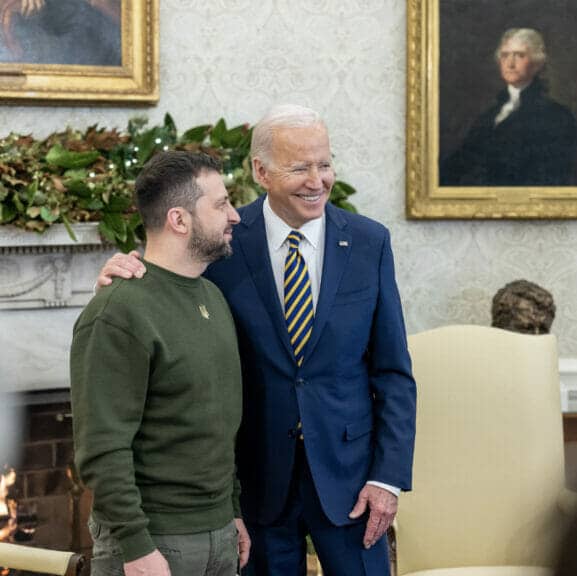 Putin pledges to give the army everything it asks for
The meeting comes after the Kremlin warned that an increase of US arms would aggravate the conflict and "does not bode well".
"Weapon supplies by the US continue, and the assortment of supplies weapons is expanding. All this, of course, leads to an aggravation of the conflict and, in fact, does not bode well for Ukraine," Dimitry Peskov, the Kremlin's spokesperson, said.
Meanwhile, Russian President Vladimir Putin has promised the army 'unlimited funds' to in a televised end-of-year meeting in Moscow.
"The country, the government will give everything that the army asks for. Everything. What is happening now in Ukraine is a common tragedy, but this is not the result of Russian policy … This conflict was inevitable – better to have it today than tomorrow."

Vladmir Putin
During the address, President Putin claimed the West had "brainwashed" Ukraine and that the conflict was "the result of the policy of third countries".
Since the Russian invasion, more than 41,295 people have died, and 14 million Ukrainians have been displaced.
John Kirby, strategic communications coordinator for the US National Security Council believes President Putin is 'not interested in diplomacy' but 'killing more Ukrainian civilians.'
He said: "Mr. Putin is obviously not interested in diplomacy right now," he went on. "Quite the contrary. He's interested in killing more Ukrainian civilians."
Read Next: Hit Squad of 25 Men Arrested After Being Sent to Kill President Zelenskyy