Roy Cooper, the Democratic governor of North Carolina, has vetoed a bill banning nearly all abortions after 12 weeks in North Carolina. On Saturday, an enthusiastic crowd of 2,000 gathered in Raleigh to celebrate the veto. Meanwhile, Republicans in North Carolina's General Assembly hope to override the veto with a supermajority vote.
The Bill
The vetoed measure, SB20, would have tightened current North Carolina state law, which bans most abortions after 20 weeks of pregnancy. Republicans in North Carolina originally pitched the new 12-week ban as a compromise between existing state law and last year's US Supreme Court decision overturning Roe v. Wade. The 47-page bill would include a few exceptions to the 12-week limit, extending it through 20 weeks for cases of rape and incest and through 24 weeks for "life-limiting" fetal abnormalities.
On Saturday, Governor Cooper told the gathered crowd that North Carolina Republicans could still stop the veto, as they have recently gained a supermajority in the state's House and Senate. According to NPR, Cooper said,
We're going to have to kick it into an even higher gear when that veto stamp comes down. If just one Republican in either the House or the Senate keeps a campaign promise to protect women's reproductive health, we can stop this ban.

North Carolina Governor Roy Cooper, Saturday, May 13, 2023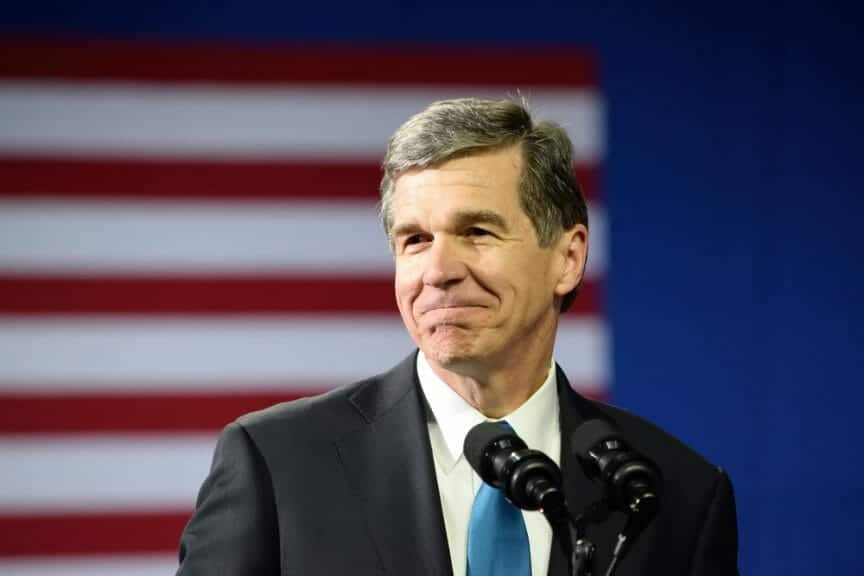 GOP's Potential Override
Override voting could begin as early as next week. Since April, Republicans have had a supermajority in the North Carolina House and Senate (if all legislators are present and voting) since Rep. Tricia Cotham of Mecklenburg County switched from the Democratic Party to the GOP. Cotham announced her party transition on April 5, and voted for the 12-week ban only a few weeks later. Cothams's change in allegiances gives North Carolina Republicans a narrow veto-proof majority in both legislative chambers, allowing them to bypass Cooper, a Democrat, on key issues.
Cooper has traveled throughout the state for the past week, discussing the 12-week ban's lesser-known details and urging residents to pressure their Republican legislators to oppose the bill. During their campaigns for office last year, a handful of North Carolina Republicans hesitated to discuss introducing further restrictions on abortion. Cooper has called out four GOP legislators—including Representative Cotham—whom he said told voters that they would protect North Carolinians' abortion access.
SB20's Abortion Restrictions
Cooper has repeatedly said that the restrictions outlined in the bill suggest that the measure is not a reasonable compromise between Democratic and GOP interests and that it would hugely reduce abortion rights in North Carolina. Among other obstacles, the bill would require multiple in-person clinic visits for patients in order to obtain abortions, as well as extra paperwork to prove a patient has given their "informed consent" to an abortion and greater regulation of clinics providing abortion procedures.
Meanwhile, new licensing standards could shut down clinics that cannot afford the required major upgrades, vastly limiting abortion access for people who live in rural areas or work long hours. North Carolina has also become a destination for people seeking abortion from neighboring states with more restrictive laws. The vetoed bill would limit their access to abortions and that of people already living in North Carolina.
On Saturday, Cooper stated,
This bill will create dangerous interference with the doctor-patient relationship leading to harm for pregnant women and their families. With its medically unnecessary obstacles and restrictions, it will make abortions unavailable to many women. Therefore I veto this bill.

Roy Cooper, Saturday, May 13, 2023
Republican Resistance
In a statement from Saturday, Senate Leader Phil Berger of Rockingham derided Cooper's efforts to spread awareness about the bill, saying,
Gov. Cooper has spent the last week actively feeding the public lies about Senate Bill 20 and bullying members of the General Assembly. He's been doing everything he can, including wasting taxpayer money on poorly attended events to avoid talking about his own extreme views on abortion. I look forward to promptly overriding his veto.

North Carolina Senate Leader Phil Berger, Saturday, May 13, 2023
House Speaker Tim Moore has also suggested that Cooper spread misinformation about SB20 to "frighten voters." Like Berger, Moore predicts that the House will override his veto.
However, Cooper has expressed his commitment to protecting the veto and abortion rights in North Carolina despite Republican resistance. In a tweet from Sunday, Cooper said, "The extreme abortion ban has been vetoed. Let's work to keep it that way."