New York Times has been experiencing some interesting technical issues. An article was recently published on the New York Times website titled 'Fields of Watermelons Found on Mars, Police Say' with a by-line that read 'Authorities say rise of fruit aliens is to blame for glut of outer space watermelons'.
At first, readers of the New York Times were confused as the claim about the discovery of watermelons on Mars was incredibly surprising and also, most likely, false. The article was later taken down and replaced by an error message, however, an archived screenshot of the mistakenly released article revealed the content of the article which read 'The FBI declined to comment on reports of watermelons raining down, but confirmed that kiwis have been intercepted. This story is terribly boring.' An additional comment also added on the page that 'watermelon taste good, police say'.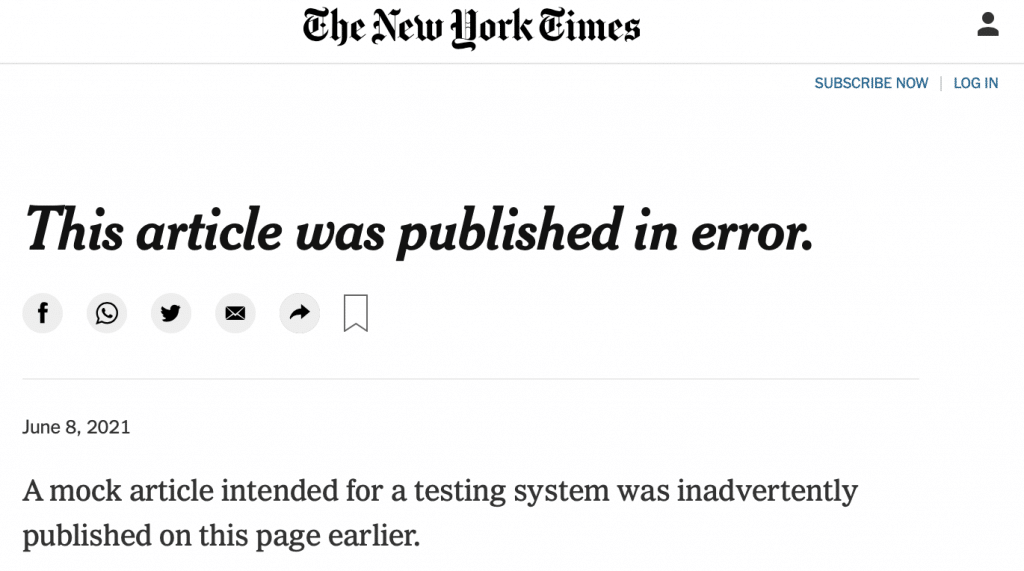 Although the article was removed an hour later and replaced with an error message, many avid readers of The New York Times were left widely confused and thus people took to Twitter to share their thoughts.
However, all conspiracies and theories were put to rest as a spokesperson from The New York Times offered clarity to the public as she revealed the crux of the chaos as she stated that "earlier today, a mock article intended for a testing system was published on our site in error". It was later established that the released article had been accidentally published during a content management system test; the New York Times have since clarified that there has been no such evidence found on Mars. 
An example that shows that all sectors of society, people and businesses, are still recovering from the long term impacts of Covid-19 and still attempting to find their feet in the post-pandemic, working world again! 
For more updates about the impact of Covid-19 on businesses, check out this article.