Tyson Steele, from Utah, prepared for a relaxing get away to the snow with his six-year-old lab, Phil. A spark from his wood fire stove somehow went rogue and ended up catching his small cabin on fire.
Steele managed to escape with a few items to survive on before the walls collapsed taking everything he had, including Phil with it. Steele built a snow cave to sleep in following the first couple days after the fire.
"He was so scared of the fire and in my thinking I've gotta grab Phil and I've gotta grab some stuff to sleep in so I basically … I grabbed everything that was on my bed."

Quote Via Daily Mail
He claims that snow is actually a great insulator and with just a flame you can raise the temperature from -40 degrees to around 30 degrees above freezing. Unfortunately Steele wasn't lucky enough to have had a candle, but he found a way to stay warm enough to stay alive.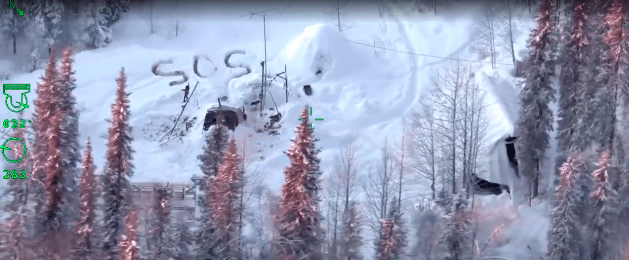 His cabin was in a location inaccessible by road, so his only hope of rescue was by air. He attempted to hike closer to the road to seek help, but it took him days to even go a quarter mile.
For food, he survived off what little he had and could grab in the fire, eating food such as pineapple even though he was allergic. Eventually friend's and family worried after not hearing from Steele in awhile and send a team out to check on him.
Written in huge letters in the snow read 'SOS', Steele desperately waved his hands signaling for Alaska State Troopers to come rescue him. He was successfully brought back to civilization with minimal injuries.
If you ever find yourself stuck out in the wild for an extended period of time, check out this video of a man building a bed shed from just grass and wood.