A dad-of-two's dream home turned into a construction nightmare after a blunder with the developer.
Bishnu Aryal, from Nepal, spent years saving up for the house of his dreams in Australia. But after forking out $700,000 AUD he's been left with 'half the property.'
Following miscommunications with the builder, Zac Homes, Bishnu's dream isn't what he was expecting at all. 
Speaking to A Current Affair, Mr Aryal said: "I called the supervisor and asked him what's going on, why is the house like this? And he said, 'It's a duplex, semi duplex, and I nearly fainted that day.
"Where's my house? I want the rest of my house. It's not a free-standing house, it's not a duplex, it's half a house. And it looks embarrassing."
The initial agreement between Mr Aryal and Zac Homes was for a freestanding home in Edmondson Park, Sydney. 
However, three years after the build began, Bishnu came to check on the progress of the build to find they had built a duplex on half the plot, leaving a large, windowless, grey concrete exterior wall.
The new build now looks bizarre and wasn't how he intended for it to look at all. 
Mr Aryal further explained that initially, the developers promised the build would be ready in one year, but he waited three long years for the property. 
The cost of the build with Zac Homes came to a total of $322,400 – on top of the $398,950 for the land purchase.
However, between the agreement being made in 2016 and when work began, plans changed. But Zac Homes noted that Mr Aryal had sufficient opportunity to pull out following the changes. 
According to the developer, Liverpool Council required the lot needed to be attached to a dwelling. Plans, which were for half a duplex, were sent to Mr Aryal, which he didn't read but forwarded onto his bank.
"When [the] bank asked, I called them and said can you please send the plan and I forward the plan to the bank. I didn't look," Mr Aryal said.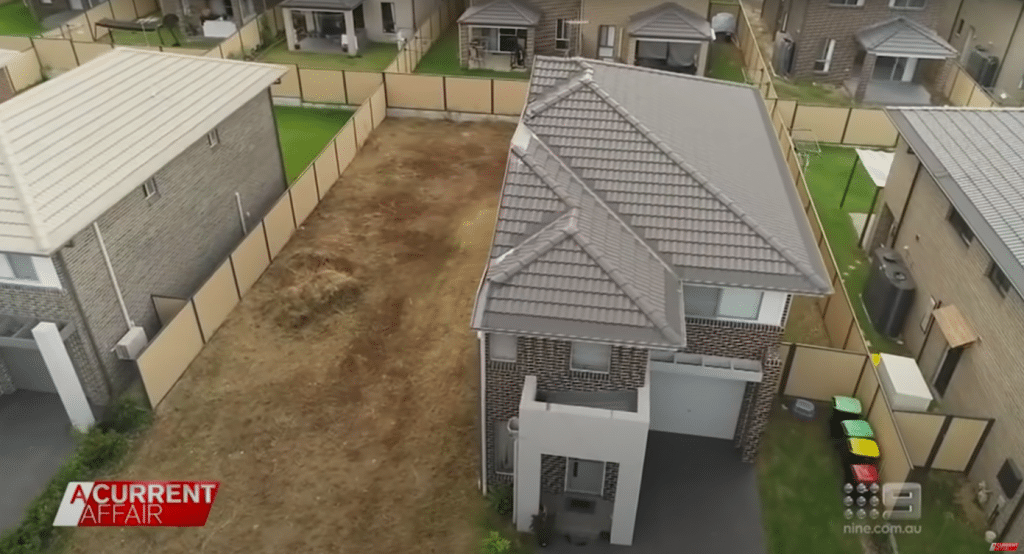 As if the sight of the building wasn't bad enough, Bishnu doesn't yet have an occupation certificate – meaning he can't actually live in the house.
Reportedly, Zac Homes has been dealing with the issue for 9 months, but Liverpool Council wants assurances that the other half of the property will be completed.