Starly Santos, a 27-year-old graduate of Columbia University and full-time cryptocurrency trader, is breaking boundaries and shattering stereotypes with her incredible journey of love, culture, and self-discovery.
Inspiration Strikes: Dating Across Cultures
Starly's journey began as a result of her experiences dating across different cultures while traveling to over 60 countries in the past five years. Of two of her notably longer relationships, one was with a Dutch man from the Netherlands and the other from India, two distinctively different cultures. The experiences, according to Santos, "could not be further apart on the spectrum."
I fell in love with both of them, both the cultures, both the people. And um, it just got me curious what other kinds of cultures I might also fall in love with and I just haven't been or haven't been exposed to yet

— Starly Santos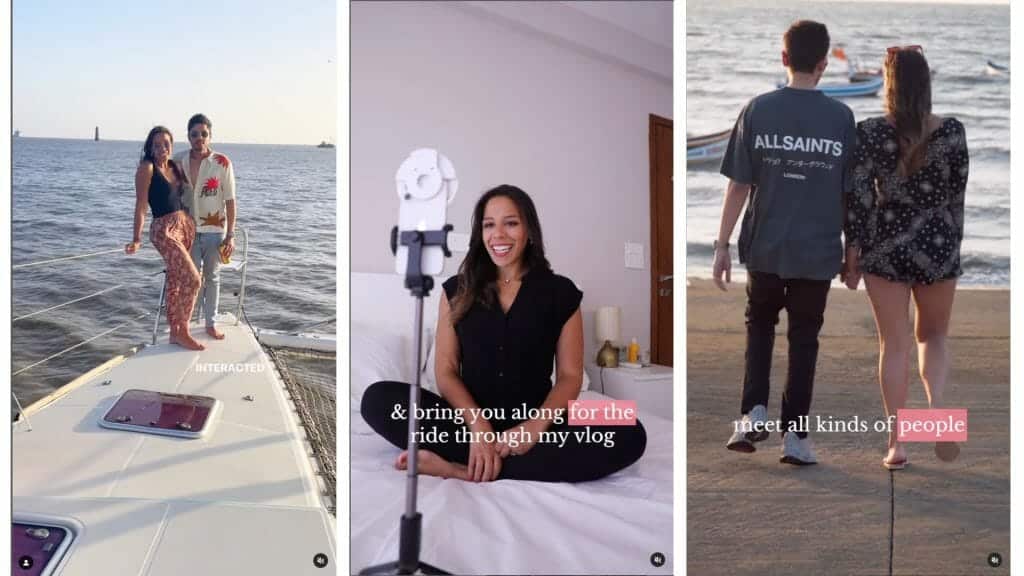 These encounters sparked a flame of curiosity within Starly, driving her to explore the intricate dance of love and connections across borders. Thus, the idea was born: embark on a unique journey of global dating and cultural exploration while documenting it all for the world to see.
Encouraged by her friends, overcoming her natural shyness, and overcoming her insecurities, Starly finally decided to share her stories on social media. Building up confidence, learning new skills, and inspiring other people along the way are the biggest things she thinks inspired her journey.
Breaking Stigmas and Inspiring Others
One of the most striking aspects of Starly's journey is her unwavering determination to challenge societal norms and break stigmas associated with traveling alone as a female.
She encourages people to get out of their comfort zone and seek authentic culture instead of just visiting vacation spots.
She admits that a lot of her dates were well-thought-out and planned, and she has very high standards. She wants to show fellow women that "there are guys out there who are willing to go the extra mile and put the effort in and take you on a real date."
Find a guy who treats you the way you deserve. They are out there. You just have to raise your standards and keep them high and, and keep looking until you find one that actually is worth it.

— Starly Santos
In response to concerns over her safety, Starly says she takes necessary precautions, constantly shares her location with family and friends, and never drinks alcohol.
Transparency and Reflection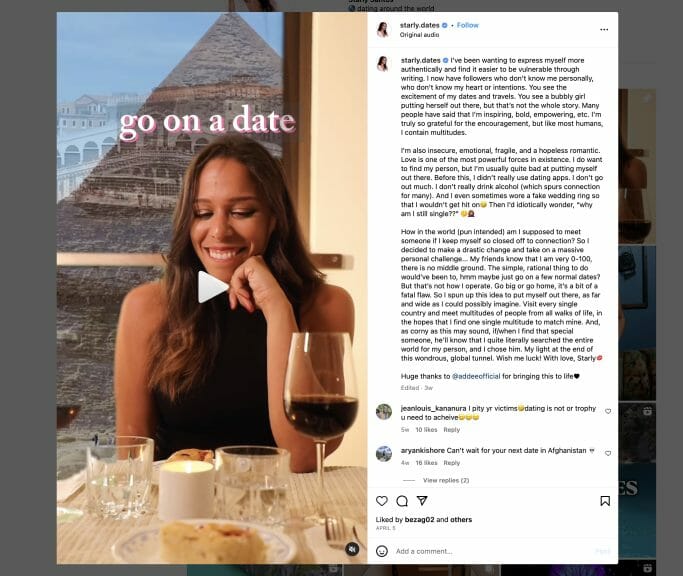 What sets Starly apart is her commitment to transparency. She willingly shares the realities of her dating life as a single young woman, showcasing both the highs and the lows. By inviting her audience into her experiences, she creates a sense of authenticity that resonates deeply with her followers.
But Starly's journey extends far beyond dating. She actively engages in self-reflection and embraces the opportunity to learn from each new culture she encounters. Through her videos and posts, she not only entertains but educates her audience, fostering a deeper understanding of the diverse tapestry of humanity.
Confronting Life's Challenges
Starly's path hasn't been without its share of hardships. She has been to the dark hole that many of us probably have been to sometime in our life. Her mom fell sick a few years ago and ended up passing away. It is through her travels and encounters that she found solace and a renewed zest for life.
"Learning about new cultures, learning new things, meeting people from different walks of life, gives me an immense sense of perspective," Starly says. Her experiences in underdeveloped countries especially help her to be grateful for things she does have and be a little bit more optimistic.
Community Engagement and Giving Back
Starly's commitment to her audience goes beyond sharing her experiences. Through her "Question of the Day" posts, she actively engages with her followers, providing answers and advice that inspire them on their own dating journeys.
The unique interaction with followers originates in her posting random dating questions. Her followers are enthusiastic to respond and keep feeding her new question ideas. She would occasionally throw in an interesting question or two from her dates too.
These interactions sometimes give surprising perceptions too. In her "Have you ever been cheated" poll, 80% of the responses were positive. However, in a following poll for "Have you ever cheated," only 20% said yes.
Starly currently boasts a following of 21,800 on Instagram and 18,800 on TikTok. She plans to give back by organizing giveaways for her followers and arranging retreats in exotic locations, fostering a sense of community and connection.
A World of Possibilities
With 12 countries already under her belt in just the past two months, Starly has no plans of slowing down. She intends to travel to at least 160 more countries within the next two years, eagerly exploring exciting and culturally immersive activities. From coffee tastings in Colombia to sampling street food that includes scorpions in Thailand, each date offers a glimpse into the richness of the world's diverse cultures.