Holidaymakers and coachloads of school children face over 17 hours of delays at the port of Dover. With weather disruption, an increase in demand, and, most notably, a post-Brexit change in border control, it's safe to say it's been chaos.
Those trying to cross the English Channel have faced delays of up to 18 hours. With little food, little sleep, and little communication, 100s are left in dismay.
It's the Easter holidays in England, and for many, this brings the first opportunity of the year to leave the country. In turn, the pressure on border control is overwhelming. Coupled with a lengthier passport-checking process, passengers have been left stuck for hours following Brexit.
Traffic as the holiday season begins, unfortunately, isn't uncommon in recent years: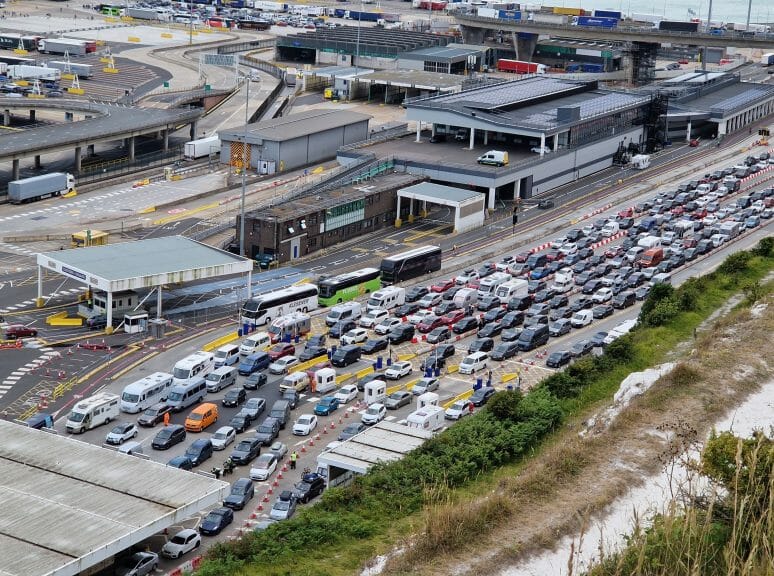 On Friday, the 31st of March, The Port of Dover warned of the "significant delays" but promised to work hard to "resolve the issue." A critical incident was declared.
Speaking to Sky News, teacher Edward Davis said that the official advice is "for every coach in from of you, it's going to be another hour". With this being the case, some people are just giving up.
Some Coach drivers are getting to the point where they cannot work.
The GB domestic driving limit is a maximum of 10 hours a day. This means coach drivers must stick to no more than 10 hours of work without a break. Paid time in the queue at Dover doesn't count as adequate rest. Therefore, they cannot continue their trip even if the queue starts moving.
Is Brexit to Blame?
The system for crossing the English Channel is crumbling under the immense amount of people.
Easter coach bookings were 15% higher than anticipated, and Dover Port described "challenging weather conditions."
However, on top of all this, Brexit almost certainly plays a part in the current chaos at Dover.
Since leaving the EU, Britain has become part of the Schengen area passport requirements. This means that your passport must be issued less than ten years before the date you enter the country and be valid for at least three months after you leave.
As well as this, passport checking takes longer with double border controls and the addition of passport stamping. Also, authorities now need to check how long
The Home Secretary Suella Braverman said, "I don't think it's fair to say this has been an adverse effect of Brexit." However, many factors would suggest otherwise.
Last summer, when queues were equally bad, the CEO of the Port of Dover, Doug Bannister, said this:
"We are in a post-Brexit environment which means the transaction times through the borders are going to take longer"

Doug Bannister talking to the BBC in 2022.
As always, the British public can see the comic side of the situation. This is a devastating start to the bank holiday weekend for those stuck in queues with cancelled holidays.
I wonder how Boris Johnson's idea of a bridge between Britain and France would've held up with all this!