Energy-saving vigilantes parkour through the streets of Paris at night, switching off any and all wasteful lights that cross their path.
Let's face it we have reached a point of no return with the climate crisis. Any climate credible climate simulation worth its salt suggests that, regardless of human intervention, the oceans will keep fueling global warming, and sea levels will continue to rise over the next 100 years. Nevertheless, this has not given people cause to abandon all hope entirely. There is still much we (and by 'we' I mainly refer to the multi-national companies and nations) can do to reduce the number of deadly carbon emissions that are destroying our delicate climate.
Over the past few months, social media has played host to several climate stunts and protests with the expressed aim of spreading climate awareness during this crucial moment in Earth's survival. Slices of cake have been pelted at the Mona Lisa, hands have been glued to busy motorways, Van Gogh's paintings have been forced to drink Campbell's soup and paint has been smeared on public property. Though these stunts haven't exactly struck a favorable nerve with the public, it would be a lie to say that they have exactly achieved their aims: any publicity is good publicity.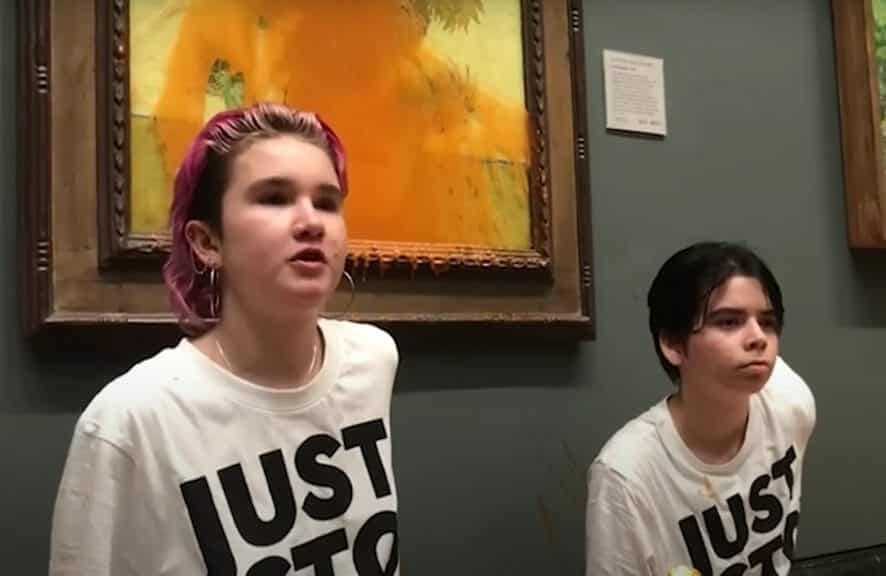 The latest act of climate upset comes from a pretty unlikely group: parkour athletes. Videos have emerged, revealing parkour runners in Paris turning off shop signs at night. The young French citizens have been caught leaping walls, bounding across streets, and grappling ledges in order to switch off these wasteful bulbs that run throughout the night.
part noble, part absurd – these videos have gone viral. The parkour collective, 'On the Spot', is attempting to tackle light pollution in the city and curb energy consumption. Watch here:
Unlike their more radical forebears, On the Spot has been praised by some local residents.
However, France has gone to considerable lengths to curb energy consumption, introducing a law in 2013 that forced shops to turn off their signs between 1 am to 6 am or face a fine of €750. Nevertheless, enforcement has been low and many shops still leave their lights on. The parkour collective efforts to become energy-saving vigilantes, hope to inspire change in their neighborhood and shed light (or rather switch it off) on the issues of needless energy consumption.
A lot more work needs to be done if we have any hope of surviving the climate crisis. Energy ministers from EU countries reached a deal on an energy plan on Tuesday 26 July to introduce a voluntary 15 percent reduction in gas consumption across the bloc from now until next spring. Despite positive commitments to climate change on the continent, meanwhile, countries like the UK are still mired in catastrophic fracking and fossil fuel policies that seek to limit renewable energy – leading to a record-breaking heatwave this summer with London literally on fire.