If you would like to fulfil your travel dream of visiting Berlin on a budget, look no further than this dubious Facebook listing for cheap accommodation. For only 100 euros a week, you can stay in Germany's stunning capital in a "TOP LOCATION" – the only catch is it's in a bathroom.
In a recent Facebook listing, April Castello advertised that she would be subletting one of her bathrooms in the prime location of Weserstr near Pannierstr, Berlin. Acknowledging that this "may seem like a strange offer", Castello does her best to highlight the bright side of sleeping in a bathroom (in a shared apartment):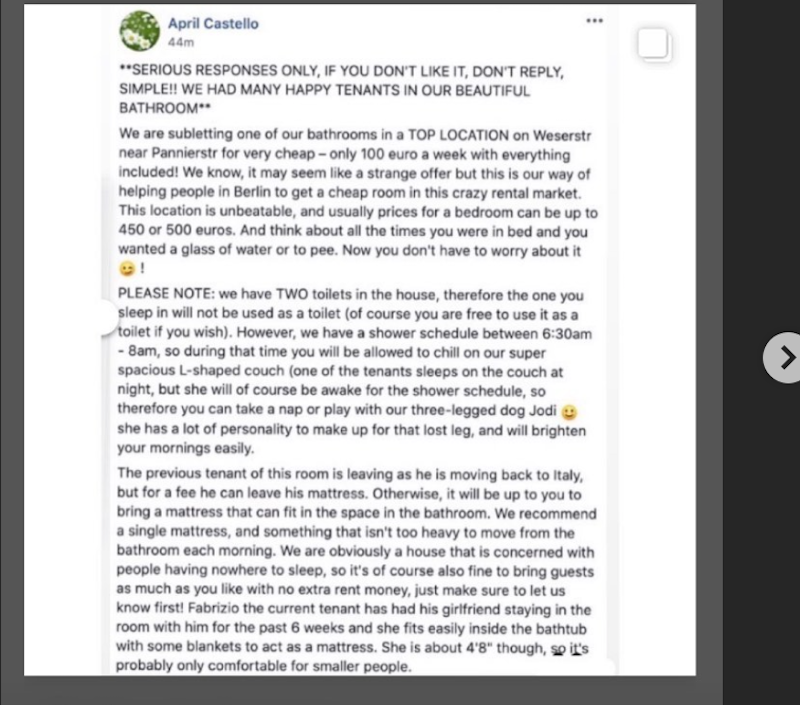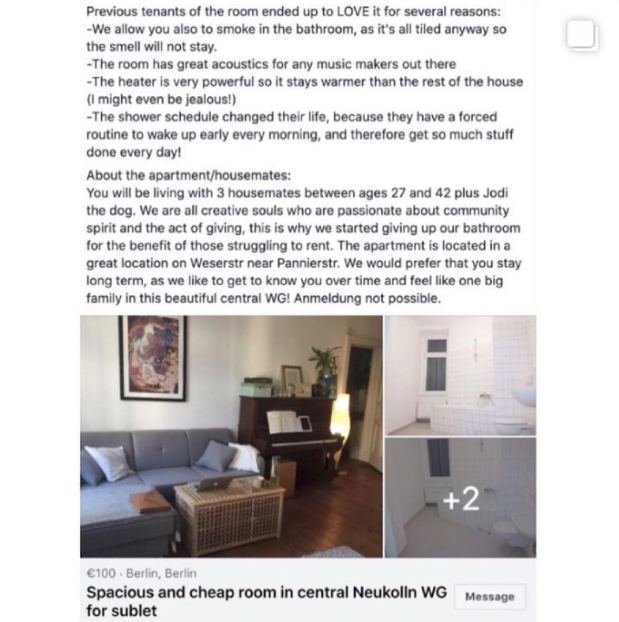 Not only is the price Castello's self-proclaimed "way of helping people in Berlin to get a cheap room in this crazy rental market", but the location is "unbeatable". I take it that Castello is referring to the wider area of Weserstr here, and not the bathroom itself.
Additionally, as the accommodation is conveniently located in a bathroom, tenants don't have to leave the comfort of their room to get up in the middle of the night to go to the toilet: "And think about all the times you were in bed and you wanted a glass of water or to pee. Now you don't have to worry about it!", Castello excitedly writes.
This doesn't mean that other people will be using the bathroom and soiling the potential tenant's bedroom. The bathroom is one of two in the apartment, however, there is still a strict shower regime between 6:30 and 8 am, tenants will have to temporarily vacate their room and remove their mattress. Suggested activities to fill this shower time include napping and playing with the three-legged dog Jody.
Previous tenants of the room are said to have been happy with their accommodation, enjoying the purported benefits of: smoking in the bathroom (it's tiled, so the smell doesn't stay); possessing "a very powerful heater", which makes the bathroom warmer than the rest of the apartment; great acoustics (perfect for any wannabe musicians!). The final cherry on the top has to be the possibility of inviting guests over – if you have anyone you want to bring to the apartment, they can stay in the bathtub!
If I may so myself, the pictured apartment does look quite nice. I can't say the same about the bathroom. Would the floor be dried after the shower schedule? Where would potential tenants store their belongings? But for anyone looking to visit Berlin who is in search of affordable accommodation, this might just be the place for you.
To read about slightly less realistic accommodation, click here to see one apartment listing's bad photoshop that went viral.