Six Flags Fiesta Texas, a theme park in the US, recently announced plans to open the world's steepest dive rollercoaster in the summer of 2022 during the park's 30th Anniversary season. The coaster titled Dr.Diabolical's Cliffhanger will be located in the theme park's Crackaxle Canyon Screampunk District.
A dive rollercoaster typically features one or more near-vertical drops which can be approximately 90 degrees or can be more so. The overall design of the rollercoaster aims to provide a moment of free-falling for the passengers. Six Flags Fiesta Texas recently announced its plans to debut Dr. Diabolical's Cliffhanger. Did I mention it will be the steepest rollercoaster of its kind in the world?
The exhilarating dive coaster features a cliff-hanger hold which suspends the riders as they face straight-down at a  record-breaking 95-degree beyond vertical drop, then releases them later into a terrifying 150-foot dive.
 Park President Jeffery Siebert explained their ambitions in a statement:
"Six Flags Fiesta continues to push the limits of thrill and innovation as we prepare to introduce the world's steepest dive coaster during our 30th anniversary season."
The entire track measures 2,501 feet or nearly half a mile.
Other elements of the ride include:
A second, 75-foot, near-vertical drop following the vertical 95-degree first drop.
An Immelmann inversion that will send riders into a half-loop followed by a half-twist.
A 270-degree-zero-G roll.
Speeds up to 60mph.
High-speed spiral finale.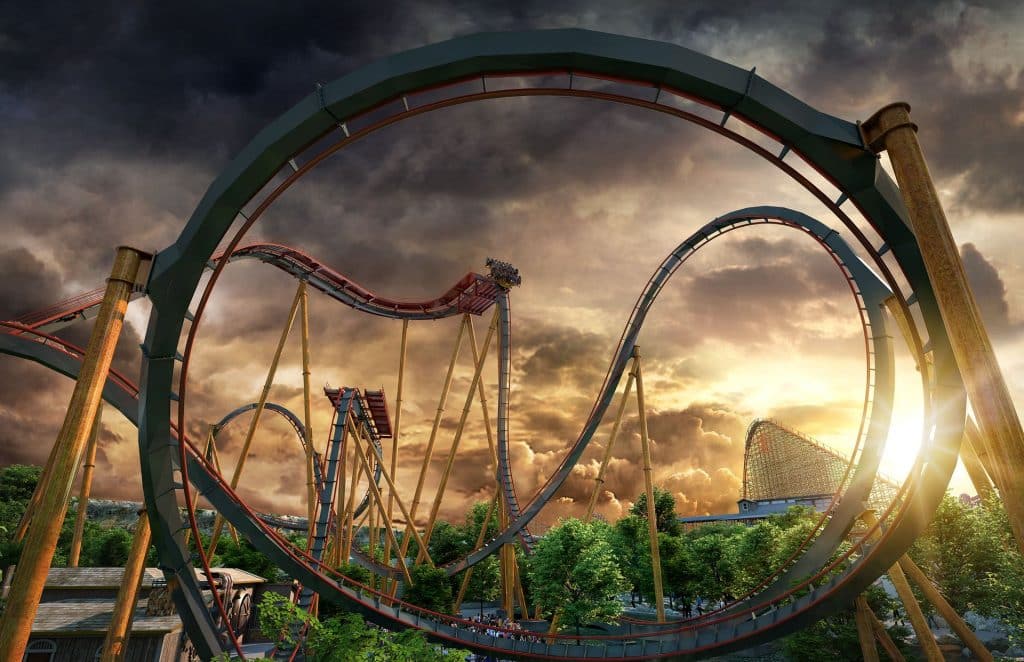 To entice thrill-seekers further, the park's website introduced a back-story to the attraction.
The Doctor behind the rollercoaster must:
"Harvest the essence of human adrenaline and fear in order to nourish her [menacing] creatures."
Dr.Diabolical has therefore created the rollercoaster in order to harvest her strength. As per the press release, the rollercoaster has three 21-passenger trains to lift riders 150 feet in the air reaching heights of 15 stories.
The park has also made a point to highlight that the trains have been re-designed to handle more intense, fast-paced elements. In order to achieve this, the trains will seat 7 across, and 3 rows of riders.
Jeffery Siebert added:
"With eight intense elements including dramatic inversions and extreme airtime, it will quickly become a fan favorite." 
Theme-park lovers are already very excited to hop on. One wrote, on Twitter:
 "I've made it quite known I'm far from a dive machine hater. Considering Six Flags already have two RMC'S (one that most say is top tier), arguably the best B&M floorless, a launch coaster, AND now a dive? With THAT scenery? Get me to San Antonio now."
Dr. Diabolical's Cliffhanger is a custom-designed rollercoaster created by Bolliger and Mabillard. This marks the first time Six Flags has worked with B&M since the wing coaster X-Flight which opened at Six Flags Great America in 2012. Riders must however be able to meet the 52-inch height requirement.
Six Flags Fiesta Texas promises thrill-seekers:
"Once you are exposed to this menacing machine, you shall live forever…IN FEAR."
If you enjoyed reading about this American attraction, check out Universal-Orlando's-Super-Nintendo-World Theme-Park which has been confirmed-for-2023.