It's no secret that Gen-Z has wholeheartedly brought back 2000's fashion trends and culture. They have overwhelmingly embraced 2000's styles: low-rise jeans, belly button rings, and frosty lip gloss have made a comeback, all thanks to people who weren't even born or were too young to remember when these items first hit shelves. Some teenagers, however, have instead revived a slightly weirder but still iconic hallmark of 2000s culture: Scene. Taking to TikTok, new-era Scene kids have adopted not only the style but the music and mannerisms of the day. In an unlikely yet passionate resurgence, Scene kids are back in a wave called the RAWR-ing twenties.
Scene was pioneered in the early 2000s as a cheery and colorful response to Emo, its moodier cousin in counterculture. While most emo music stuck to the formula of anguished vocals and prominent guitar riffs, Scene's sound was a candy-coated concoction of pop, electronica, rap, and hardcore. As for fashion, Scene kids favored skinny jeans, brightly colored clothing, chunky studded belts, silicone band wristbands, fingerless gloves, and anything remotely anime-related. Of course, what most people associate with Scene is the extravagant hair: dyed neon colors like pink, red, green, or blue, straightened then backcombed with long side-swept fringes.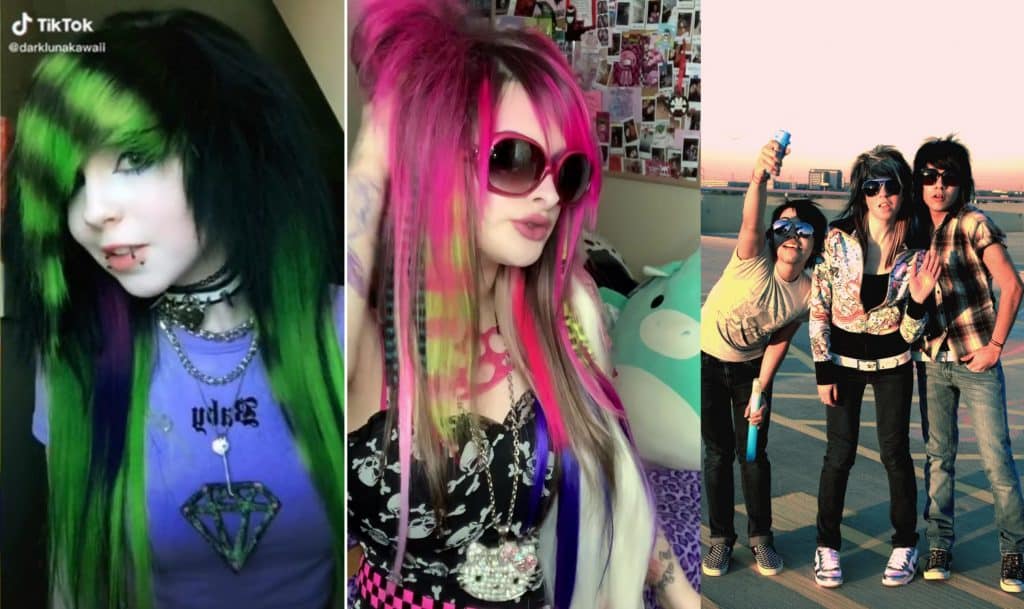 Since the late 2010s, Scene culture was largely fading, especially since MySpace, the social network of choice for Scene kids, went mostly defunct in the 2010s. Fashion moved away from the obnoxiously neon schema of Scene and towards the more toned-down look of hipster and soft grunge. However, both new and seasoned Scene kids have found a home on TikTok. Girls in cakey black kohl liner paint 'raccoon tails' into their hair with Manic Panic dye. Couples wearing Invader Zim hoodies lip-sync to 30H!3 with Monster Energy drinks in hand. The tag 'sceneiorcitizen' is where retired Scene kids, now mostly in their late twenties, look back on their youth by sharing their old MySpace pictures and videos.
So Why Are Gen-Z Scene-Obsessed?
It's possible that one catalyst for Scene's revival is that most teenagers have been confined to online social interactions since the pandemic hit. Similarly, the Internet was a pillar of Scene's culture in the 2000s, largely due to the ability to exaggerate or romanticize parts of your life online. The 2008 economic recession was a catalyst for escapism on social media, leading Scene kids to craft an alternate reality on their screens. History repeats itself now, as Gen-Z teenagers take refuge from lockdown and the chaos of the pandemic by posting videos of themselves dressed in full Scene get-up lip-syncing to Punk Goes Crunk or 30H!3.
Scene culture is primarily built on being fun and expressive, which may explain its sudden popularity in 2021. In a time when many teenagers find themselves feeling low due to the anxiety of a post-pandemic world and the lack of face-to-face interaction, the carefree and self-accepting nature of Scene offers them a cathartic escape and pastime. Quarantine provided a shield for teens to experiment with their appearance or identity at home, encouraging self-expression and development. Scene's increase in popularity is a testament to the movement's ethos of being authentically yourself and joining a community of friends – even if they are on the Internet.